Egypt and the U.S.' Next Shared Challenge Is Global Energy Security | Opinion
The U.S. Congress is poised to pass the Inflation Reduction Act, a significant step to lower inflation and provide long-term energy security, an issue of importance across the globe. Like the United States, Egypt is working to secure its energy future through investments in renewable energy and new natural gas fields in the Eastern Mediterranean. This managed energy transition will lead to 40 percent of our economy being based on renewable energy by 2035, providing an example for the region and the world. Egypt will host the 27th United Nations Climate Change Conference, which will be hosted in the city of Sharm El-Sheikh this November as it continues to demonstrate leadership on the future of global energy security and the fight against climate change.
Just a few short weeks ago, President Joe Biden and President Abdel Fattah Al-Sisi reaffirmed their shared commitment to the United States-Egypt strategic partnership. The partnership between both nations has been a key pillar of regional stability across the Middle East and Africa. While the U.S. prepares to host the U.S.-Africa Summit later this year, Egypt and the United States will continue to work jointly to promote capacity building, peacebuilding, infrastructure and health services in the African continent. As one of Africa's largest economies, Egypt is a critical partner for peace and security in the continent and continues to expand its strategic ties to strengthen partnerships across the continent.
This year is special as Egypt and the United States celebrate 100 years of establishing diplomatic relations. Earlier this year in meeting with Egypt's Foreign Minister Sameh Shoukry, U.S. Secretary of State Antony Blinken applauded Egypt for being at the heart of global stability "working for peace, working for security, and doing so in strategic partnership with the United States." While this year's milestone is a moment of celebration, it also offers a valuable opportunity to reflect on forthcoming opportunities that can further solidify this vital partnership.
With ongoing challenging crises around the globe, Egypt and the U.S. are working together to advance our shared interests and bring about transformational change. While we have achieved a lot, there is more work for us to do together.
More than 40 years ago, Egypt was a groundbreaker in establishing our diplomatic relationship with Israel and our work continues to this day. In recent months, U.S. President Biden spoke with Egypt's President Sisi to thank Egypt for our "successful diplomacy and coordination with the United States to end the recent hostilities in Israel and Gaza." To further support peacebuilding efforts, Egypt committed $500 million to the reconstruction of Gaza as we work to bring stability to the region.
Egypt is a key U.S. national security partner in a volatile region of the world. With that in mind, the U.S. Senate recently voted in an overwhelming majority to move forward with a $2.2 billion sale of aircrafts and hardware to Egypt, that will allow us to replace ageing military equipment.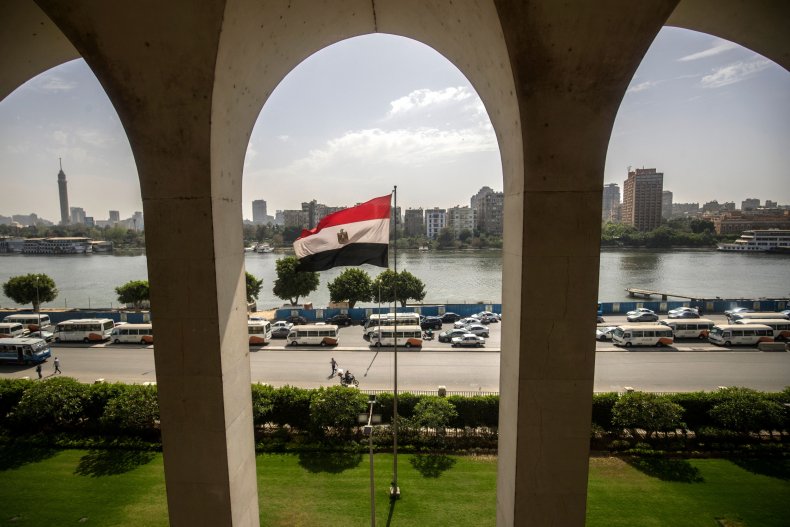 The strength of the Egypt-U.S. military alliance is exemplified by the recent Bright Star Exercise, where hundreds of U.S. military personnel joined their Egyptian counterparts for the most significant biennial military exercise in the Middle East and Mediterranean. More than 600 U.S. troops participated in the military exercise, as part of our coordinated efforts to strengthen regional security and combat the spread of extremism.
With global supply chains strained, Egypt is responsible for safeguarding navigation in the Suez Canal through which 12 percent of global trade flows. Because of our military-to-military cooperation, Egypt, the U.S., and our allies are ready to respond to challenges that threaten our shared national security interests.
Following the terrorist attacks on 9/11, Egypt stood strong with the United States, sharing valuable intelligence. Today we continue to partner with our U.S. friends as we work together to keep America and Egypt safe. As we reflect on our work together to promote shared national security interests, we are especially proud of the 35,000 Egyptian troops who stood shoulder-to-shoulder with U.S. troops during the Gulf War.
When it comes to tackling today's global challenges, Egypt is leading the East Mediterranean Gas Forum to address energy shortages around the globe. Cyprus, France, Greece, Israel, Italy, Jordan, and Palestine are working together to help countries get access to alternative sources of energy. With the United States, joining as an observer, this Egyptian-led initiative will create synergy in natural gas policy. Over the long-term, members of the East Mediterranean Gas Forum will increase natural gas exports, as we work to strengthen global energy security.
As we celebrate 100 years of cooperation, Egypt and the U.S. can reflect proudly on our shared successes. Now we must redouble our efforts in areas such as national security, peacemaking, global energy policy and climate change, as we work together to positively impact the lives of millions and change our world for the better.
Motaz Zahran is the current ambassador of Egypt to the United States. He formerly served as the ambassador of Egypt to Canada.
The views expressed in this article are the writer's own.
Update (8/5/22, 10:38 AM EST): The article was updated.