Egyptian Police Using Social Media to Trap and Rape Suspected LGBTQ People
Egyptian police and the country's National Security Agency have allegedly used social media to entrap suspected LGBTQ people, place false charges against them and indefinitely detain them while subjecting them to physical abuse, rape and medical neglect.
The arrests seem to be part of a larger ongoing crackdown against LGBTQ citizens that violate the country's constitution and several international human rights treaties that Egypt has agreed to.
A new report by the international non-governmental organization Human Rights Watch (HRW) includes testimonials from 15 people arrested between 2017 and 2020 for vague charges, including "debauchery" and "prostitution," that have long been used internationally by police as pretexts for harassing suspected LGBTQ people.
In some cases, authorities used the gay social app Grindr and the social media platforms Facebook and WhatsApp to arrange public meetings with suspected LGBTQ people, where those people were subsequently arrested. Several arrestees said police placed pornographic images on their phones in an attempt to make them seem guilty of obscenity.
All 15 interviewees told HRW that police held them from days to months before receiving a trial, often in cramped and unsanitary conditions while being insulted and beaten by officers. Of the 15, eight said police subjected them to sexual violence, four claimed to have been denied medical care and eight said that police forced them to sign confessions, often without being allowed to read the statements before signing.
One 25-year-old arrestee—given the pseudonym Salim to avoid harassment from police and fellow citizens—said police bound his hands to his feet and left him alone in a cell for three days during which time he had no choice but to repeatedly defecate in his own clothes. During this time, he said police didn't tell him the charges against him. Police threatened that he would "never see the sun again" if he told anyone of his treatment.
A 27-year-old transgender man names Hossam Ahmed said he was starved and denied medical care in a women's jail while being forced to sleep on a moldy mattress infested with fleas, bugs and lice. A 28-year-old woman given the alias "Aya" was forced into a 10-foot by 6.5-foot cell with 45 other women and given a forced anal and vaginal examination by police so painful that she "bled for three days and could not walk for weeks." A 37-year-old HIV-positive man given the pseudonym Alaa said police denied him medication and inserted his medical disability card into his anus when he presented it.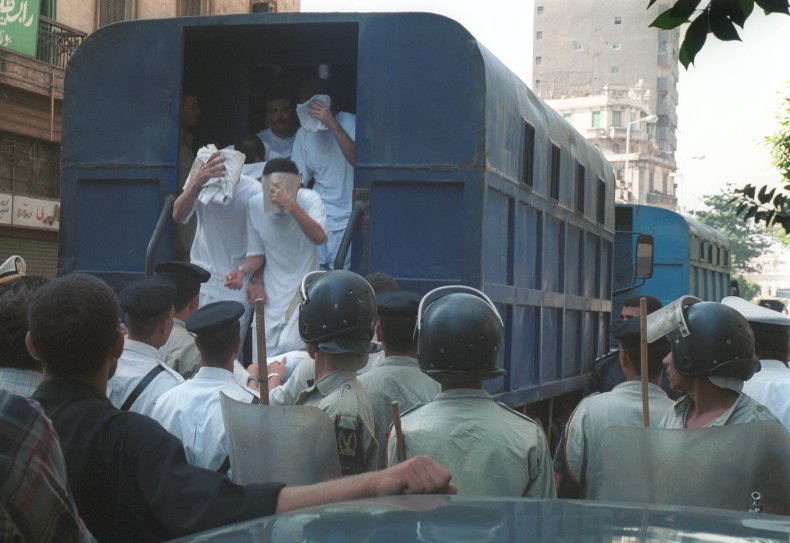 Many of the arrestees have been rejected by their families following their arrests. The criminal charges against them make it very difficult for them to find work or gain enough money to leave the country. Stuck in their home cities, they remain vulnerable to future police harassment and violence.
If the allegations in HRW's report are true, the actions would violate Egypt's own constitutional protections guaranteeing arrestees the right to remain silent, access to a lawyer and family during questioning and knowledge of the legal charges facing them 12 hours after arrest. The constitution also forbids torture, intimidation, coercion, "physical or moral harming" and the use of any confessions elicited under such conditions.
The actions would also violate several international human rights treaties which Egypt has agreed to, including the International Covenant on Civil and Political Rights (ICCPR), the Convention Against Torture and Other Cruel, Inhuman, or Degrading Treatment or Punishment (CAT) and the African Charter on Human and People's Rights, according to HRW.
Egypt's anti-LGBT crackdown began after a September 2017 musical event in Cairo in which police arrested several young people who waved a rainbow flag at a concert. The concert was given by Mashrou' Leila, a Lebanese band with a gay lead singer.
Newsweek contacted HRW for comment.