Eid Mubarak! Muslims Around the World Celebrate Eid al-Fitr 2018, the End of Ramadan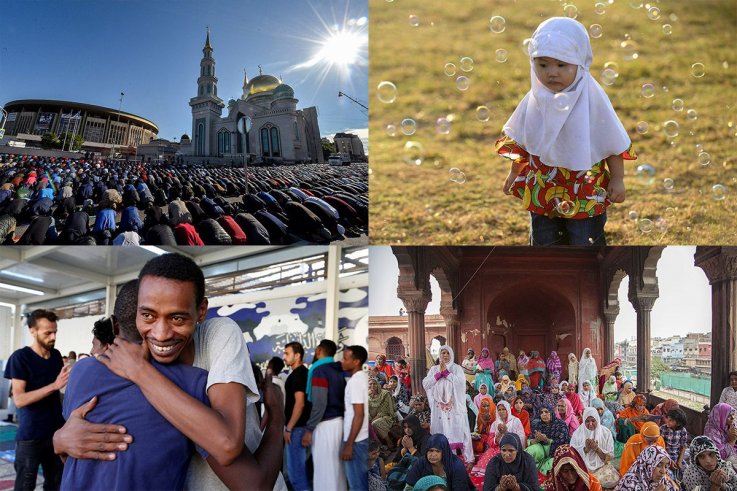 The world's Muslims have been gathering to celebrate Eid al-Fitr, with feasts to mark the end of Ramadan, the holy month of fasting.
Eid al-Fitr translates from Arabic as "the feast of the breaking of the fast." It occurs at the end of the holy month of Ramadan, which ended on June 14 this year. During Ramadan, Muslims fast during daylight hours, recite special prayers, abstain from sexual activity and give to charity.
Ramadan is seen as a month to cleanse the soul, and teaches practitioners increased self-discipline and empathy for those less fortunate.
Eid al-Fitr begins at the start of the lunar month on the Islamic calendar, and therefore the day of the celebrations varies from place to place. When the new moon is sighted the holy month is complete and Eid takes place the following day. It's celebrated for anywhere between one and three days.
The most common greeting heard during this period is "Eid Mubarak," which translates as wishing someone a blessed holiday. Eid means "celebration" and refers to the occasion itself, and Mubarak means "blessed."
On the day of Eid, money is donated to charity before a special group prayer is performed. Eid gifts, known as Eidi, are often given to children and relatives.
Celebrations vary by region. In Saudi Arabia, Muslims decorate their home and prepare lavish feasts. In Turkey, people wear their best clothes, and pay their respects to the deceased at cemetaries. Egyptians often celebrate at carnivals and amusement parks. In Sudan and Yemen, women decorate their hands and feet with henna.
Photos from this year's Eid show the diversity of celebration among the world's 1.6 billion Muslims. From fire-lit parades in Indonesia, to crowded journeys home in Bangladesh, we've found the best pictures from this year's Eid al-Fitr.