Eiffel Tower Will Shut Down for France's World Cup Final Game
The most famous landmark in Paris, the Eiffel Tower, will close for the World Cup final. Four giant screens will be showing the match, with as many as 90,000 fans gathering in the city center to watch it.
The French national team will play Croatia in the final, vying for the privilege of lifting the world's most prestigious international soccer trophy for only the second time in its history. Paris authorities are going all out for the big match, which could end up as one of the city's biggest street parties.
"The Eiffel Tower will be closed on Sunday 15 July for safety reasons, due to the installation of a fan zone for the World Cup Final in the Champs-de-Mars," a statement posted on the official Eiffel Tower Twitter account announced Thursday. "Our customers who already purchased tickets will be fully refunded onto their credit card within 2 months."
The Champs-de-Mars park that surrounds the tower will replace the venue for the fan zone set up in Paris for the semifinal earlier this week, when 20,000 Parisians gathered outside the walls of city hall to cheer Les Bleus against neighboring Belgium. On the day of the final, around 4,000 police officers will guard the new fan zone on the south bank of the river Seine as authorities prepare for a crowd bigger than the entire attendance of the national stadium—the Stade de France—radio France Bleu reported.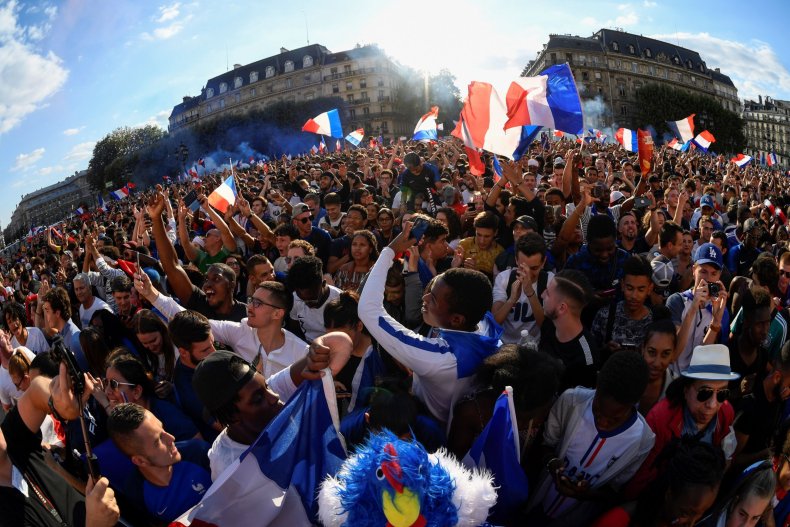 The talismanic tower, which receives 7 million visitors a year, will not take any new visitors because a screen of 1,109 square feet and three smaller ones will broadcast the game at its base.
The event has been billed as "the biggest fan zone in France." Many big French cities are setting up public viewings of the final with Lyon, Toulouse, Nice and Lille all announcing fan zones with large screens. Most, like Paris, have already shown past games from the tournament, on a big screen in the open air. The fact that Marseille, France's second biggest city and a major soccer rival to Paris, is yet to match the capital's plans or at least announce where fans can gather to watch the big game has already triggered an outpouring of local disgruntlement on social media.
France has not won a major international trophy in 18 years, since the European Championship in 2000. After reigning world champions Germany, tournament favorite Brazil and several decorated sides crashed out of the World Cup this year, France are now favorites to beat Croatia and reclaim the trophy.