Eight Ancient Roman Shipwrecks Discovered in the Shallows Off The Coast of Popular Greek Island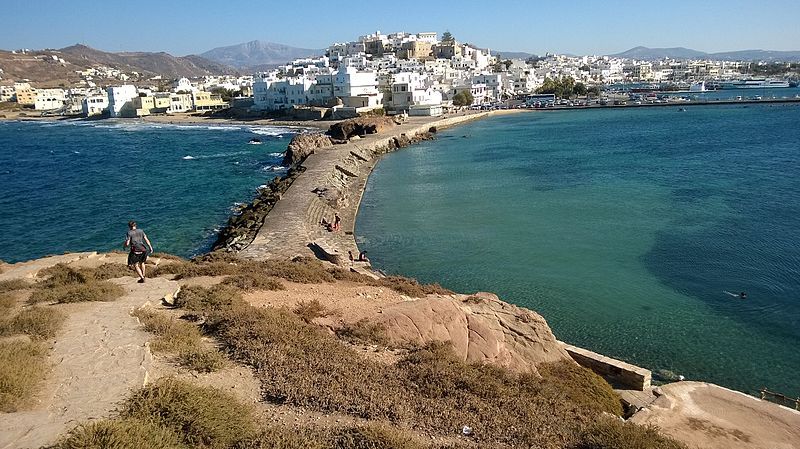 Underwater archaeologists were surprised to find eight sunken ships from the Roman Empire off the coast of the Greek island of Naxos. The 2,000-year-old shipwrecks were found in depths of less than 100 feet—which is surprising, as Haaretz noted when reporting the find, since those waters are "crystal clear" and a popular tourist attraction.
Archaeologists had been searching Naxos for something else entirely—a harbor once linked to a Byzantine settlement that may once have been the island's capital, according to the Norwegian Institute at Athens, the entity behind the original survey. To their surprise, according to Haaretz, a local diver took them to two nearby reefs, one revealing a variety of amphorae—ancient storage containers—and anchors, and the other containing three shipwrecks. Archaeologist Sven Ahrens, Curator of the Oslo Naval Museum and the Norwegian research director of the underwater survey, told Haaretz that while it's likely that adds up to four ships, they can't be completely certain.
In ancient times, before it became a vacation destination, Naxos was known for high-quality marble exports. During the Byzantine period, according to Haaretz, the southern harbor of Parnamos became the primary one, and it was that harbor that the researchers had been trying to find when they first arrived. The underwater region off Naxos' southern coast has remained an isolated one, according to Archaeology News Network, meaning it's relatively undisturbed and ideal for this kind of scientific exploration. After finding the first four ships, the researchers continued the work with sonar, upon which they discovered an additional four ships with amphorae of their own.
"The vessels would have been loaded with anything profitable enough to justify a long and dangerous sea journey," Ahrens told Haaretz. In addition to passengers, that likely meant goods like olive oil and wine, which would have been the purpose of some of the amphorae, as well as armor. Ahrens also told Haaretz they discovered construction materials like brick and roof tiles, as well as a small stone palette that they believe was used to blend cosmetics.
The relics from the first group of four ships appear to date from the Hellenistic period in the 3rd century B.C. through the Late Roman Period, up to around 600 A.D. The ships from the second group haven't been studied yet, but it's possible that molecular analysis of the clay from the amphorae could help the researchers pinpoint where they were made. Haaretz reported that the team has plans to dive to the wrecks, as well as send in a remotely operated underwater vehicle, in 2018. They believe other treasures likely await.