Eight Lawsuits Accuse LA Dodgers Security of Attacking, Insulting Fans
Five new lawsuits against the Los Angeles Dodgers have accused the team's security guards of violently attacking fans, following three similar suits in April.
The latest lawsuits were filed in Los Angeles Superior Court on Monday. The plaintiffs' attorney Peter diDonato said they were seeking compensatory, emotional distress and punitive damages for abuses committed by the security force at Dodger Stadium, according to local station KTTV.
A spokesperson for the Dodgers told Newsweek, "We do not comment on pending legal matters."
The 1 million security officers employed in the United States do not operate under any federal standards for training, whether or not they carry guns, according to The Pew Charitable Trusts. A 2014 investigation by The Center for Investigative Reporting and CNN determined that a "haphazard system of lax laws" across the country, combined with scant oversight and almost no accountability, enabled armed security guards to endanger public safety.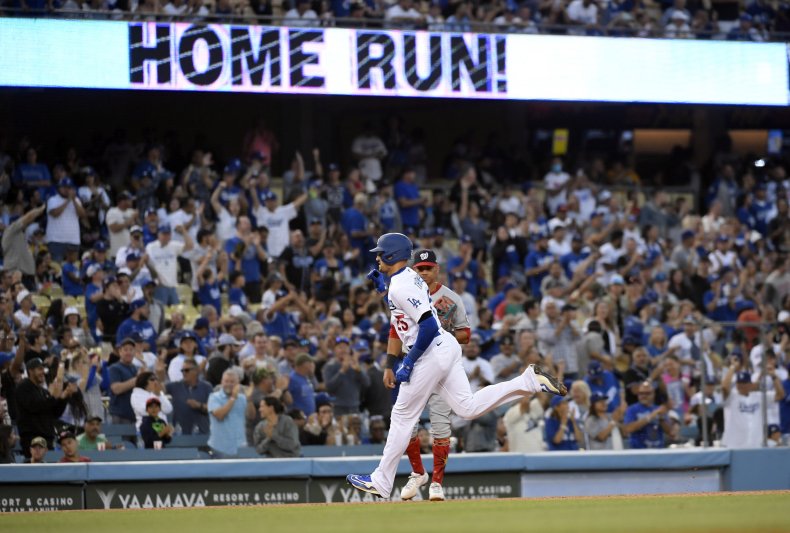 Dodgers fan Gregory Page Dixon alleged that a guard falsely accused him of urinating near a bus while he was returning from the restroom during a game against the San Francisco Giants. Dixon denied the accusation but was quickly tackled to the ground and handcuffed, according to his lawsuit.
Another lawsuit filed by Jessica Vielmas said she was attending a game against the Cleveland Guardians with her two children and a cousin on June 15. When the group walked to the field after the game to watch a fireworks show, a guard allegedly hit Vielmas in the chest and shoulder in front of her family. An officer told her to leave the stadium or face arrest and called her a bad mother, according to Vielmas's lawsuit.
Fan Michelle Jean Schwandt said in her lawsuit that she was falsely accused of vaping on June 17, although the person actually vaping was seated in front of her. She alleged that guards dragged her out of the stadium and made a citizen's arrest against her for battery on a security guard, although no charges were filed.
Daniel Ultreras claimed he was also arrested for battery on a security guard during the All-Star Game on July 19, alleging that he was the one to be attacked by guards after vomiting. He was on his way out of the game because he felt ill, said Ultreras's lawsuit.
The team has already battled another scandal this year.
In April, Major League Baseball suspended Dodgers pitcher Trevor Bauer for two seasons without pay following a sexual assault allegation from Lindsey Hill. Bauer has sued the accuser for defamation.
Newsweek reached out to Peter diDonato for comment.