Eight NYPD Officers Injured After Demonstrations on Brooklyn Bridge
Protests over the death of George Floyd on the Brooklyn Bridge on Wednesday resulted in the injury of New York police officers, including Department Chief Terrence Monahan. The police department said 37 demonstrators were arrested during the protest.
Information sent to Newsweek by the New York Police Department on Wednesday said eight officers were injured during the protests. Chief Monahan's hand was injured during the altercation. Video of the protest released by the NYPD shows an individual striking officers in the head with an object.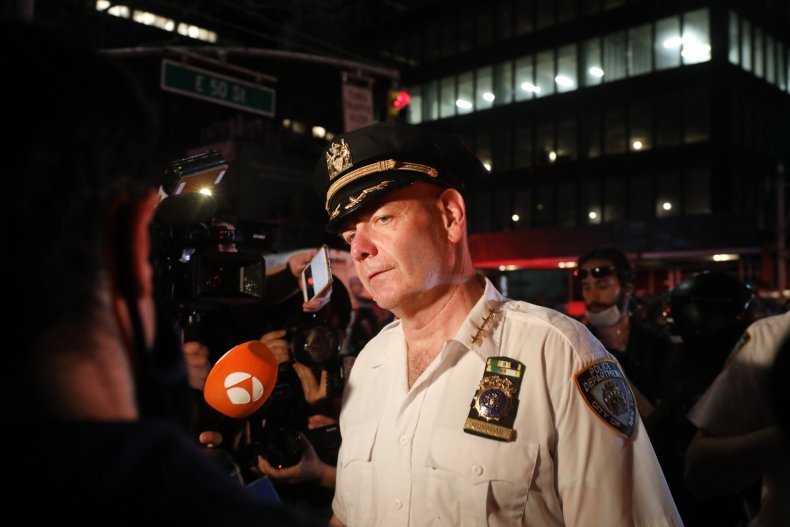 "Three officers violently attacked by protester crossing the Brooklyn Bridge," read a tweet from NYPD News, the official Twitter feed of the police department. "The officers sustained serious injuries. This is not peaceful protest, this will not be tolerated."
In a separate tweet, officers can be seen bleeding in the aftermath of the attacks.
The altercation happened after marchers against gun violence attempted to cross the Brooklyn Bridge. Participating in the march were members of religious communities, local leaders and representatives of law enforcement organizations. The march was interrupted when participants were confronted by anti-police demonstrators. According to the Associated Press, some of the anti-police protesters had been camped out in front of City Hall for an extended period of time, calling for the NYPD's budget to be cut.
Members of the area's faith community organized the rally against gun violence after the shooting death of a 1-year-old during a cookout at a playground in the Bedford-Stuyvesant area of Brooklyn. Three other individuals were also wounded in the attack. Included in the march were members of religious communities, local leaders, and representatives of law enforcement organizations. Chief Monahan, who had been marching with the group, told WINS that talk of defunding the police "has to stop."
"We need to find that middle ground of cops and communities working together," Monahan continued.
In a tweet, the New York City Sergeants Benevolent Association decried the violence. "Tell us again about the 'peaceful' protests," the Wednesday tweet read. "Tell us again how the mob in the street 'isn't anti-police.' Thankfully, our injured cops and @NYPDChiefofDept will all recover. But will our city?"
Gun crimes in New York City have been on the rise. On Monday, five people were the victims of drive-by shootings in Brooklyn. None of the victims suffered life-threatening injuries.
"We've got to take resolve out of every situation like this," said New York City Mayor Bill de Blasio during a Monday news briefing. "We can never give up on our children. We can never give up on our families. We can never give up on our neighborhoods, no matter how tough it seems."