Usain Bolt Joins Professional Soccer Team in Australia
Legendary Olympic sprinter Usain Bolt is to join a professional soccer team in Australia on a training contract.
The eight-time Olympic gold medalist will join the Central Coast Mariners, who play in Australia's A-League. They are based about 50 miles north of Sydney and play at Central Coast Stadium. According to a club press release, Bolt will sign an indefinite training contract (non-playing.)
According to The Daily Telegraph, it was originally believed "Lightning Bolt" would be given a six-week trial, however the deal was changed to take the pressure off of his early performances. It remains to be seen if Bolt will earn a full-time playing contract. If he does, Football Federation Australia could assist the club financially to fund a deal.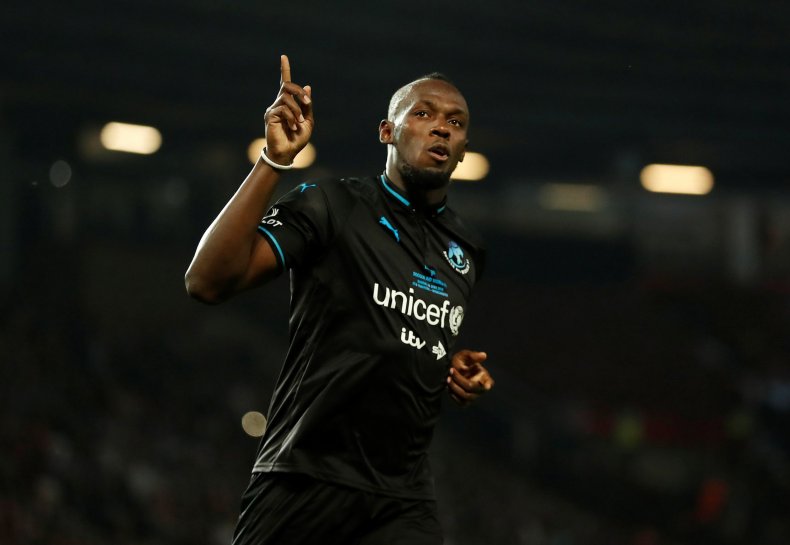 In the club press release, Bolt said he was thrilled to be joining the side. "I am very excited about coming to Australia and would like to thank the owner and management of the Central Coast Mariners for giving me this opportunity," he said. "It has been my dream to play professional football and I know that it will involve a lot of hard work and training to get to the level required to play and make an impact in the A-League.
"When I spoke to the head coach Mike Mulvey on the phone he outlined the ambitions of the club and his plans for the upcoming season. I hope I can make a positive contribution to the club and look forward to meeting the other players, staff and fans in the coming week. I always say that 'anything is possible, don't think limits' and I look forward to the challenge."
Bolt was also being heavily scouted by Austin Bold FC, a new soccer team based in Austin, Texas, according to The Guardian. Austin Bold FC will compete in the United Soccer League from 2019
Central Coast Mariners have made it clear that Bolt's training contract does not guarantee a professional playing contract. Club chief executive Shaun Mielekamp said having Bolt to train was "perfectly aligned" with the side's philosophy. "It is important that we don't get too caught up in the hype of possibilities, but the reality is that Usain Bolt has placed his faith in the Central Coast Mariners to accelerate his football journey.
"Whilst we all know this must be tempered with the reality that there is a job to do and hard work ahead, we are committed to building a team that will win matches and instill belief, hopefully Usain can help us on this mission. We welcome Usain with open arms, and we will always remain grounded and focussed on the job at hand."
Bolt has previously trained with Strømsgodset in Norway, Mamelodi Sundowns FC in South Africa and Borussia Dortmund in Germany.