Mississippi health authorities said this week that at least eight pregnant women have died from COVID-19 since late July—more than doubling the state's total in just under two months.
Dr. Thomas Dobbs, Mississippi's medical officer, said the state has now seen 15 pregnant women die from the coronavirus since the pandemic began. Those women ranged in age from 15 to 23, and none had been fully vaccinated, CNN reported.
"Please get vaccinated," said Dobbs while addressing the uptick in pregnancy deaths at a news conference. "You've got to protect yourself; you've got to protect your baby."
Of the 15 women that died, at least 12 fetuses survived, according to CNN. Dr. J. Martin Tucker, professor and chair of obstetrics and gynecology at the University of Mississippi Medical Center, said the fetuses were often saved through emergency C-sections and were severely premature. Information on the other three fetuses has not been made available.
Mississippi is also analyzing 72 stillbirths that have affected pregnant women with COVID-19 in the state since the pandemic began. Health authorities are now urging pregnant women to get fully vaccinated as the COVID-19 Delta variant continues to surge across the state.
"We're still early in the analysis of what's going on with Delta, but ... Delta is different, and Delta is deadly, and we have tools to prevent hospitalization and death," Dobbs said.
Mississippi is not the only state that has seen a spike in pregnancy-related virus deaths. In August, one Alabama hospital reported that it had admitted 39 unvaccinated pregnant women, 10 of which were placed in intensive care units while seven were on ventilators. Meanwhile, a doctor in New Orleans said last month that she had taken care of at least 30 pregnant patients hospitalized with COVID-19 in just two weeks.
"This is by far the worst we've seen in the pandemic," said Dr. Jane Martin, an obstetrician with Ochsner Baptist Medical Center in New Orleans. She added: "It's disheartening and it's exhausting. It feels like it doesn't have to be like this."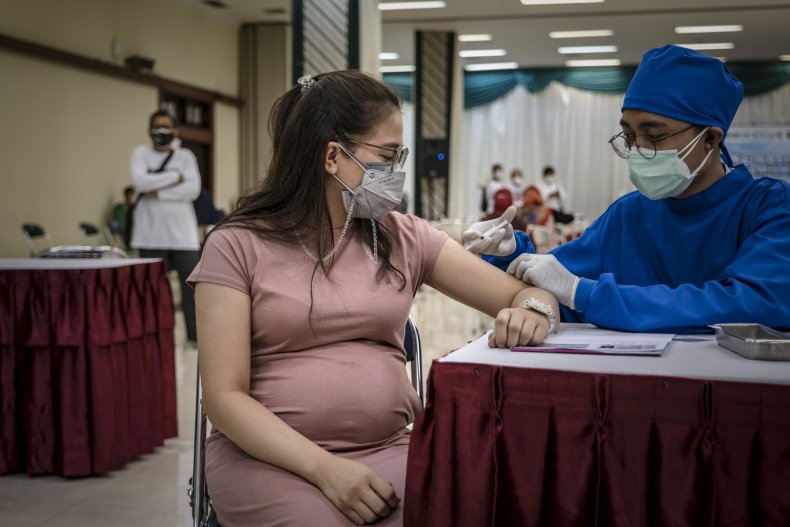 According to data from the Centers for Disease Control and Prevention (CDC), at least 155 pregnant women have died from COVID-19 in the U.S. since the pandemic first began, and cases appear to be rising nationally.
CDC spokesperson Scott Pauley told CNN that vaccines for pregnant women are "more urgent than ever," because of "the increased circulation of the highly contagious Delta variant, the low vaccine uptake among pregnant people, and the increased risk of severe illness and pregnancy complications related to COVID-19 infection among pregnant people."
The CDC last month urged all pregnant women to get vaccinated after data showed that there is no safety risk associated with the jab.
"Evidence about the safety and effectiveness of COVID-19 vaccination during pregnancy has been growing. These data suggest that the benefits of receiving a COVID-19 vaccine outweigh any known or potential risks of vaccination during pregnancy," the agency said.