'El Camino' Netflix: Aaron Paul Explains How Surprise 'Breaking Bad' Reunion Came Together
Warning: This article contains major spoilers for El Camino: A Breaking Bad Movie.
Now that El Camino: A Breaking Bad Movie is out on Netflix for the world to see, Jesse Pinkman actor Aaron Paul is opening up about some of the surprises that fans will have discovered in the film, and how they came together.
El Camino picks up where the series left off six years ago—with Jesse, previously forced into slavery to produce drugs for Todd (Jesse Plemons) and his white supremacist cousins, literally breaking free of his shackles and driving off in an El Camino. Now a fugitive, the tense two-hour flick follows Jesse trying to flee Albuquerque, New Mexico, and start a new—hopefully drug-free—life.
Near the end of El Camino is a surprise cameo that just about every Breaking Bad fan was hoping for: Bryan Cranston reprising his famous role as Walter White, a.k.a. Heisenberg.
In the flashback scene, Jesse and Walt go for breakfast at a hotel diner and discuss the future. The scene, according to Entertainment Weekly, is set near the end of Season 2 of the show, when Jesse and Walt's blue meth business is taking off and Jesse has found love with Jane (Krysten Ritter). The relationship between the business partners here is notably more friendly than in the final episodes of the show.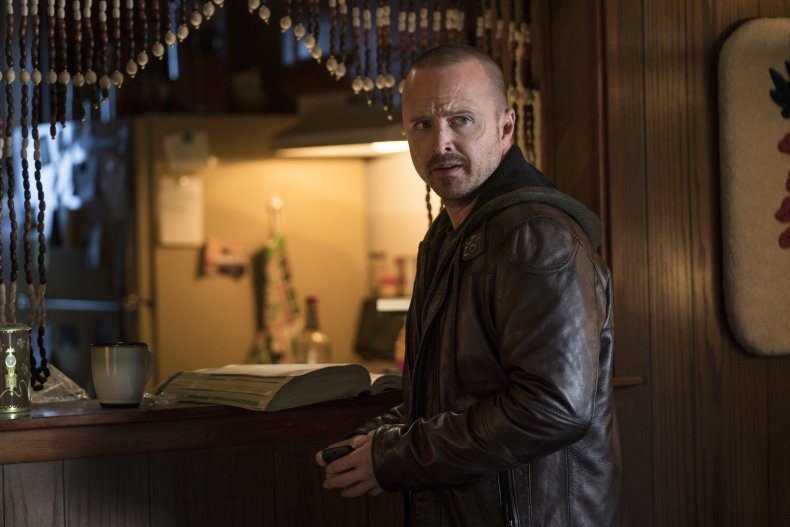 To pull off the reunion, Cranston flew into New Mexico from New York on a private jet so he wouldn't be spotted by passersby or the paparazzi, reports Entertainment Weekly.
Paul told the magazine that he and Cranston—who became good friends on Breaking Bad and even have their own tequila business—were not allowed to interact off set during Cranston's brief time on set. The actors were escorted from their trailers to set in what Paul described as "sort of Star Wars cloaks."
The extras in the diner scene were all "crew members or family of crew members," Paul explained. "We needed that diner to be filled with people who we could trust to not leak this information. And also just to be a part of it, you know? We wanted to be surrounded by loved ones, to be a part of this really cool day."
Despite all the furtiveness involved, Paul said, "for me that was the easiest part to keep it a secret. I mean, I love throwing surprises. I love surprising my wife. I love lying to people in an innocent way. And this was just that on a big scale."
The on-screen reunion between Jesse and Walt was not only special for the audience, but for the actors, too. "It was so nice to be able to get in that wardrobe and sit opposite one of my nearest and dearest friends, my mentor, and play these roles again that completely changed our lives forever. It was really such a blessing," said Paul.