El Chapo Can't Have A Bible In Prison Because It Could Help Him Escape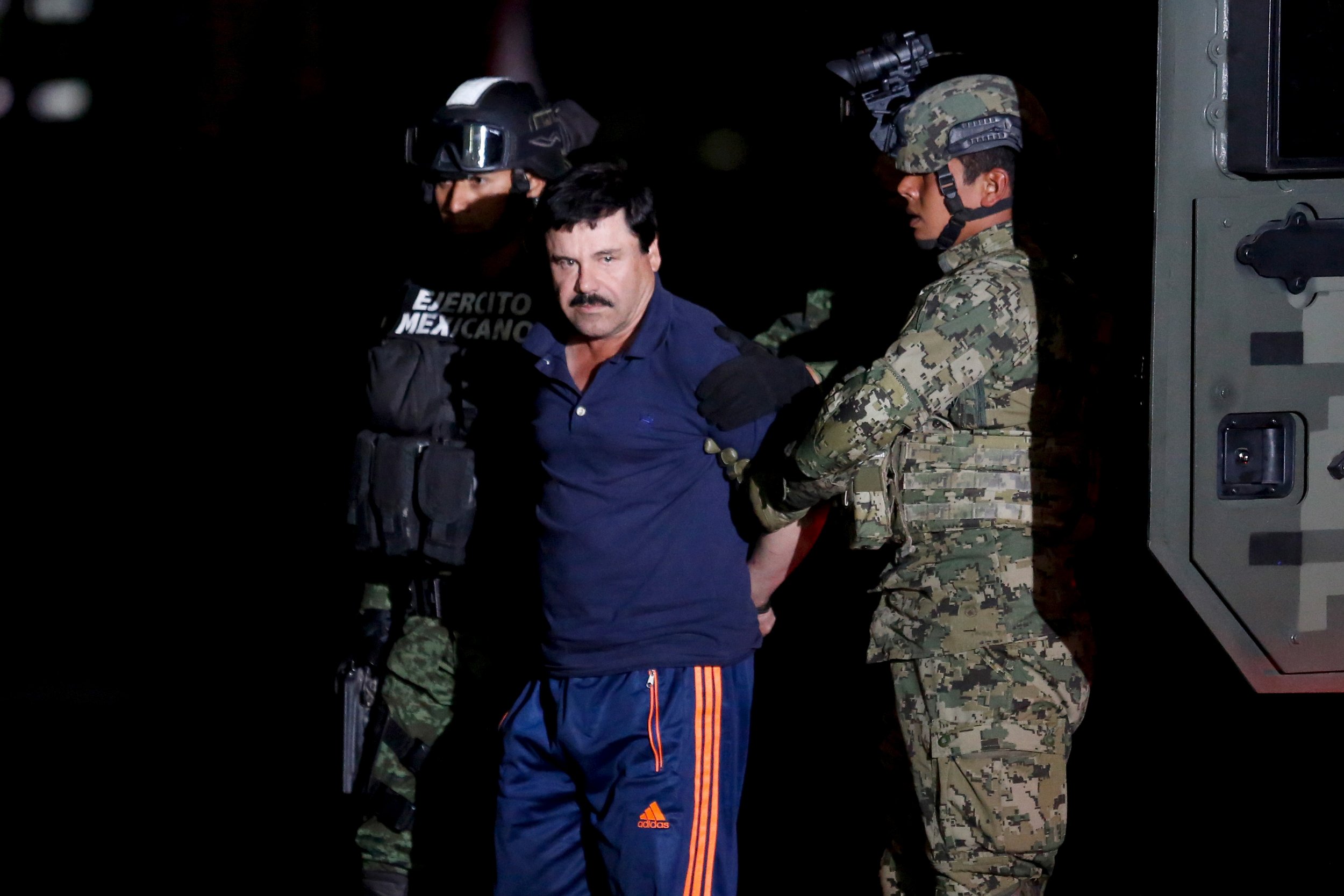 He hasn't got a prayer.
El Chapo, the head of Mexico's notorious Sinaloa drug cartel and a recidivist prison escapee, isn't allowed to have a Bible in jail because his guards think it will help him escape.
"They haven't given him a Bible because ... it could have any secret messages," the alleged drug lord's lawyer Eduardo Balarezo told reporters after a pre-trial meeting in Brooklyn Federal Court on Wednesday, where Joaquín "El Chapo" Guzman will be tried next year for drug trafficking and a campaign of murder and kidnapping. "This is stupid. The Bible was ordered from Amazon. I don't know what they are looking for."
El Chapo has also been forbidden from obtaining a dictionary or receiving letters from family members during his stay in the "10 South" isolation wing of Manhattan's federal lockup.
It's unclear if federal prison authorities are concerned about the text of the Bible itself or merely that Guzman supporters might sneak messages to him through the holy tome, which is standard-issue in most prisons. In any event, authorities are always anxious about holding onto Guzmán, who escaped from maximum security prisons in Mexico ... twice. The first time he fled by hiding in a laundry truck, and the second time he burrowed a tunnel underneath a bathtub and crawled out.
And the alleged drug dealer has ample reason for wanting out. Not only is he facing life in prison, but while awaiting trial, he's in a wing where the lights are reportedly kept on almost 24 hours a day, causing some prisoners to suffer from impaired eyesight. Former inmates have called the prison "horrifying" and "inhumane."
Ahmed Ghailani, a Tanzanian native serving a life sentence for his involvement in bombing two American embassies in East Africa, told a psychiatrist that he found the Guantanamo Bay detention camp "more pleasant" and "more relaxed" than 10 South, according to declassified reports.
Some former inmates have said 10 South drives inmates insane, and El Chapo's lawyer argues that he has been suffering from hallucinations and that his mental state is deteriorating.
"What he does in his cell, I really can't tell you. I suspect he is bored out of his mind given that he is locked up in a 10-by-5 cell, I believe, in frigid temperatures, without water, without clean sheets. It's horrible," Balarezo said.
A judge agreed to allow a psychologist to examine Guzman as long as it doesn't involve any in-person contact. Guzman has maintained his innocence.