El Chapo Planned to Use Jalapenos In Cans for Drug Smuggling into the U.S-Mexico Border, Trial Testimony Reveals
Federal prosecutors revealed photos and footage that showed Joaquín "El Chapo" Guzman's plan to smuggle narcotics using canned jalapenos at the U.S.-Mexico border.
Former Drug Enforcement Administration agent Thomas Lenox appeared this week at Guzman's trial, where he discussed the inspection of an unfinished tunnel in 1993 just 50 feet from the official boundary line that separates Mexico and the U.S. in Tijuana, the New York Post reported. Photos of the site showed the underground project that appeared have aimed for a construction zone in a California border town, the publication noted.
Before running into the 4-foot-by-5-inch channel, the DEA had confiscated a shipment of canned jalapenos in Tijuana from a counterfeit company called La Comadre, the Post cited Lennox. In 2015, an article from Forbes Mexico revealed that each jalapeno was stuffed with cocaine before being canned and shipped to Mexican-owned establishments based in California.
El Chapo was notorious for constructing tunnels that helped him elude authorities and move narcotics across the U.S.-Mexico border.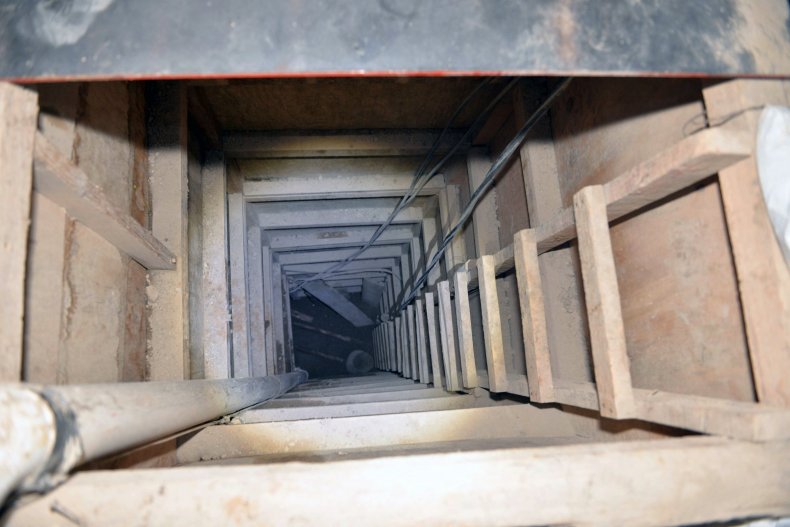 In 2014, officials found secret tunnels that connected seven houses in the city of Culiacán, Sinaloa, before his arrest on February 22 of that year. Fourteen months after entering the State of Mexico-based Almoloya de Juárez maximum prison, El Chapo fled through a mile-long and 27-inch wide tunnel. He left the prison complex using a 19.6-inch-wide hole in his cell's shower that connected to the tunnel, according to Mexican website Expansión.
In early 2016, Guzman was in a house located in the city of Los Mochis, Sinaloa, where he escaped through a passage behind a mirror. He ran for almost a mile via a sewer, Expansión reported. Even though footage showed that troops raiding the house could not catch the drug baron, he was arrested a day later, on January 8. He has been behind bars ever since.
The trial has exposed gruesome details of Guzman's character. This week, former Sinaloa cartel member Jesús "El Rey" Zambada told the court that Guzman had ordered the 2004 killing of Rodolfo Carrillo Fuentes, brother of Juarez cartel leader Vicente Carrillo Fuentes, because he refused to shake the hand of the Sinaloa cartel lord. It was not clear from Zambada's testimony whether Guzman's hitmen or bribed officials carried out the murder.
Zambada also made a bombshell revelation that allegedly exposed a connection between organized crime and the upper echelons of the Mexican government. He said that Genaro García Luna, the former secretary of public security under the Felipe Calderón administration in 2006 and 2012, received at least $50 million from both the Sinaloa and Beltran Leyva groups in order to curb authorities' interference in drug-related operations.
Guzman's trial is expected to continue for at least four months.