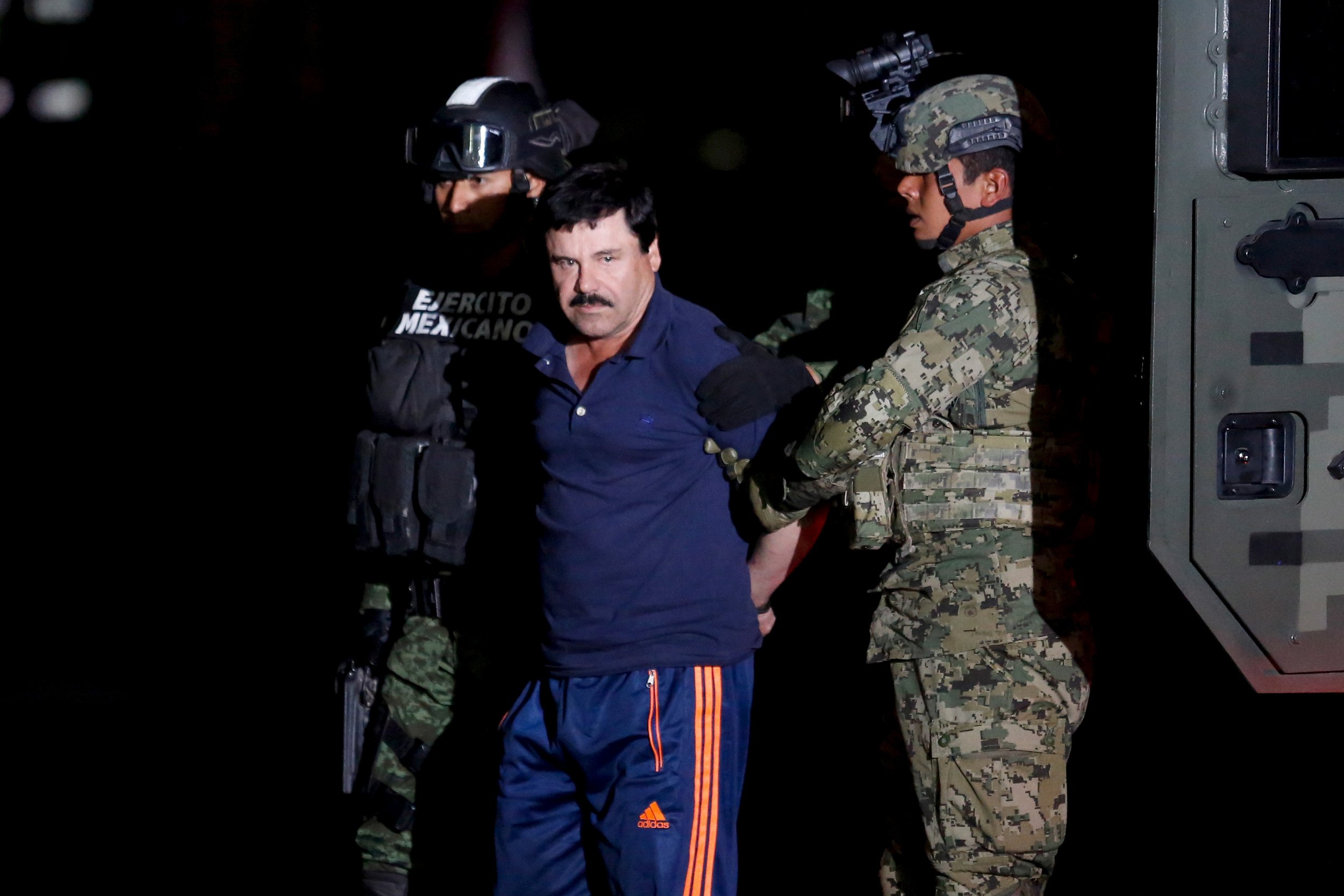 Mexico formally started the process of extraditing drug baron Joaquin "El Chapo" Guzman to the United States on Sunday, after he was apprehended in the aftermath of a secret October interview with actor Sean Penn that was published over the weekend.
Mexican authorities informed Guzman of the decision at the high-security Altiplano prison where he was jailed after his capture on Friday .
He had escaped from the same prison just six months earlier through a tunnel under his cell in what was an embarrassing scandal for the government of Mexican President Enrique Pena Nieto, who had refused to extradite Guzman before the escape.
Mexico received U.S. extradition requests against Guzman in 2014. Guzman's lawyer Juan Pablo Badillo has vowed to challenge the extradition attempts in all of the available legal channels, including the country's Supreme Court.
His extradition could take months, a Mexican enforcement official told the Associated Press on condition of anonymity on Saturday. "That can take weeks or months, and that delays the extradition," he said. "We've had cases that take six years."
Badillo said that the extradition to the U.S. was not possible as "our country must respect national sovereignty, the sovereignty of its institutions to impart justice".
In an article for Rolling Stone, Sean Penn revealed that he had a secret seven-hour meeting at a jungle hideout with Guzman for an interview that covered his background all the way up to heading his drug empire. Anonymous Mexican officials told news agencies that the meeting helped to lead them to El Chapo's location.
As the leader of Mexico's notorious Sinaloa cartel, Guzman is one of the world's most wanted drug barons and, in his meeting with Penn, boasted "I supply more heroin, methamphetamine, cocaine and marijuana than anybody else in the world. I have a fleet of submarines, airplanes, trucks and boats."
He has escaped prison on more than one occasion. In 1993, he was arrested in Guatemala but fled the Puente Grande prison in a 2001 escape that saw him hide in a laundry basket after bribing officials at the facility, the BBC reported.