El Chapo Owned Private Zoo Where Guests Rode a Train to See Crocodiles and Panthers, Former Employee Testifies
As Joaquin "El Chapo" Guzmán's trial enters its second week, more jarring revelations about his lavish life emerged.
Guzmán's former employee Miguel Angel Martinez testified before a Brooklyn court this week, describing the kingpin's rags-to-riches story. On Monday, Martinez described El Chapo's life in the early 1980s, when he only had 25 people at the onset of his criminal business. "He was a very poor person who didn't have anything to eat...and that was the reason why he got involved in drug trafficking," Martinez said, according to The New York Times.
But El Chapo began amassing an unprecedented fortune in the early 1990s.
On Tuesday, Martinez went on to describe El Chapo's luxurious properties. He owned a private zoo where guests could take a train and marvel at the sight of crocodiles and panthers. (Another legendary drug lord, Pablo Escobar, had an extravagant estate filled with hippos, giraffes and other wildlife imported from Africa.) El Chapo, the former Sinaloa cartel leader, allegedly owned a yacht named Chapito after his alias and a $10 million beach house along the shores of Acapulco. He also had a handful of ranches in the Mexican city of Guadalajara—and one of them had tennis courts and pools, the Times noted.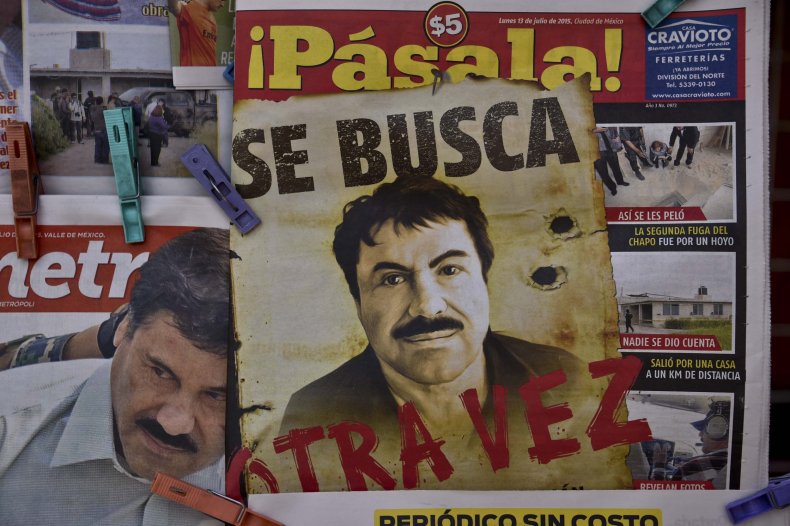 According to Martinez, Guzmán had the wherewithal to go to Macau for gambling or travel to Switzerland for a rejuvenation treatment. He offered diamond-encrusted watches to his employees and paid thousands of dollars to musicians in order to compose a song about his dead friends, the publication continued. Prosecutors pointed out that El Chapo accumulated a total of $14 billion thanks to his lucrative decades-long shipment of cocaine and marijuana to California and other parts of the world.
Martinez's testimony was subject to the strict security measures surrounding the trial. According to CNN, courtroom sketch artists were prohibited from drawing any facial features or distinctive hairstyle. Artist Christine Cornell ended up blurring a witness's face and a bald head. Artists are required to show all drawings to government prosecutors before they can be distributed, the news outlet noted.
Martinez was also known as El Gordo ("The Fat One"), El Tololoche (a name for a traditional Mexican string instrument) or El Compadre. He first worked for Guzmán as a pilot, and between 1986 and 1998, he was in charge of receiving drugs shipped from Colombia to Mexico. The drugs were later sent by the cartel to the United States. Martinez then opened an office in Mexico City and began communicating directly with the Colombian cartels.
During his testimony, Martinez referred to Guzmán as "el jefe," or the boss.
This is not the first time a key witness in El Chapo's trial offered vivid accounts of the drug baron's personality. Last week, a subleader of the Sinaloa cartel, Jesús "El Rey" Zambada, told the court that Guzmán had ordered the 2004 killing of Rodolfo Carrillo Fuentez, brother of Juarez Cartel kingpin Vicente Carrillo Fuentes, because he refused to shake El Chapo's hand. Zambada explained that Guzmán had expressed "great pleasure" after ordering the 2002 murder of Tijuana cartel leader and longtime rival Ramón Arellano Félix.
During his third day of testimony at the trial, Zambada also described Guzmán's love for guns, including a diamond-encrusted .38 caliber pistol, a bazooka and AK-47s, the New York Post reported.
Guzmán, 61, is facing charges of violations related to drug trafficking and money laundering.