El Chapo Witness Says Drug Kingpin Personally Tortured His Victims, Shot Them in the Head, Buried Them Alive
At the trial of Joaquín "El Chapo" Guzmán, a witness described how the drug kingpin tortured his victims and even buried one of them alive.
The unflinching evidence came from Isaias Valdez Rios, who became one of the drug lord's pilots in 2004.
Rios told the federal court in Brooklyn, New York, on Thursday that he personally saw Guzmán kill three members of rival Mexican cartels sometime around 2007.
On one occasion, he said, two people from Mexico's Sinaloa state were deemed traitors because they had joined the rival Los Zetas cartel. Rios said that Guzmán brutally beat them for more than three hours.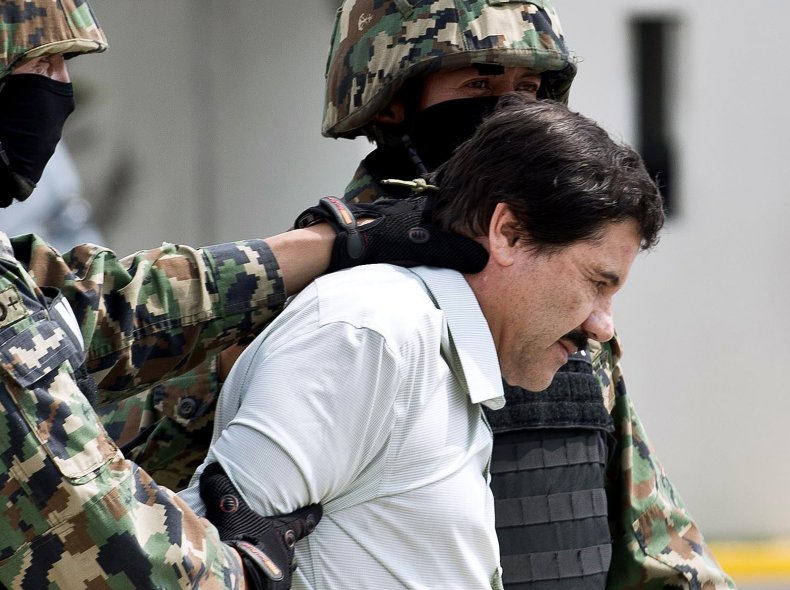 "They were completely like rag dolls—their bones were totally broken. They could not move. And Joaquin was still hitting them with the branch and his weapon too," Rios said, according to the BBC.
Guzmán ordered that a pit be dug and a fire lit in it. Rios said the victims were then shot in the head and thrown into the flaming pit to ensure that their bones were destroyed, Reuters reported.
Rios also recounted the death of a third man, a member of the Arellano-Félix cartel.
"He had burns made with an iron on his back; his shirt was stuck to his skin. He had burns made with a car lighter all over his body. His feet were burned," the witness said, according to Reuters.
The victim was locked in a wooden structure for days, then brought out blindfolded with his hands and legs tied,before Guzmán interrogated him.
He was eventually shot and buried, although he was still "gasping for air," Rios said.
During the testimony, Guzmán looked fidgety while staring at the witness. His wife, Emma Coronel, was expressionless as she sat in the audience, Fox News reported.
Rios, 39, has been held in a U.S. jail since his arrest in 2014 and could secure a reduced sentence by cooperating with prosecutors.
His evidence is the first so far in the trial in which killings were attributed to Guzmán himself rather than people following his orders, The Guardian reported.
Guzmán, 61, faces 17 charges, including drug trafficking and money laundering. He was extradited to the United States in 2017 and has been on trial since November 2018 on charges of trafficking vast amounts of cocaine, heroin and other drugs as leader of the Sinaloa cartel.
His lawyers claimed he was framed by another powerful drug trafficker, Ismael "El Mayo" Zambada.