El Niño Is About to Bring Bad News for Drought-Stricken Northwest This Winter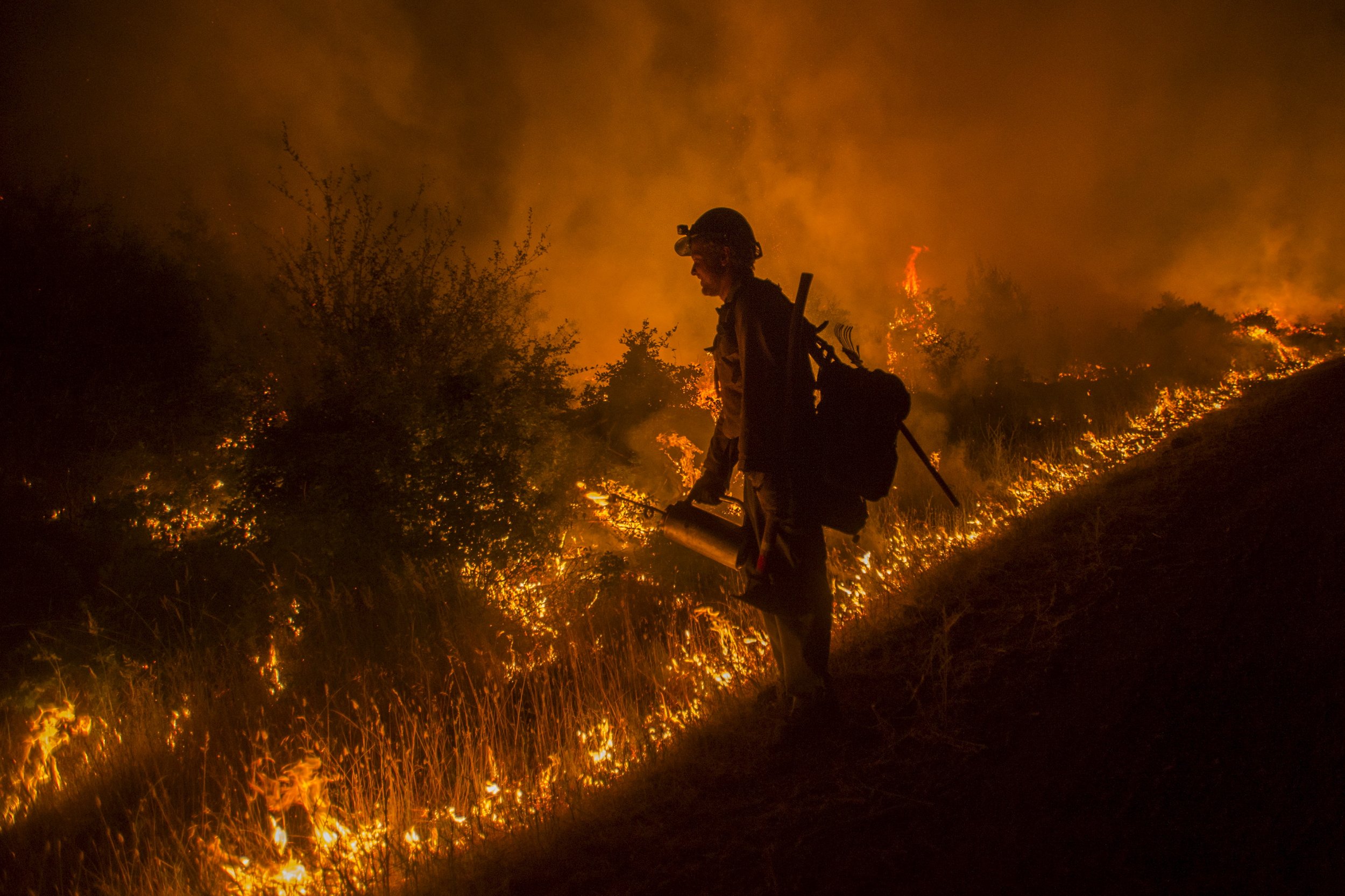 Updated | Federal weather forecasters released their winter outlook Thursday, and it doesn't look good for drought-stricken northern California, Oregon and Washington state. A strong El Niño this winter is predicted to intensify the Western drought through at least January, the National Oceanic and Atmospheric Administration announced.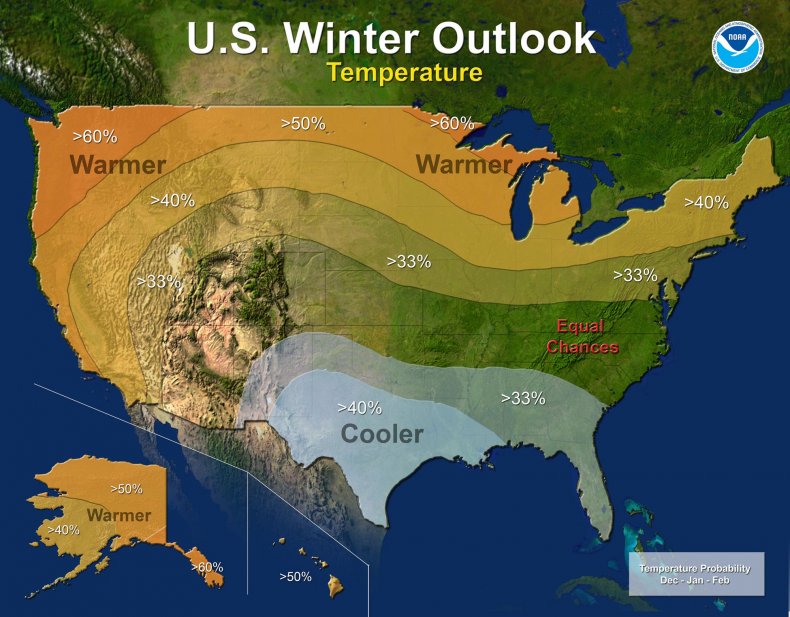 Earlier this week, NASA released a new image of this year's El Niño. The band of hot water stretching across the Pacific Ocean had strengthened to heat levels not seen since a particularly strong El Niño in 1997. The agency hinted that this El Niño may even surpass 1997's.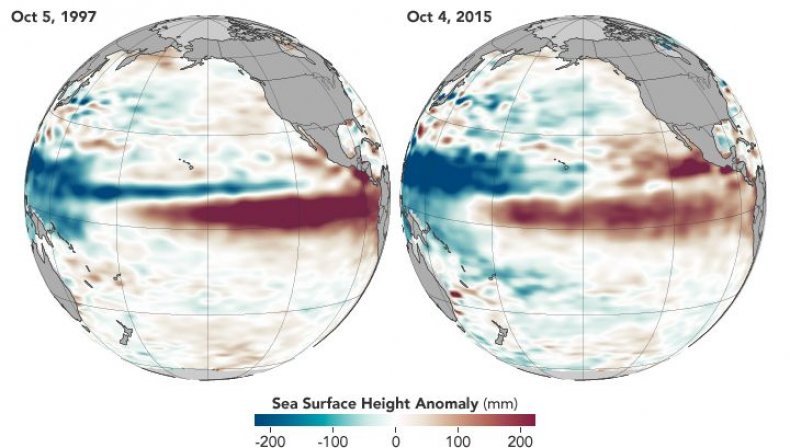 "Whether El Niño gets slightly stronger or a little weaker is not statistically significant now. This baby is too big to fail," said Bill Patzert, a climatologist at NASA's Jet Propulsion Laboratory, in a press release. "Over North America, this winter will definitely not be normal. However, the climatic events of the past decade make 'normal' difficult to define."
Now, NOAA says the force of El Niño will bring particularly bad news to the Pacific Northwest.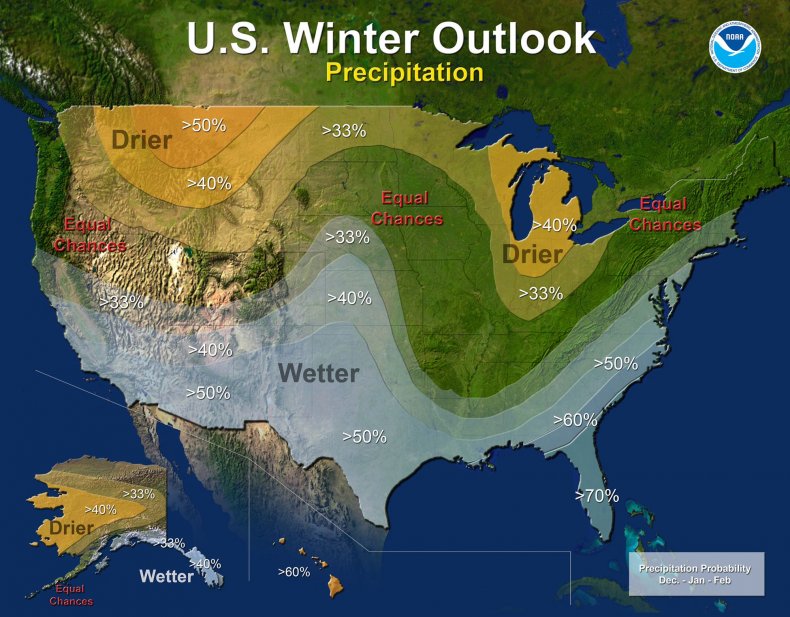 To make matters worse, drought conditions may begin to appear in states in the Great Lakes region and northern Plains. Hawaii may also be in for a particularly parched winter; a "dry signal" associated with El Niño years "favors drought development" across the Hawaiian islands, according to the latest federal drought forecast.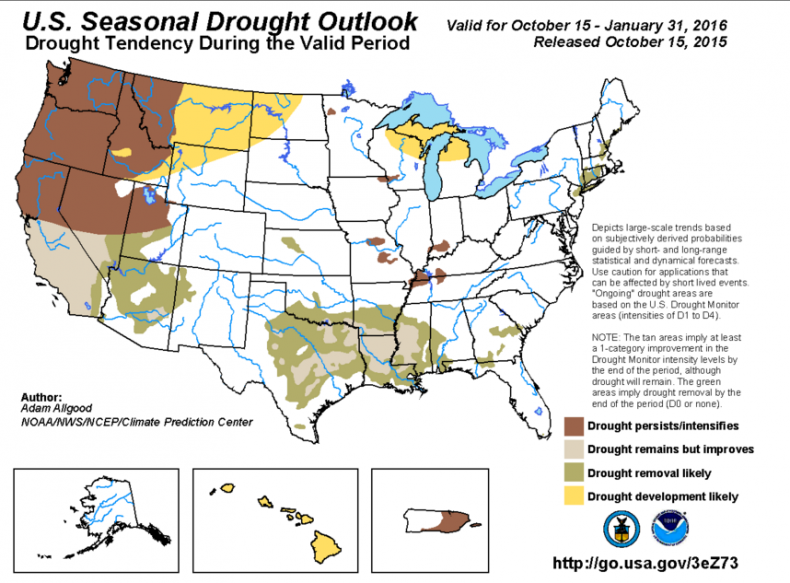 Central and Southern California, meanwhile, will likely see the more benevolent side of El Niño, in the form of "enhancement of the early wet season," making for a slightly wetter winter. This means their drought will "remain but improve," according to NOAA. But they shouldn't get too excited.
"While it is good news that drought improvement is predicted for California, one season of above-average rain and snow is unlikely to remove four years of drought," Mike Halpert, the deputy director of NOAA's Climate Prediction Center, said in a statement Thursday. "California would need close to twice its normal rainfall to get out of drought and that's unlikely."
Most of the South and Northeast U.S., meanwhile, has a wetter, warmer-than-average winter to look forward to.
Update: A caption in this article was updated to reflect that NOAA predicts the Northwest has a 60 percent or greater probability of experiencing higher-than-average temperatures this winter.