#ElPasoChallenge Trends After 11-Year-Old Boy Urges Doing A Good Deed for Every Life Lost in Shooting
The hashtag #ElPasoChallenge trended on Twitter after an 11-year-old boy wrote a letter challenging everyone in the city to do 20 good deeds in remembrance of the people who died in the Saturday's mass shooting.
At the top of a piece of notebook paper, sixth grader Ruben Martinez of El Paso wrote #elpasoCHALLENGE, followed by, "Purpose: To honor the people who got killed in our city. How: I'll challenge each person in El Paso to do 20 good deeds for each other." Martinez provided examples and asked people to spread the word on his challenge on Facebook and with posters and flyers.
The boy concluded, "This will show the world that people from El Paso, TX are kind and care for each other."
It didn't take long for his hashtag to go viral. It even led some Twitter users to put their politics aside in memory of the 22 people who were killed.
"Kids are gonna save us all," The Democratic Coalition co-founder Scott Dworkin wrote in an Instagram post. Dworkin shared the link to his Instagram post on Twitter with the comment, "Faith in humanity restored."
Dworkin told Newsweek on Tuesday he saw Martinez's letter soon after it was posted on Twitter. Though Martinez's mother, Rosa Gandarilla, shared the tweet Sunday night, Dworkin only shared the #ElPasoChallenge Tuesday, out of the fear he would politicize the campaign.
"If I sent it around how I normally do, then way too many trolls and others could be magnetized to it. And this is too positive of an effort for that kind of madness," Dworkin said.
Dworkin said the hashtag was a clear reminder that most Americans are good people.
"Most Americans don't buy into the hateful rhetoric being spread. Especially our children," Dworkin said. "[The #ElPasoChallenge is] a reminder that we can rise above hate and win with love."
Democratic State Senator Kerry Donovan of Colorado thought Martinez had a "wonderful idea" and "a start."
"I'm in Colorado, about 9 hours straight north of you and Ruben. #elpasochallenge," Donovan tweeted. "Anyone else in #coleg #copolitics hashtag world want to join? 22 random acts of kindness."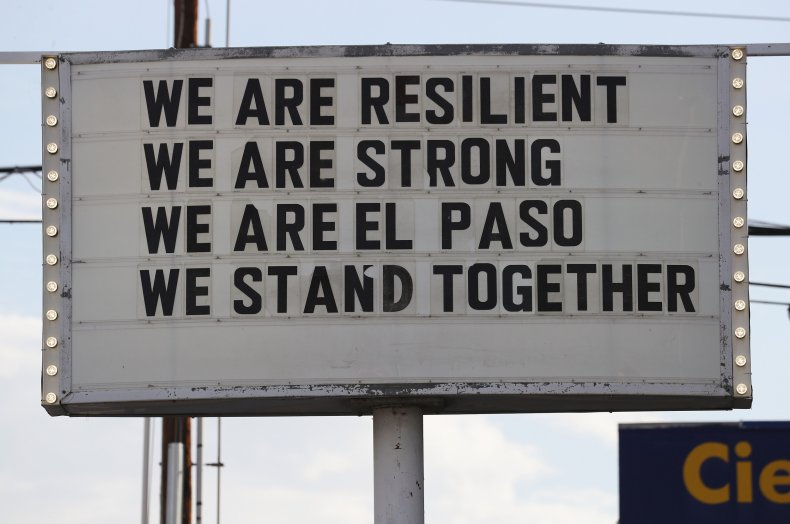 Another Twitter user wrote, "I'm from another border town, this is a truly wonderful thought, we should all do this #elpasoCHALLENGE."
The challenge spread from El Paso to other parts of Texas, across the United States and even to Australia.
Martinez told KVIA-TV that it was a way to help people "in need when they're feeling stressed out," and that "all of the people from Twitter and Facebook are like—they chatted and they wanted—they all wanted to do it."
Other hashtags that trended after the massacre were more political, including #GunControlNow and #ResignTrump, from Democrats who blamed President Donald Trump for anti-immigrant rhetoric similar to the content of a manifesto believed to be from Patrick Crusius, the El Paso shooter.