Mitch McConnell Remains Silent on Pushing Gun Regulation Through Senate
At least 29 people were killed and 53 injured during two mass-shootings in Dayton, Ohio and El Paso, Texas this weekend. The Ohio shooting marked the 253rd mass shooting in the United States this year. Both shooters were white men in their early 20s, and the El Paso gunman left behind a manifesto that claimed "this attack is a response to the Hispanic invasion of Texas."
The assault rifle used in the Dayton shooting, where nine people were killed in less than one minute, was obtained legally. An AK-47-style assault rifle was also used in the El Paso shooting where 20 were killed. The shootings have led many politicians, Republicans included to demand that Senate reconvene to pass gun control legislation.
Congress passed a wide gun control bill earlier this year, the Bipartisan Background Checks Act of 2019, with support on both sides of the aisle, but Senate Majority Leader Mitch McConnell essentially blocked the bill from moving forward and coming to a vote.
Speaker of the House Nancy Pelosi said in a statement Sunday that "the Republican Senate must stop their outrageous obstruction and join the House to put an end to the horror and bloodshed that gun violence inflicts every day in America. Enough is enough."
In a tweet, Senate Minority Leader Chuck Schumer wrote that McConnnell "must call the Senate back for an emergency session to put the House-passed universal background checks legislation on the Senate floor for debate and a vote immediately."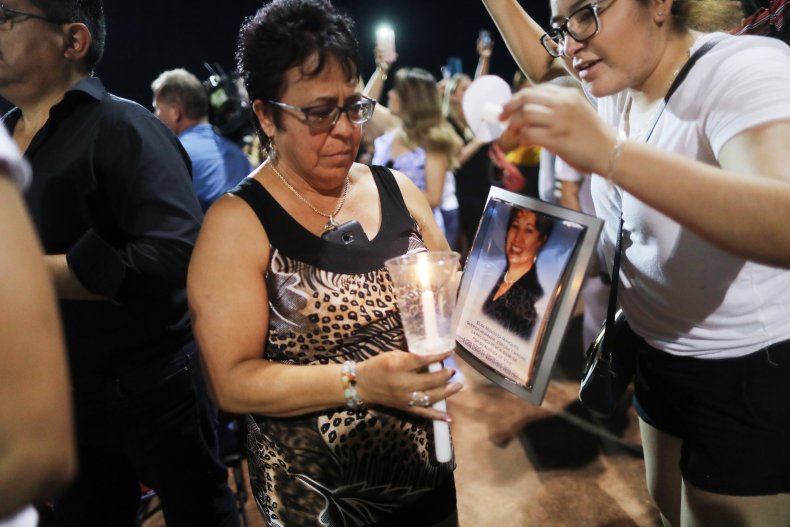 Massachusetts Senator and 2020 presidential candidate Elizabeth Warren also took to Twitter to condemn her Republican colleagues. "Once again disgusted by the GOP leadership in Washington," she wrote. "Americans shouldn't have to live in fear that if they go to Walmart, or a festival, or school, or just walk down the street that they won't make it home alive. This has to stop." Fellow Democratic Senator and 2020 candidate Amy Klobuchar said that she was ready to return from August recess tomorrow to pass the background check bill.
Republican Senator Tim Scott said on Face the Nation Sunday that he would "happily come back to Washington to have a conversation about gun violence...I'd do it tonight, I'd leave tonight, I'll go tomorrow. It doesn't matter to me, this is such an important issue."
McConnell, who received an A+ rating from the National Rifle Association, also received about $1.26 million in donations from the group as of February 2018.
In 2014, the NRA endorsed McConnell's Senate run and wrote in a statement that "the true measure of leadership and courage comes during moments of adversity and Leader McConnell has stood steadfast with America's law-abiding gun owners during the most trying of times." Chris W. Cox, former chairman of the NRA Political Victory Fund went on to say that "he has fought against sweeping gun and ammo bans and supported substantive efforts that rightfully place the burden of our justice system on violent criminals."
Members of the NRA have also met with McConnell to discuss potential Supreme Court nominees.
McConnell, who is currently recovering from a fractured shoulder at his home in Kentucky, has remained mum on his plans to address the topic. The Senator's team did not immediately respond to requests from Newsweek. On Sunday evening he tweeted "two horrifying acts of violence in less than 24 hours. We stand with law enforcement as they continue working to keep Americans safe and bring justice."
Other Republicans, meanwhile, blamed video games for the shootings. "What's changed in this country? We've always had guns. We've always had evil. But what's changed where we see this rash of shootings? And I see a video game industry that teaches young people to kill," said Texas Lieutenant Governor Dan Patrick during a Sunday interview on Fox News.
House Minority Leader Kevin McCarthy later agreed with Patrick's assessment. "The idea these video games — to dehumanize individuals, to have a game of shooting individuals and others — I've always felt that is a problem for future generations and others," McCarthy said on Fox. "We've watched from studies shown before of what it does to individuals. When you look at these photos of how it took place, you can see the actions within video games and others."
Texas Senator John Cornyn wrote on Twitter Sunday that rushing to restrict gun ownership was wrong. "For every complex problem there is an answer that is clear, simple, and wrong. Sadly, there are some issues, like homelessness and these shootings, where we simply don't have all the answers," he wrote. "Focusing on law abiding citizens exercising their constitutional rights solves nothing. We need to treat these crimes as problems to be solved, rather than one to be exploited for partisan political gain."
Others said the problem of and solution to mass shootings revolved around "mental health" issues. "May not have mattered here, but Red Flag laws have proven to be effective in states that have them," wrote Senator Lindsey Graham on Twitter.