An El Paso man has invited the public to his wife's funeral after she was killed in the mass shooting this month because he has no living relatives to help send her off.
In a Facebook post on Tuesday, Perches Funeral Home said Antonio Basco, who was married to Margie Reckard for 22 years, has extended an invitation to the public for his wife's funeral on August 16.
"Mr. Antonio Basco was Married for 22yrs to his wife Margie Reckard, He had no other family. He welcomes anyone to attend his Wife's services. On Friday August 16th, Perches Funeral Home Northeast on 4946 Hondo Pass from 5-9pm. Let's show him & his Wife some El Paso Love. #EPSTRONG," the post said, alongside an image of Basco kneeling at a vigil for the victims of the shooting.
According to KVIA, a local ABC affiliate, the funeral parlor holds roughly 200 guests.
Basco told Associated Press last week that his wife of over two decades was "an angel."
"I mean you didn't even have to be there to talk to her. You could just look at how she was, how she acted, how she presented herself. She was an awesome lady," he said. "You see Margie, more or less, was the brains of the family."
"We were gonna live together and die together," Basco added. "That was our plan."
Reckard, who died aged 63, was born in Washington D.C. on August 21, 1955. She passed away on August 3, 2019 after a gunman, identified as 21-year-old Patrick Crusius, opened fire at a Walmart near the Cielo Vista mall in El Paso, Texas, leaving 22 dead and dozens more injured. One day later, on August 4, another shooting in Dayton, Ohio left nine dead.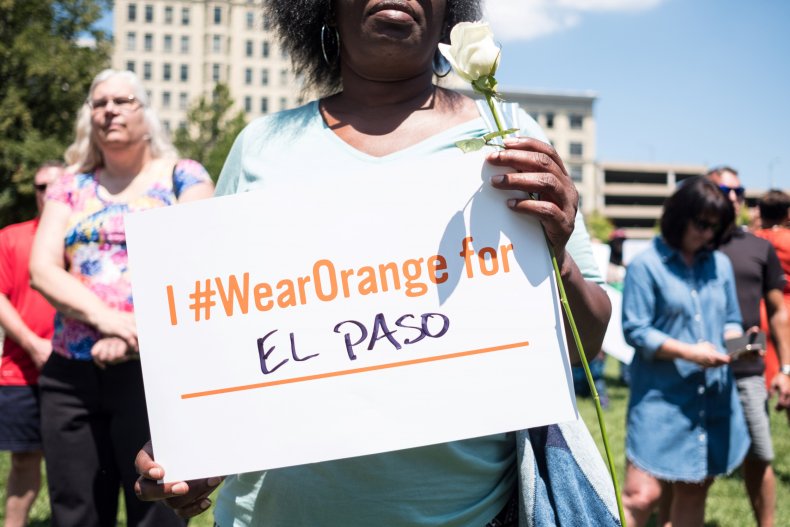 Trump's inflammatory racial rhetoric came under fire in the days after the two shootings, with Democrats alleging that the president had effectively encouraged hate and violence with his derogatory remarks about immigration. Although the Dayton incident had no direct link to white supremacy, the El Paso shooter appeared to have been encouraged by anti-immigration sentiments.
In the aftermath of the El Paso incident, authorities revealed that they were investigating a manifesto, allegedly written by the shooter, that contained anti-immigration rhetoric and sympathy for the Christchurch shooter, a gunman involved in attacks on New Zealand mosques earlier this year that left 49 dead.
Calls for stricter gun control measures also flooded social media in the days after the shootings, prompting #GunControlNow to trend on Twitter with tens of thousands of people calling for lawmakers to enact legislation.
Trump responded by saying that "hate has no place in our country," before vowing to "take care of it," without detailing any concrete plans to address gun violence. The president also claimed that his administration has "done much more than most" on the issue but noted that "perhaps more can be done."