El Paso Mayor Warns 0.6% Rise in COVID Hospitalizations Will Cut Business Capacities in Half Again
El Paso Mayor Oscar Leeser urged residents of the southern Texas city to continue practices that mitigate further spread of COVID-19 on Wednesday, after Governor Greg Abbott rescinded statewide public health orders that previously mandated the use of face masks in public spaces and restricted business operations.
The governor's controversial reopening plan is set to take effect next week, despite calls from health experts who warned that lifting regulations could prompt an oncoming spike in virus transmission. In El Paso, where recurring outbreaks stretched local resources thin last year, officials confirmed their intent to reinstate stricter mitigation protocols should the area's COVID-19 hospitalization rate reach 15 percent. The rate already stood at 14.4 percent on Wednesday, as Leeser explained during press conference remarks delivered alongside County Judge Ricardo Samaniego.
"One of the things that I can tell you is that, as a business owner, you have the right to request that people wear face masks in your establishment," Leeser said first, before strongly encouraging community members to abide by former mask guidelines despite Abbott's recent reversal. He added later that leadership at large companies in El Paso had already communicated their intentions to mandate patrons' use of face masks when inside their establishments.
"Right now, I can tell you that our community has come a long way," the mayor continued. He noted that, just a few months ago, El Paso was considered one of the nation's hardest-hit virus hotspots.
"It's not time to take a step back. It's a time to look and act as a community, united," he said. "So, I ask the community, and I ask the people of El Paso, to please wear masks. It's really important that we wear masks."
Abbott's Tuesday executive order allows businesses to operate at 100 percent of their individual capacities beginning March 10, when Texas' statewide face mask mandate will also expire. The order includes a provision that permits county judges to reimplement COVID-19 mitigation measures in their respective regions if hospitalizations rates reach 15 percent. Leeser said Wednesday that El Paso's approach, should its COVID-19 hospitalization numbers reach that threshold, would involve scaling back reopening procedures for establishments.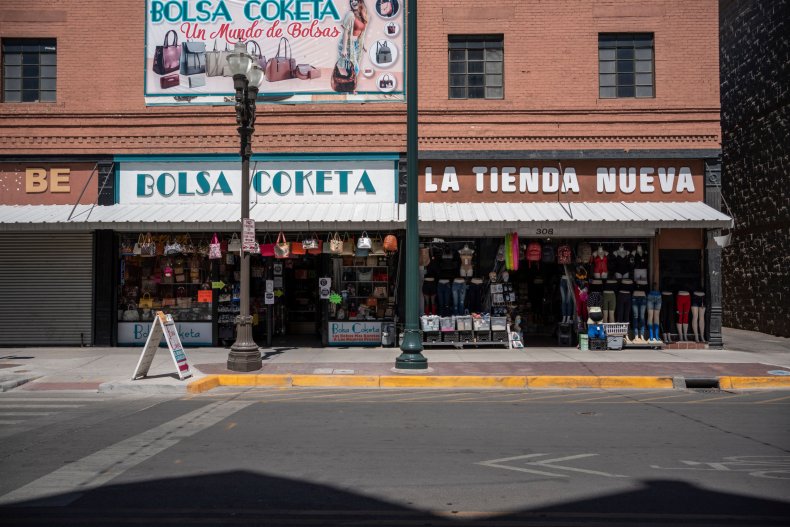 "Our businesses are going to open at 100 percent, effective March 10. But if we go over the 15 percent hospitalization rate, we will go back to 50 percent," the mayor told press conference viewers. "And it's not very efficient for a business to be open and closed, and going back and forth."
Newsweek reached out to Leeser's office for further comment but did not receive a reply in time for publication.