El Paso Shooter Bought Ammunition From Russia, Told Investigators He 'Wanted to Shoot as Many Mexicans as Possible': Report
The shooter who killed 22 people and injured dozens more in El Paso, Texas earlier this month reportedly purchased his assault rifle from Romania and thousands of rounds of ammunition from Russia.
According to a Texas Department of Public Safety report obtained by The Texas Tribune, the 21-year-old suspect told police about the details of the weapons shortly after he was arrested. The gunman surrendered to authorities in his car nearly a mile away from the Walmart where the attack took place. Officials said the shooter had a "stone-cold look" when apprehended and expressed no remorse or regret.
The shooter later told investigators that he has purchased the AK-47 assault rifle from Romania and had it shipped to a gun dealer near Allen, Texas. The ammunition, he added, was from Russia. El Paso Police Chief Greg Allen had previously said the firearm was bought legally but never elaborated on where or when the shooter obtained it.
The shooter also reportedly told investigators about his manifesto, which was posted to the online messaging board 8chan just minutes before the attack. The document was filled with white supremacist ideology and railed against immigration, particularly in the Latino community. The author warned of a "Hispanic invasion of Texas" and detailed a plan to separate America based on race.
The suspect also told authorities that he "wanted to shoot as many Mexicans as possible" during the attack, according to a summary of his police interview included in the public safety report. Thirteen of the victims were U.S. citizens, eight were Mexican citizens and one was German.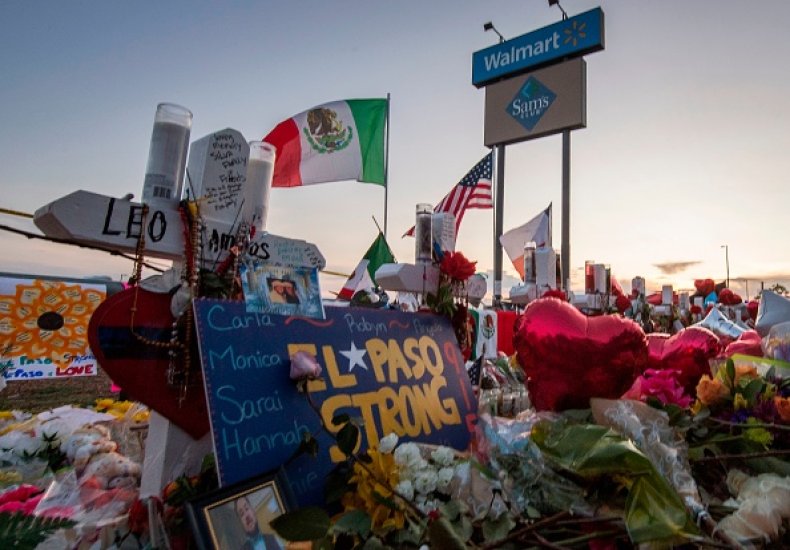 The Houston Chronicle recently reported that Texas Governor Greg Abbott sent a fundraising mailer to supporters asking them to help him "defend" the state from illegal immigrants just one day before the El Paso shooting.
"If we're going to DEFEND Texas, we'll need to take matters into our own hands," read the letter, which was dated August 2.
"Doing nothing will only lead to disaster for Texas, both economically and politically. Securing our border should be the federal government's job, but there is clearly a crisis at our southern border — a crisis Congress refuses to fix," Abbott added.
This month's mass shootings, which killed 31 people in less than 24 hours, have sparked a nationwide debate over gun legislation and the Second Amendment. But despite public outcry and pressure from Democrats, Senate Majority Leader Mitch McConnell has not called senators back from summer recess for an emergency legislative session on the issue.
The Senate majority leader has also not allowed a vote on gun control legislation that was passed by the Democratic-controlled House earlier this year. The bill would require universal background checks for almost all firearm purchases.
President Donald Trump responded to the tragedy in El Paso by condemning hate groups and calling for the death penalty for mass murderers and domestic terrorists. He also seemed to signal support for stronger gun background checks but has since reversed his stance on gun control.
"We have very strong background checks right now," Trump said last week. "But we have missing areas, and areas that don't complete the whole circle. And we're looking at different things. And I have to tell you that it is a mental problem. And I've said it a hundred times it's not the gun that pulls the trigger, it's the people."
During his visit to El Paso shortly after the shooting, Trump praised the work of first responders and noted how much "love and respect" people had for the office of the presidency. It was reported, however, that many victims did not want to meet with the president. Trump also said he was struck by "all the love" he had seen on his trip.