El Paso Representative Praises DoJ for Recognizing Mass Shooting as 'Racially-motivated Terrorist Attack': 'He Came Here to Harm Us'
El Paso Democratic Rep. Veronica Escobar took a moment on Sunday to honor the Department of Justice for its decision to investigate Saturday's mass shooting as a "racially-motivated terrorist attack" on her community.
"El Paso is resilient and strong, and as long as there is someone in need, we will be there. Nothing will or can change that. But, we would be remiss if we did not address the determination by the Department of Justice," Escobar said at a press conference organized specifically to address the DoJ's decision.
Earlier on Sunday, U.S. Attorney for the West District of Texas, John Bash, had confirmed that the DoJ would be investigating the massacre, which saw 20 people killed and two dozen more injured, as a "domestic terrorism case."
Bash said that officials would also be considering pursuing federal hate crime charges against the suspect, who has been identified as Patrick Crusius, a 21-year-old resident of Allen. Under those charges, Crusius, who is believed to have penned a post on website 8chan railing against the Hispanic community and immigrants ahead of the shooting, could face the death penalty.
"We're treating El Paso as a domestic terrorism case. And we're going to do what we do to terrorists in this country—deliver swift and certain justice," Bash said in a tweet following a press conference on the attack.
While federal officials have historically been reluctant to use the term "domestic terrorism," in large part because the U.S. lacks laws that specifically address acts that might fall under that umbrella, in this case, Bash said, Saturday's mass shooting appears to meet the statutory definition of domestic terrorism.
Under that definition, outlined in the U.S. Code, "domestic terrorism" is defined as pertaining to activities that "involve acts dangerous to human life that are a violation of the criminal laws of the United States or of any State" and "appear to be intended" to "intimidate or coerce a civilian population…influence the policy of a government by intimidation or coercion…or…to affect the conduct of a government by mass destruction assassination or kidnapping" and "occur primarily within the territorial jurisdiction of the United States."
Escobar said the El Paso community was "heartened" that the Department of Justice was recognizing Saturday's mass shooting "for what it is: A racially-motivated terrorist attack on our safe and tranquil community."
"The shooter came into our community because we are a Hispanic community and because we have immigrants in our community. He came here to harm us. The Department of Justice and local law enforcement have identified this as being motivated by hate. And it is this hate that is at the root of much suffering in our country," Escobar said.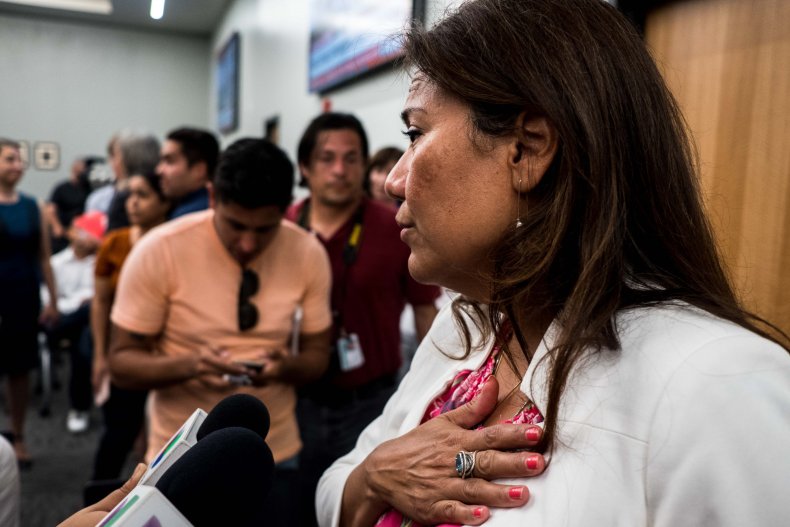 Without naming the sources driving such sentiments, Escobar warned that "there are deadly consequences to bigotry, racism and hate. There are deadly consequences to dehumanizing our fellow human beings."
"Domestic terrorism is one of those deadly consequences," the lawmaker said, before calling on the federal government to take action to address white supremacy and domestic terrorism "as a national crisis."
"We stand together in calling for our federal government to hear the alarm sounded by federal law enforcement about 'conspiracy theory-driven domestic extremists,'" she said.
The federal government, Escobar said, should "immediately instruct federal agencies and law enforcement to draft a national plan to deal with white supremacy and domestic terrorism as a national crisis…and support legislation and funding that would deal with the national emergency that we face with both the gun violence epidemic as well as the hate epidemic plaguing our country."
"El Paso is an incredible community—we have been safe for decades. Historically, El Paso has led the nation in its desegregation and integration efforts; and during moments of crisis, we've demonstrated to the country how we treat strangers and the most vulnerable in our midst," the representative added. "We will continue to do this because we have chosen to face challenges with decency, strength and love."
The graphic below, provided by Statista, illustrates the number of people killed and injured by firearms in the U.S. in the last five years.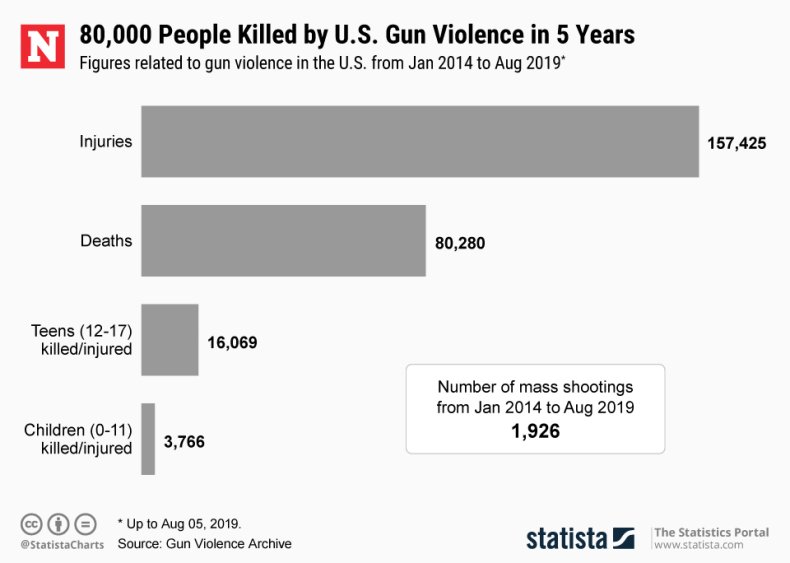 Correction: This article previously stated that U.S. officials would be pursuing hate crime charges against the El Paso shooting suspect. Officials are currently considering pursuing hate crime charges against the suspect.
This article was updated to include an infographic.