El Paso Times Editor Cautions Trump Ahead of Visit: 'Mr. President, The Hatred Didn't Come From Our City'
Ahead of a planned visit Wednesday to El Paso, Texas, by President Donald Trump, the editor of the city's major newspaper, the El Paso Times, has a message for the nation's leader as he embarks on trips to two cities rattled by mass shootings in recent days.
"When you visit today, you will see El Paso in the agony of our mourning. You also will see El Paso at its finest," El Paso Times Editor Tim Archuleta wrote in a Wednesday morning op-ed. "Mr. President, the hatred of the El Paso shooting didn't come from our city."
Police have said the gunman drove to El Paso from Allen, a roughly 10-hour drive.
Trump will visit first responders and victims' families in Dayton, Ohio, the site of a bar where nine people were killed by a gunman, before moving on to El Paso, where 22 people lost their lives by a separate gunman at a Walmart. Some local Democratic leaders, such as Dayton Mayor Nan Whaley and El Paso Congresswoman Veronica Escobar, are opposed to the visits, accusing the president of using racially-charged and divisive rhetoric that contributed to the massacres.
As evidence, critics have pointed to him laughing at a May rally in Florida's panhandle when a supporter suggested immigrants should be shot to prevent them from crossing the southern border and the El Paso gunman's racist manifesto posted online that used language repeated by Trump, such as warning about a "Hispanic invasion."
"We were targeted by a white supremacist, and we are suffering," Archuleta wrote. "The violence of that day may have been a product of his hatred. It was not a product of our community."
Before boarding Marine One at the White House, Trump denied the notion that his rhetoric contributes to violence and pivoted when asked whether he was regretful that the El Paso gunman used parallel phrases to reference migrants. Trump pointed to the Dayton gunman, who police have said had a longtime obsession with violence and mass shootings, in addition to his support for social media posts related to Senators Elizbeth Warren and Bernie Sanders. However, police have not said the Dayton attack was politically motivated. Officials have classified the El Paso attack as domestic terrorism and a hate crime.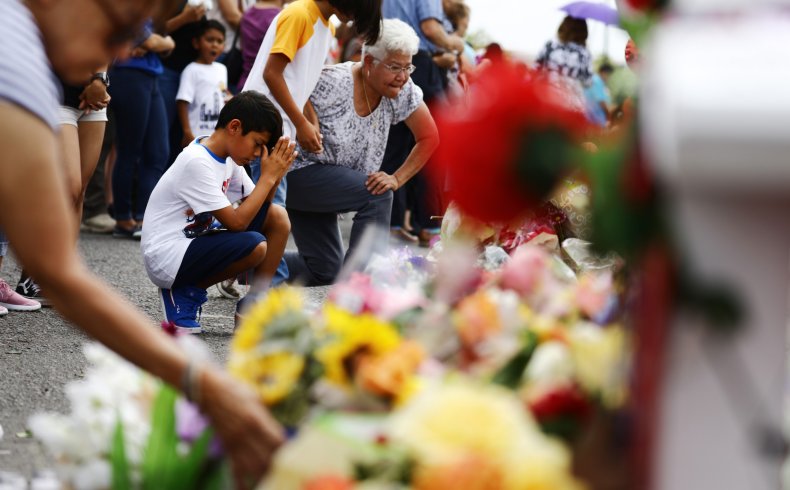 "I think we have toned it down. They're trying to make political points," the president told reporters. "I am concerned for any group of hate, I don't like it, whether it's white supremacy or any other kind of supremacy, whether it's ANTIFA, whether it's any group or kind of hate. I am concerned about it and I'll do something about it."
Trump continued: "I don't think my rhetoric does at all—I think my rhetoric brings people together. Our country is doing really well."
Trump is expected to be greeted by protesters in both cities. But Archuleta said that, despite his grieving community that his paper reports on every day, "today is a very good day to visit El Paso."
"An outsider came here to shatter our city, to murder our neighbors. A white man from another Texas city came to target the more than 80% of us who share Hispanic roots. We are horrified to have witnessed this violence in our city," Archuleta wrote. "This is not the El Paso we want the world to know. This is a city with a deep tradition of racial harmony. It is a city of warm, compassionate, patriotic, accepting residents who did not deserve this suffering."
Trump also expressed a willingness for Congress to take action to prevent further gun violence, such as implementing so-called "red flag" laws, which would allow law enforcement to temporarily confiscate firearms from those believed to be an imminent threat to themselves or others, and increased background checks. This despite a veto threat in February when the House passed gun control legislation for universal background checks.
"Mr. President, while we are sorry to have seen such violence and to have felt such pain, one other thing must be said about today," Archuleta wrote. "Today is a very good day to visit El Paso. Today, in spite of our suffering, you will see the city that makes us proud."