Trump Administration Is Tackling Migration the 'Wrong Way'—El Salvador President
The president of El Salvador, Nayib Bukele, has said that the Trump administration should not try to block people from entering the U.S because that approach does not work.
His comment came soon after Bukele accepted his country's responsibility for the harrowing fate of Oscar Alberto Martinez Ramirez and his 23-month-old daughter Valeria, who died after trying to cross the Rio Grande River into the U.S.
The image of the pair reignited the debate about illegal immigration and President Donald Trump's hard-line policies, which critics say have spurred prospective migrants from Central America to take riskier routes into the U.S.
The 37-year-old Bukele said he would work to provide more opportunities for El Salvadoreans so they would not need to seek a better life in the U.S.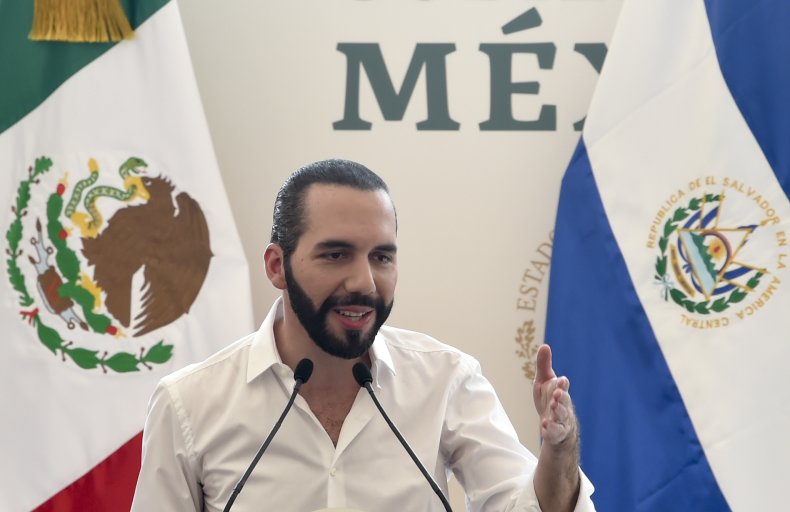 He had told the BBC that the father and daughter "had fled our country, it is our fault. People don't flee their homes because they want to, people flee their homes because they feel they have to."
According to the BBC, one in 10 people in the Central American country have no access to drinking water, one-third live below the national poverty line, and in 2015, it had the world's highest murder rate.
Bukele insisted that Washington would not deter people simply by blocking them. He told Sky News: "They are approaching this in the wrong way. History has shown that this will not stop migration. But the things that we're trying to do here, that may stop forceful migration. We agree on what we want to do but for different reasons. They don't want our people and I want our people here."
He has promised to try to redefine El Salvador's image with the U.S. and work on security and "providing jobs for our people."
"We are trying to make our country safe. Most of the people who are fleeing…don't feel safe…so we want to make our country safer and we will work really hard," he told Sky News.
Elected on an anti-corruption platform in February, thanks in part to an effective social media campaign, Bukele became the country's first president from neither the right-wing Nationalist Republican Alliance (ARENA) nor the leftist Farabundo Martí National Liberation Front (FMLN).
He said that he would focus on creating jobs for his country. "So if people have an opportunity for decent jobs, a decent education, a decent healthcare system and security, I know that forced migration will be reduced to zero," he said.