Father Killed in Mexico While Waiting for Asylum Under Trump Policy Had Warned DHS His Family Did Not Feel Safe: Lawyer
A father who was murdered in Tijuana, Mexico after being forced to wait there with his wife and two children while their asylum cases were processed in the U.S. had warned immigration officers that his family did not feel safe in the border town, according to a lawyer representing his family.
The family, whose identities have been withheld over fears of retribution, had made the difficult journey from El Salvador to the U.S. border in the spring. They arrived at the San Ysidro port of entry in San Diego, California in May to formally request asylum, Richard Sterger, the immigration lawyer now representing the family, told Newsweek.
To the family's dismay, like thousands of other asylum seekers, they were turned around and told to wait in Tijuana, Mexico, while their asylum cases were processed due to the Trump administration's Migrant Protection Protocols (MPP), better known as the "Remain In Mexico" policy.
When their first court hearing arrived on September 11, the family pleaded to be allowed to stay in the U.S., expressing fears for their safety if they were forced to return to Tijuana.
"The Department of Homeland Security, to their credit, had developed a system in court where if somebody claimed a fear of being returned under the MPP to Tijuana...That person would not be returned," Sterger said. Instead, they would be sent to U.S. Immigration and Customs Enforcement (ICE) agents for a credible fear interview to determine whether there was a valid basis for their fears.
At the time, the family did not have any legal representation or support in their case. Despite telling immigration officials of their fears of returning to Tijuana with two young children under 10, they were eventually sent back to the border town.
Just over two months later, the family's fears would come true, however, with the father being killed in a vicious attack.
"He was brutally murdered with stab wounds to the neck and all throughout his torso," Sterger said.
While Newsweek has reviewed the father's death certificate, which it is not publishing in order to protect the family's anonymity, the details surrounding the father's death are not yet clear.
However, immigration advocacy and human rights groups have repeatedly warned the U.S. government that Tijuana is not a safe place for asylum seekers to be forced to wait while their cases are processed.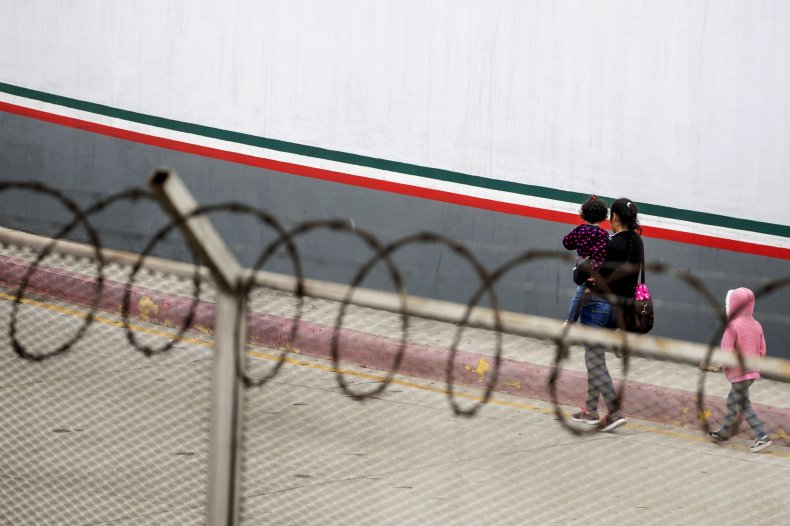 In a Human Rights First report, the organization said it had identified at least 636 publicly reported cases of "rape, torture, kidnapping and other violent assaults against asylum seekers and migrants forced to return to Mexico by the Trump administration."
Among those were reported attacks were at least 138 cases of children being kidnapped or nearly kidnapped while in Mexico due to the policy, which Human Rights First branded an "illegal scheme."
The father's brutal death in Tijuana, Sterger said, is "a tragic case, but we knew this was going to happen."
The Trump administration, the attorney said, is "leading lambs to slaughter" by forcing asylum seekers to wait in Mexican border towns while their asylum cases are processed.
Sterger said the mother and two children fled to the U.S. border and begged to be allowed in after the father was killed. So far, they have been allowed to remain there while their cases continue to be considered.
Newsweek has contacted the Department of Homeland Security, the U.S. Customs and Border Protection agency and White House for this article.