Elaine Chao, Trump Transportation Sec., Becomes 1st Cabinet Member to Resign After Capitol Riot
Elaine Chao, the U.S. secretary of transportation under Donald Trump, announced her resignation Thursday afternoon, citing Wednesday's pro-Trump riot at the U.S. Capitol as the reason for her early departure.
Chao will end a four-year term as chief of the federal agency, having served in the role since Trump's presidency began. She is married to Kentucky Senator and current Senate Majority Leader Mitch McConnell, who was reelected to that position last November.
Chao confirmed that she will resign from the Transportation Department in a statement shared to Twitter.
"Yesterday, our country experienced a traumatic and entirely avoidable event as supporters of the President stormed the Capitol building following a rally he addressed," Chao wrote in an email to department colleagues, which appeared in the tweet. "As I'm sure is the case with many of you, it has deeply troubled me in a way that I simply cannot set aside."
President-elect Joe Biden recently appointed Pete Buttigieg, his former Democratic opponent during the presidential primaries, to succeed Chao as transportation secretary when his term commences. Chao's resignation is effective January 11, about one week before Inauguration Day.
Chao is the first member of Trump's Cabinet who plans to step down in the aftermath of Wednesday's assault on the Capitol. Following a rally, hundreds of the sitting president's supporters stormed the federal complex to protest his election loss to Biden. Some individuals involved in the riot carried weapons, and a group of them breached the Capitol complex itself, prompting a lockdown and evacuations.
Local leaders deployed National Guard troops to assist Capitol Police and Metropolitan Police officers as they tried to manage the escalating situation. As of Thursday, police had reported four deaths, including one in a shooting, in addition to dozens of nonfatal injuries.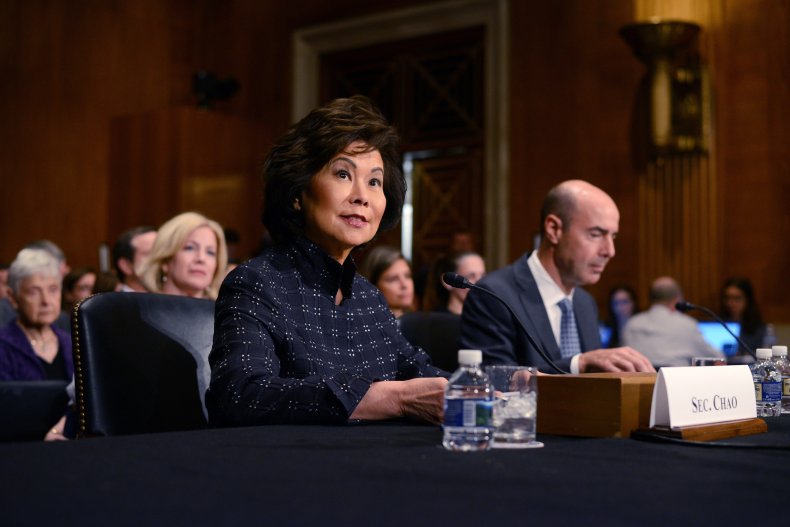 The transportation secretary's resignation followed similar announcements from top White House officials, with reports suggesting others may follow. Stephanie Grisham, first lady Melania Trump's chief of staff and the former White House communications director, confirmed her resignation on Wednesday night, along with deputy press secretary Sarah Matthews and deputy national security adviser Matthew Pottinger.
Mick Mulvaney, Trump's former acting chief of staff, announced Thursday morning he will resign from his current position as U.S. special envoy to Northern Ireland.
"I can't do it. I can't stay," Mulvaney said during an appearance on CNBC's Squawk Box.
Many are calling for Trump's removal through impeachment proceedings or by invoking the 25th Amendment.
Democratic Representative Alexandria-Ocasio Cortez criticized Chao's decision to resign following her Thursday announcement, noting that her influence as transportation secretary could assist other federal officials pushing for the president's immediate discharge.
"At this late a stage, resignations help little beyond serving as late attempts at self-preservation," the New York congresswoman wrote on Twitter. "If Sec. Chao objects to yesterday's events this deeply, she should be working the Cabinet to invoke the 25th amendment - not abdicating the seat that allows her to do so."
Newsweek reached out to the White House for comment but did not receive a reply in time for publication.
This story was updated at 2:46 p.m. to include additional details and background information.