'Elder Scrolls 6' Details Still 'Years' Away, Says Bethesda VP Pete Hines
Elder Scrolls 6 is still a few years away, according to Pete Hines, senior VP of global marketing at Bethesda Softworks.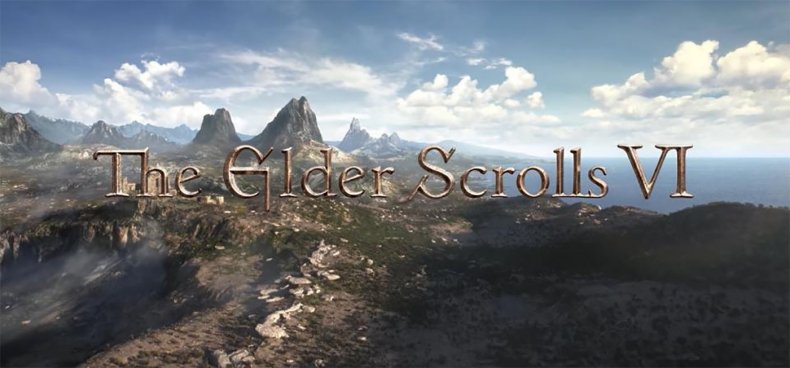 In a tweet from a fan asking Hines for news about Elder Scroll 6, he replied that information for the game would be released "after Starfield" and that details could be coming "years from now." When asked a follow-up question by YouTuber DansGaming about news on Starfield, Hines replied that it would be coming "someday."
One commenter responded with a joke implying a typo and said that the announcement would come on Sunday, to which Hines responded " jfc. you guys are impossible. Enjoy your disappointment."
The last time fans and those outside of Bethesda heard anything about Elder Scrolls 6 was at E3 2018, when the game had its initial reveal trailer. Other than that random mountain seen in the trailer and the epic score blasting from the speakers, there's no actual information out there about the title. With both Starfield and Elder Scrolls 6 at least a few years away, gamers shouldn't expect that the titles will appear playable until 2021 or 2022 at the earliest.
Bethesda announced Fallout 76 at the same E3 press conference, and that is the last game the company has developed in-house and released. The vault hunting expedition was released in November of that year as a fairly buggy and incoherent experience that left fans wanting more out of the wasteland. Over the past year and a half, much desired features, like non-player characters and balance changes, have been implemented, making the game a bit more desirable to play.
The last major Elder Scrolls title that wasn't a mobile game or port to another console was Skyrim in 2011. The title has affected the gaming space for nearly a decade, being the cornerstone of fantasy role playing and mod adjustability. Being able to transform into a werewolf as a dragon looms overhead, or to transform every character into Thomas the Tank Engine, is still one of the title's greatest accomplishments.
It only makes sense that fans would want a Skyrim sequel, especially when good news seems to be harder to come by while quarantined. Elder Scrolls 6 might be one the most of hyped games (next to Half-Life 3), and fans are clamoring to hear anything about it. Learning we are still years from any new announcements is disheartening, especially since working from home could limit the amount of development that could be done. Still, years might be worth the wait if ES 6 is as monumental as Skyrim was.