Elderly Man Dies After Being Stung by Bees More Than 300 Times
A 73-year-old man died on Monday after he was swarmed by bees in Texas' Bexar County.
In a press release, the local sheriff's office stated that emergency personnel believed that the man sustained more than 300 stings, according to the local news outlet KENS5.
The man, whose name was not released, survived the initial attack and was taken to nearby Southwest General Hospital in critical condition, according to KSAT. However, he eventually succumbed to his injuries.
While massive predators such as tigers and sharks inspire more fear than bees, the pollinating insects and their ilk are statistically more dangerous, according to data published by the U.S. Centers for Disease Control and Prevention two years ago.
Between 2000 and 2017, 1,109 people in the United States, the majority of them men and boys, died as a result of bee, wasp, or hornet stings for an average of 62 fatalities annually. For comparison, 10 people worldwide died as a result of shark bites in 2020, according to the Florida Museum.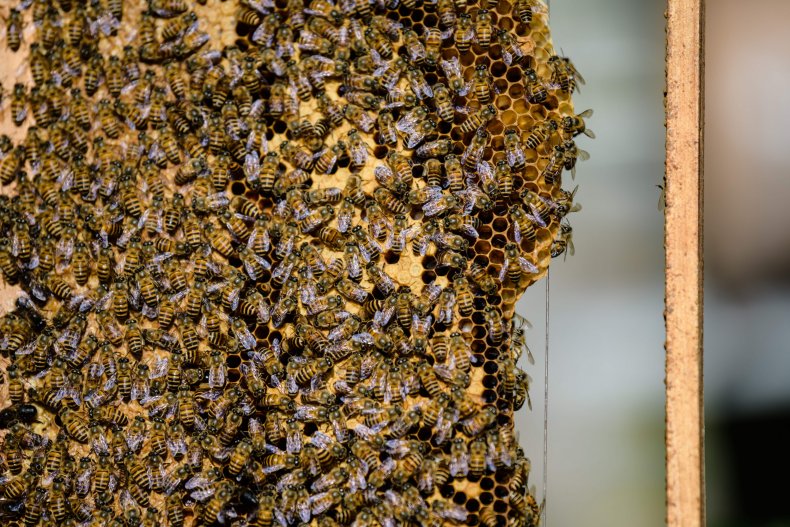 The man's neighbor, Maria Sanchez, told KENS5 that he was mowing the lawn when the attack occurred.
"I take him out to eat, maybe once or twice a week and I told him when we are done we would go eat those Taco Bell chips. I took him last Friday and he loved those chips!" she told KENS5.
When Sanchez went outside to check on the man around 10:30 a.m., she found him "covered, covered in those animals," she told KSAT, referring to the bees. It was not immediately clear what species of insects were responsible for the attack.
Sanchez poured rubbing alcohol on the man and attempted to wipe the bees from his face before calling 911, according to KENS5. The emergency dispatcher who answered was concerned for Sanchez's safety.
"[T]he lady says, 'Is the bees there?' They don't want me to get hurt," Sanchez told KENS5.
Her fears were far from unfounded. Deputies said that Sanchez herself was stung when she went to the man's aid, mySA.com reported.
Medics eventually arrived. They had to don protective clothing before administering first aid to the man, the sheriff's office press release stated, according to KENS5.
Another neighbor, Raymond Arredondo, told the outlet that the bees that attacked and killed the man were extremely aggressive. He said that they pursued him even after he tried to flee.
"Most of the time they hit you once or twice and they leave you alone. They hit me five or six times and they kept on chasing me," Arredondo, who, like Sanchez, was reportedly stung in the attack, said.
Another elderly Texas man, 70-year-old Thomas Hicks, met a similar fate in nearby Stephens County in April. Coincidentally, he was also in the process of mowing the lawn when the attack occurred. When Hicks's wife, who was identified only as Zoni, returned from the supermarket, she found her husband "covered in killer bees" to the point where "you couldn't even see his back and his whole head," she told BigCountryHomepage. Despite first responders' efforts, Hicks died of cardiac arrest.