Elderly New Yorkers Who Traveled to Connecticut for COVID Vaccine Turned Away
A group of elderly New Yorkers who traveled to Connecticut in an attempt to receive a COVID-19 vaccine were turned away as they did not meet state requirements.
According to WNBC News in New York, the Ledge Light Health District first called the Waterford Police Department after they were notified of the situation by the state's department of health.
In an email sent to Newsweek, Waterford Police Chief Brett Mahoney wrote, "When OFFICERS responded they spoke with the department of public health people on scene and CVS associates. It was ultimately determined that the people were from New York and were not able to get a vaccination in the Connecticut location."
Despite being able to make an appointment through CVS online, police told Newsweek that the Connecticut Department of Public Health is in charge of administering the vaccine, which prohibits people who are from out of the state from receiving the vaccine.
"The people did not seem to do this maliciously, the application that they filled out online allowed them to choose this as a nearest location due to their proximity from Long Island," Mahoney told Newsweek. "Our officers went and mediated the situation, there was no law-enforcement action taken and everyone left without incident."
In an email sent to Newsweek, a spokesperson for CVS stated, "While we did not contact the police in Waterford, we are following the State of Connecticut's current eligibility requirements to receive a COVID-19 vaccine."
The spokesperson then provided Newsweek with a list of requirements for residents to receive a COVID-19 vaccine in Connecticut. According to the list, in order to receive a vaccine, you must be age 75 or older, a health care worker, a medical first responder or a resident or staff of a long-term care facility.
"We recognize the high demand for COVID-19 vaccines. As more supply becomes available and eligibility expands, we look forward to increasing access to vaccinations in more stores and to more people," the CVS spokesperson told Newsweek.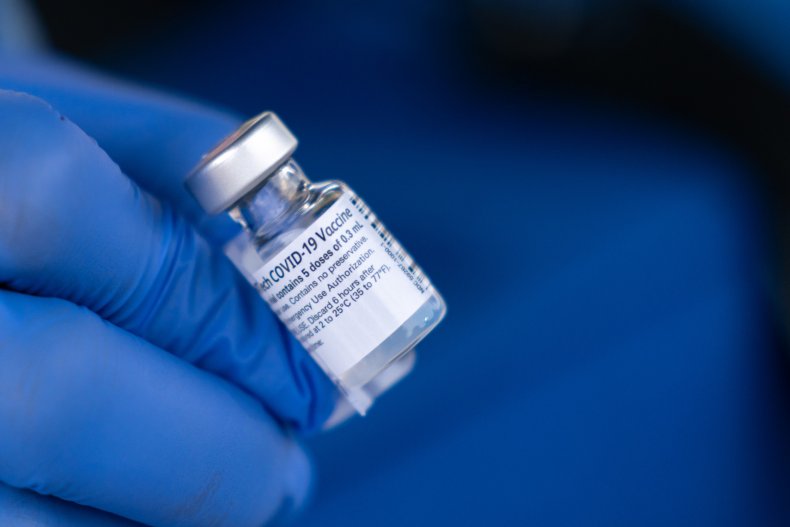 According to WNBC News, Brenda Warsaw, along with her husband and 86-year-old mother were three members of the group that traveled from New York to Waterford in an attempt to receive the COVID-19 vaccine.
Warsaw told WNBC News that she had been directed to the Waterford CVS after a desperate search to receive the vaccine and confirmed her appointment with the pharmacy online before traveling to the state.
"It's really quite disheartening when you got so excited about getting something and to be turned away," Warsaw told WNBC. "I said, 'I checked. I went over this a number of times, and I don't understand why.'"
During a press briefing on Thursday, Connecticut Governor Ned Lamont also spoke about the situation and reiterated the requirements needed to receive a vaccine listed by the state's health department.
"You gotta live here in Connecticut or work here in Connecticut," Lamont said. "You gotta identify yourself as such when you sign on to say that CVS site to make that appointment for your vaccination. You're gonna have to show proof that where you're from, and you're gonna have to show proof that you're over the age of 75."
Connecticut Chief Operating Officer Josh Geballe also spoke about the situation and said, "We have a reciprocal agreement with all of our neighboring states, as the governor said, that we'll vaccinate people who either live or work [in the state] but we're not entertaining people who are coming across the border who don't live or work here for vaccines."
Newsweek reached out to the Connecticut Department of Health for comment but did not receive a response in time for publication.
Newsweek, in partnership with NewsGuard, is dedicated to providing accurate and verifiable vaccine and health information. With NewsGuard's HealthGuard browser extension, users can verify if a website is a trustworthy source of health information. Visit the Newsweek VaxFacts website to learn more and to download the HealthGuard browser extension.