An Elderly Snow Leopard in China Has Had Cataract Surgery in World First for Vets
Vets in China have carried out what they say is the first cataract surgery on a snow leopard.
An elderly snow leopard known as Linghan was treated for a cataract in his right eye at the Qinghai-Tibet Plateau Wildlife Zoo (Xining Zoo) in northwest China's Qinghai Province on Tuesday morning, according to zoo officials.
During the three-hour procedure—in which the animal was anesthetized—a team of vets led by Jin Yipeng, vice president of the College of Veterinary Medicine at the China Agricultural University, removed the cataract after implanting an intraocular lens, English-language Chinese daily the The Global Times reported.
A cataract is a clouding of the normally clear eye lens, which can hamper vision. The intraocular lens replaces the one that was affected by the cataract.
According to Jin, the procedure went well noting that he was "cautiously optimistic" about Linghan's recovery.
"The surgery will not only improve Linghan's living quality, but also provide experience in rescuing other wild animals," a statement from the zoo read.
Linghan was rescued by officials in January after being found injured and was subsequently taken to Xining Zoo. Tests determined that he was 11-years-old, which is around the maximum age for the species. As a result of his age, he has suffered health problems recently and vets have had to perform several procedures on him since February.
In total, Xining Zoo is home to 12 snow leopards, including the first and only surviving individual of the species in China to have been artificially bred.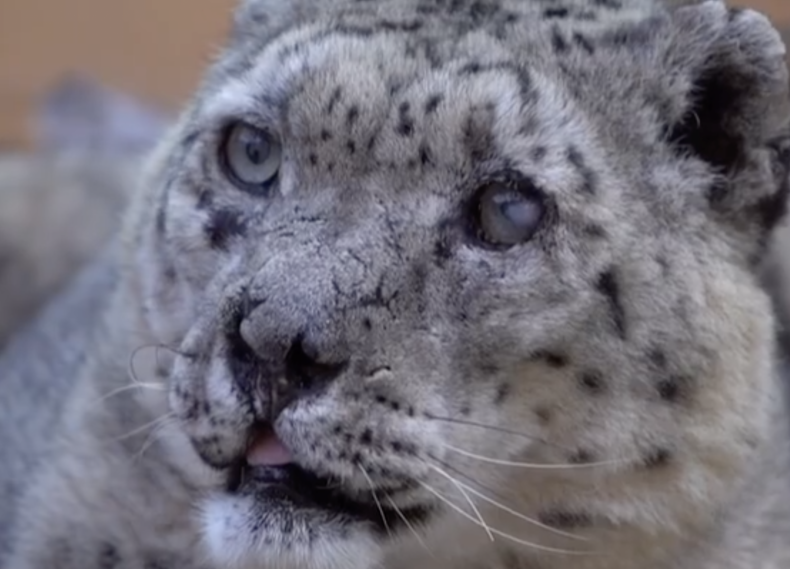 According to the World Wide Fund for Nature, there are between around 4,000 and 6,600 snow leopards left in the wild across 12 countries in Central Asia—including China, Bhutan, Nepal, India, Pakistan, Afghanistan, Russia and Mongolia. It is estimated that between 2,000 and 2,500 of these live in China, where it is a protected animal.
Snow leopards are listed as "Vulnerable" by the International Union for Conservation of Nature and their numbers are declining in the face of several threats. For example, human development is gradually eroding their natural range, while climate change could result in a loss of up to 30 percent of their habitat in the Himalayas alone.
Meanwhile, the elusive cats are often killed by farmers because they kill livestock—a trend that is becoming more common as their natural prey becomes harder to find.
Snow leopards are perfectly adapted to live in extreme high-elevation, mountainous environments with their thick fur and wide feet which act like snowshoes, according to National Geographic. They usually grow to between four and five feet tall, and weigh between 60 and 120 pounds.