Who Won the Presidential Election? We May Not Know for Days or Weeks
Democratic contender Joe Biden may have been leading incumbent President Donald Trump on Wednesday morning, but the number of states yet to declare and the prospect of legal battles mean that a definitive winner of the U.S. election may be some time off.
As of 10.30 a.m. ET on Wednesday, Biden needed several dozen more electoral votes to secure victory. Trump was close behind him, but the outcome in some battleground states, in particular the "rust belt" of Michigan, Pennsylvania and Wisconsin that the Republican flipped in 2016, is still unclear.
In Wisconsin, where Biden holds a slender lead, the Democrats have expressed cautious optimism they will take its 10 electoral college votes, fueled in part by the belief that remaining votes will go to the former VP. A result there is expected on Wednesday, according to FiveThirtyEight.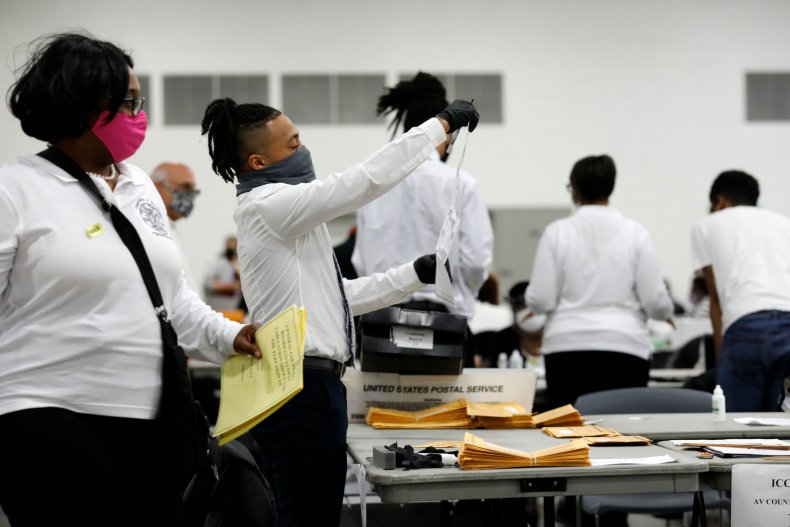 The crucial state of Michigan, which Trump won by the narrowest of margins in 2016 is equally close this time, although Biden currently has a slight lead. Secretary of State of Michigan Jocelyn Benson said that there would be a clearer picture by the end of Wednesday due to the volume of absentee ballots that need to be counted.
However, Benson did say last month that it could be Friday before all the ballots are counted and a winner confirmed. "It may be sooner, but we want to manage those expectations," she said.
Trump enjoyed an early lead in Pennsylvania, which he won in 2016, swelled by those who voted in-person. However, the Keystone State could pose the trickiest time frame for those wanting a swift result. That's due to the volume of mail-in ballots, which are expected to go in Biden's favor.
While figures could be known on Thursday, the outcome may only be confirmed much later according to the state's top election official, Secretary of the Commonwealth Kathy Boockvar. Results will be finalized on November 10, which is the deadline for both mail voters who made mistakes to fix their ballots and receiving ballots mailed from overseas.
Meanwhile, election officials in Nevada, where Biden is narrowly ahead after two-thirds of the count in the fight for its six electoral college votes, said that no further results would be available until Thursday morning.
The state was one of several that mailed a ballot to every active registered voter for the first time. It only mandated that they be sent back by November 3, not received by then, which may slow down the count. Most results may be clear sooner, but a full tally may not be known until November 10 when the state stops accepting mailed ballots.
Trump took an early lead in North Carolina but the state could be counting absentee ballots that arrive as late as November 12. In Georgia, where Trump is facing a tough fight from Biden, the volume of mail-in ballots could mean it will be Thursday before final numbers are known.
The shadow of legal matters also rests over the results.
Trump has questioned the results of the election and promised to take the process to the Supreme Court. There have already been legal challenges in Pennsylvania over when mail-in ballots can arrive and be counted. This is likely to be a point of contention if the presidency depends on the result in the state.
Any election dispute in Congress would have to be resolved by January 20, when the Constitution mandates that the term of the current president ends.
The graphic below provided by Statista shows the tightest U.S. presidential elections over the last century.