How 'Veep' Predicted 2020 Election Chaos and 'Count the Votes' Protests
In a case of life imitating art, an episode of Veep has predicted some of the chaos of the 2020 election, in particular, the protesters at the count centers.
A number of Twitter users have pointed out that an episode of the satirical political comedy starring Julia Louis-Dreyfus directly mirrors what is happening in the news right now as the election results hang in the balance.
The episode in question comes from the show's fifth season and it first aired back in 2016.
Titled "Nev-AD-a" the episode follows campaign staffers in Carson City, Nevada, hoping a recount will go statewide in an effort to win Louis-Dreyfus' character Selina the presidency.
The fictional presidential candidate has won the popular vote but needs Nevada's electoral votes and so demands a recount in the belief it will help her swing the election.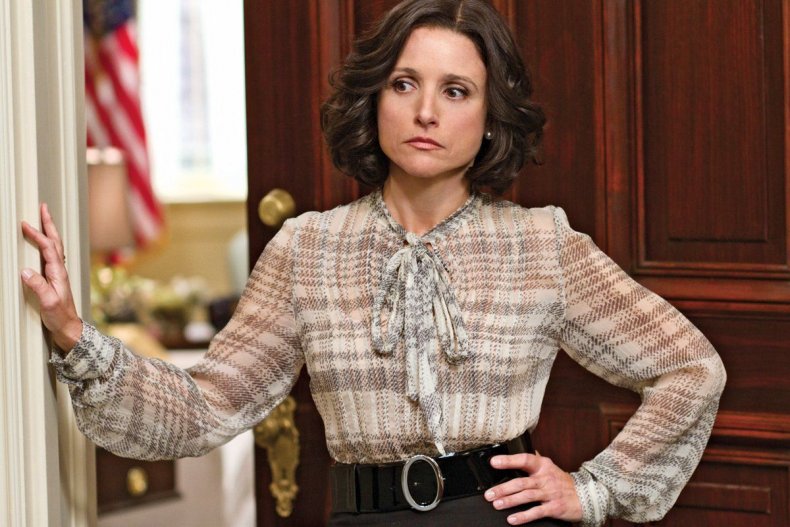 The following two episodes follow protesters planted by Selina's team who chant "count every vote" or "stop counting the votes" depending on the latest information and what will help their campaign at the time.
When Selina finds out that absentee military ballots will crush her chances of winning, she orders her team to stop the recount: "You're going to cancel this recount like Anne Frank's Bat mitzvah," she screams. "I'm tired of losing things!"
Back in the real world in 2020, Trump supporters have been chanting "count the votes" in Arizona while demanding "stop the count" in Michigan.
The uncanny similarities between the TV show and the real election coverage happening before our eyes has sparked a conversation on Twitter as people try to comprehend how a silly political satire has become real life.
One of these people is Veep showrunner David Mandel who tweeted: "Life imitates art and then beats the s*** out of it with a crowbar. #veep."
He also joked: "And yet we never won a Golden Globe."
The Veep herself Julia Louis-Dreyfus also responded to a fan tweet about the episode.
Sharing clips of the pro-Trump protests, another person tweeted: "This is a Veep episode. Like, there was a Veep episode where a campaign did exactly this."
Meanwhile, New York Magazine columnist Josh Barro tweeted: "It's like the plot line on Veep where they're trying to get a recount in Nevada and then they realize right as the court hearing starts that a recount will be bad for them so they start arguing against the recount."
Another person observed: "The reality and Veep venn diagram are now one."