The race for the White House is still very much on as election 2020 continues to keep America and the world waiting for a final result.
The race between Joe Biden and Donald Trump is narrowing with ballots still being counted in a number of key states.
Though it is still too early to call, the president was leading in the early count in battleground states like Michigan although postal voting in Pennsylvania is likely to delay the results until the end of the week.
With such a nail-biting race taking place before our eyes, tensions are unsurprisingly high—and many high profile figures, both Biden and Trump supporters are making their feelings heard on social media.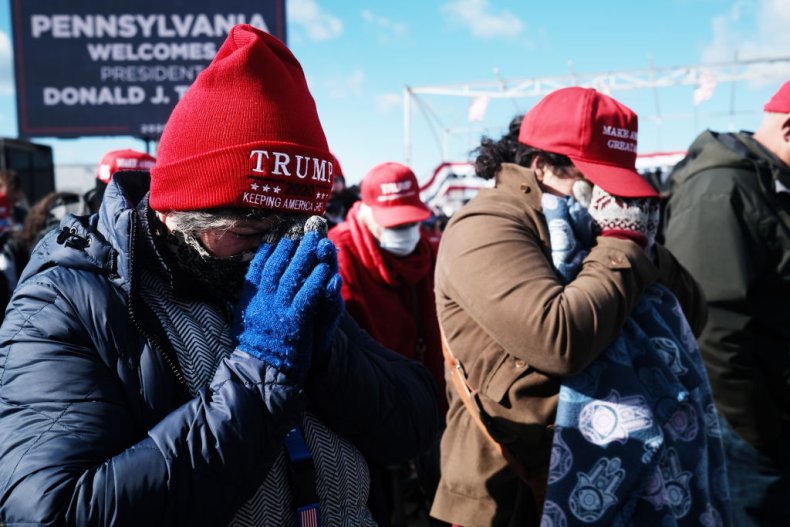 Here's how several pro-Trump commentators are reacting to the ongoing count in election 2020.
Conservative political commentator Dan Bongino tweeted to say the Obama/Biden administration was corrupt, writing: "It's Thursday, November 4th 2020, and the Obama/Biden administration was the most corrupt in US history. #Obamagate."
Ben Shapiro rejected the president's claim he had won in the early hours of Wednesday morning.
"No, Trump has not already won the election, and it is deeply irresponsible for him to say he has," Shapiro tweeted.
Fervent Trump supporter, author Candace Owens urged her followers not to believe the polls and accused the media of lying.
"The media and the pollsters are in a toxic relationship," she tweeted. "The media lies on, shames and caricatures the American people for supporting Trump: racists, sexists, xenophobic. In turn, there is no incentive for the American people to tell the pollsters the truth. Rinse, repeat."
Owens added: "When the media stops lying about who Trump is and why so many Americans support him, and when the media begins honestly reporting about what the Left has become— the American people will begin being honest again about who they are supporting. Until then, never believe the polls."
Fox News host Tucker Carlson raged against what he deemed the failures of pollsters to accurately reflect what has been taking place on election night.
Speaking about the polling industry on Fox News, he said: "The first way to fix it is by holding the people who screwed up accountable and that is just by firing them."
Trump campaign communications director Tim Murtagh complained that Arizona's flip was called too early.
"Fox call of Arizona was astoundingly premature," he tweeted.
"Modern American polling is dead and modern American pollsters should find another vocation so they stop wasting all of our collective time and helping to gaslight the media and American public," Megan McCain said.
Conservative activist Charlie Kirk questioned the count delays, tweeting: "Does anyone else find it strange that it's only Democrat strongholds like Philadelphia, Milwaukee, and Detroit that are having massive delays counting their votes?"
A number of vocal pro-Trump celebrities have also been sharing their thoughts with actor James Woods upholding the importance of the count as Trump prematurely declared himself winner.
"Since when do they just stop counting votes on election day in America?" Woods tweeted.
In another tweet, he added: "How on earth does Fox News call Arizona when almost every county is still in play?"
Similarly, actress Kirstie Alley tweeted about the count. She said: "The other thing I missed was 'they stopped counting'. Has this ever happened in the history of our country? There aren't enough American humans to keep counting in shifts in a 24 hour period? Guess they needed to check the mail in ballot 'stock room' this morning."
Actor Scott Baio tweeted: "Is this the 1st presidential election where states stopped counting votes and went home?"