To Oust Trump From Office in 2020, Democrats Shift College Student Messaging: Don't Just Vote, Join the Movement
To regain control of the White House in 2020, the Democratic National Committee (DNC) is no longer just asking college students to vote. It's asking them to be part of the movement to defeat President Donald Trump and bring back Democratic ideals to 1600 Pennsylvania Avenue.
"That's how we won in 2008 and 2012. Voting for [President] Barack Obama wasn't just about voting for Barack Obama, it was about a community movement to make your country a better place," Organizing Corps 2020 Executive Director Rachel Haltom-Irwin told Newsweek.
To create that better place Obama envisioned, one where opportunities, health care and affordable education aren't dictated by economic status, Democratic presidential candidates say they must win in 2020. With Election Day one year away, the party is implementing a strategy based on Obama's victories and creating a movement among younger voters in some of the battleground states that Hillary Clinton lost in 2016.
To do that, Democrats launched Organizing Corps 2020, a training program for 1,000 college seniors in eight states, including seven that Trump won. They will receive intensive instruction on voting rules and campaign strategy, and by June 2020 they'll serve as the grass-roots infrastructure for the Democratic nominee's campaign, knocking on doors and building a volunteer force in their area.
College-aged people aren't going to be the largest voting demographic in the 2020 election, but they shouldn't be ignored. That's because they came out to vote in the midterms and have every intention of making their voices heard during the 2020 election. A June poll conducted by Barnes & Noble College found that three out of four college students surveyed were registered to vote, and that of those who were registered, 95 percent planned on casting a ballot.
Bringing a demographic that represents the future into a political party's fold is also a smart tactic for future survival. David Gergen, founding director of the Center for Public Leadership at the Harvard Kennedy School, told Rolling Stone that when young people vote for one party multiple times, they tend to vote along party lines throughout adulthood.
Plus, young voters are politically active, and DNC spokesperson Maddie McComb told Newsweek that when it comes to certain issues, they're leading the dialogue.
"I think when you talk about gun violence prevention or you're talking about climate activism, young voters and college students are who are setting the tone for the rest of us," McComb explained.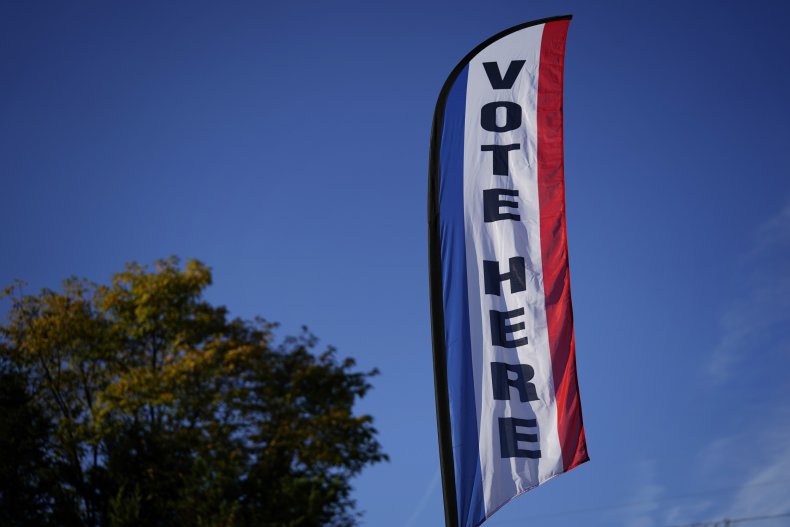 Organizing Corps 2020 is targeting Pennsylvania, Wisconsin and Michigan, which Clinton's critics said were key states that she neglected, and then lost, in 2016. As the Democratic nominee, she never visited Wisconsin, a state that, until Trump, had not voted for a Republican presidential candidate since 1984. In addition, she visited Michigan and Pennsylvania fewer times than her opponent did. Clinton was widely criticized for allowing Trump to out-campaign her in these historically blue states.
In her book What Happened, Clinton dismissed criticism that she took for granted states where she lost by a thin margin. Instead, she suggested a major cause of her loss was then-FBI Director James Comey's announcement that he was reopening the investigation into her emails 11 days before the election.
Whatever the reason behind why Clinton lost what many believed was an unlosable election—and there were many—the DNC isn't taking any chances this time. Organizing Corps 2020 was implemented to create a holistic structure that ensures young voters know they have a role to play in helping the Democratic Party shape the future, one that includes gun reform, health care as a right and an economy that works for everyone, regardless of income.
Appealing to young people and people of color made a "huge difference" to Obama's victory in 2008, according to Peter Hart, a public opinion analyst. He told Rolling Stone that young voters were drawn to Obama "from day one" because he spoke their language, understood the times and provided a direction that they wanted to see the country go in.
Although Clinton bested Trump when it came to rallying the youth vote, her performance didn't hold up to Obama's. In 2008, Obama gained 66 percent of the vote from 18- to 29-year-olds, the Pew Research Center reported, while Clinton had 55 percent in 2016. Clinton also trailed Obama among black and Latino voters, although among the latter it was by only 1 percentage point. Some suggested this was because voters were loyal to Obama, not to the Democratic Party, while others claimed Clinton didn't reach out enough to those demographic groups.
"So many times in the past we just asked young people or people of color to vote last minute," Haltom-Irwin told Newsweek. "[Now] we're going out there and saying, 'Don't just vote but be a part of changing the direction of this country and who's running the White House.'"
College students selected for Organizing Corps 2020 have two programs to choose from: Bootcamp and Immersion. Both are designed to teach participants about campaign organizing, but Bootcamp lasts seven days and is considered a "crash course," while Immersion is a five-week, full-time "intensive training" program.
Once trained, the students will stay in their hometown to rally voters in the primaries because, according to Haltom-Irwin, the best people to organize in a community, including on college campuses, are those who are part of that community. When the general election comes, they'll campaign for the Democratic nominee, whoever that is, as well as the candidates down the Democratic ticket.
"The most effective way to ensure we have enough votes to win is to reach out to people you know," Haltom-Irwin said. "You know your peers best, and you know whether they're going to respond best to someone showing up at their door or sending a text."
Campaign volunteers used to be exactly that—volunteers—and requiring people to donate their time meant only affluent people could be staffers. For 2020, Haltom-Irwin said, the DNC doesn't just want staffers from wealthy families; it wants staffers that reflect the party's diversity. Organizing Corps 2020 pays its participants $15 an hour.
"We're paying everyone so we can get the best talent that reflects the diversity in the state we need to win come Election Day," she explained.
Recruiting the best talent in states that went Trump in 2016 gives the DNC a better chance at winning those states in 2020 because those people are most likely to successfully engage in voter outreach. Looking ahead, the DNC sees election night on November 3, 2020, ending differently than it did in 2016.
"We are confident college voters and young voters are going to show up in massive numbers to vote Donald Trump out of office," McComb said.