Election Day Could Turn Into Election Month As Coronavirus Reshapes an American Tradition
The coronavirus pandemic could change the U.S. election system for good.
The effects of the global health crisis are already on full display in the 2020 cycle, which has been thrown into slight chaos as officials navigate how to balance public health and election security.
The most immediate solution for state and local contests, including the Democratic primary race, has been to limit in-person voting by increasing mail and absentee balloting. If that trend continues, voters can expect a very different presidential election in November.
"It's more of an Election Month," Amber McReynolds, the CEO of the nonprofit Vote at Home Institute, told Newsweek about predominately vote-by-mail systems. "And we look at Election Day as the final day to vote instead of the only day to vote."
Ballots would likely be mailed out to every registered voter three or four weeks before Election Day. The ballots can be returned multiple ways, either by sending it back in the mail or by dropping it off at a specific location. Experts said there would still be in-person voting options available, though the number of physical polling locations may be more limited than in a normal election.
One of the biggest changes would be that results of the race will come in later than usual. As seen in a few Democratic primaries, such as Wisconsin and Ohio, counting all of the ballots could take several days.
"We may not actually know the winner on the night of Election Day," Darrell West, the vice president of governance studies at the Brookings Institute, told Newsweek.
At least 15 states have postponed their presidential primary contests amid the COVID-19 outbreak. Most of those states are in the process of expanding absentee and mail voting options for their new election date.
A push is also happening at the federal level to set a national standard for vote-by-mail practices. House Speaker Nancy Pelosi (D-Calf.) said Democrats would fight for at least $4 billion in the next coronavirus relief package for states to shift voting systems ahead of the general election.
"The pandemic really exposed the significant vulnerabilities with the country's reliance on in-person voting," McReynolds said. "There are states that are at high risk because they haven't made a lot of adjustments."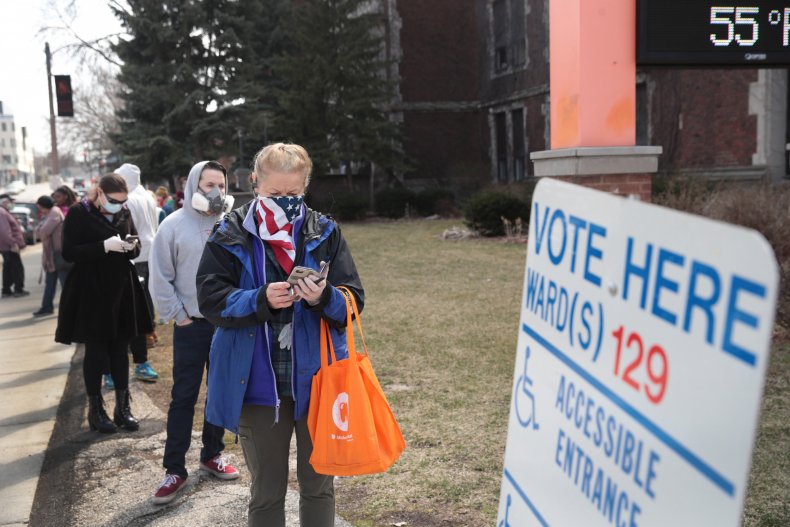 One of the biggest opponents of vote-by-mail solutions to pandemic-related voting problems is President Donald Trump. Trump told reporters last month it was a "terrible thing" and misleadingly claimed that casting ballots by mail will lead to voter fraud. That, however, is extremely rare. West said there's "really no evidence on increased fraud in mail balloting."
Trump's comments have further spurred what was already shaping up to be a heavily partisan fight over the 2020 election. Litigation is expected to be at a record-high this year as Republicans and Democrats battle over how much states can change election rules in light of the pandemic.
But while both sides of the aisle fight each other in court, polling shows that voters are overwhelmingly in support of more vote-by-mail measures.
Even new polling from one of President Trump's campaign pollsters, which was first reported by Axios, found that 80 percent of voters say it's important for state and local governments to provide alternatives to in-person voting. Three-fourths of the respondents said they favored keeping polling locations (as long as they meet health guidelines) open while also giving all voters the option to vote absentee.
If a change is made to vote-by-mail is successful in 2020, experts say it's likely to become a permanent trend for future elections.
"Once a state shifts to mail ballots and sets up the counting machinery, it is not likely to go back," West said.
In fact, mail or absentee balloting has already been on the rise since the early 1990s, while physically voting on Election Day has been steadily decreasing nationwide. In 2016, roughly two in five voters cast their ballots early or by mail.
"It's the only method of voting that has been increasing in popularity over that period of time. It's one of those things where it's a convenient, secure, time-tested way to vote and so we see voters really embrace that," Reynolds said.
Election Day Could Turn Into Election Month As Coronavirus Reshapes an American Tradition | U.S.