Election Deniers to Demand 'Revote' Outside of Arizona Capitol Building
Arizona residents seeking a redo of the 2022 general election are expected to gather at the state Capitol building on Friday to protest the results.
An announcement was posted on azrevote.com calling on attendees to meet at the Arizona Capitol on Friday morning so they can let their voices "be heard peacefully, prayerfully." The announcement also instructs Arizonians to bring signs and banners for an adjacent #AZRevote Overpass Campaign on Friday and Saturday, and provided overpass location suggestions in Maricopa County and the Tucson area.
The demonstration plans were announced several weeks after Americans flocked to polls for the November 8 Election Day, which saw some prominent Republican candidates lose statewide elections in Arizona. Some of those candidates have pushed claims of election fraud or errors, including Republican gubernatorial candidate Kari Lake, who lost to Democrat and current Arizona Secretary of State Katie Hobbs.
Lake posted a video on Twitter on Monday alleging that the "2022 general election in Arizona was botched and broken beyond repair." She also reiterated claims that voters who went in person on Election Day were "disenfranchised" by broken machines and long lines.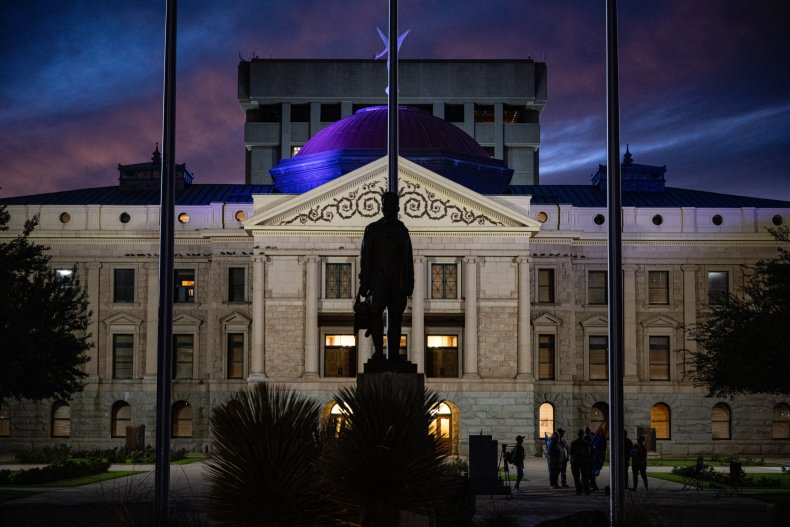 Abe Hamadeh, the GOP attorney general candidate for Arizona who lost his race, sued Tuesday in an effort to block the certification of his loss and be declared the winner, The Washington Post reported.
The AZRevote announcement said that several figures would give speeches at the Friday protest, including Liz Harris, a Republican who was just elected to a seat in the Arizona House.
Harris released a statement on November 17 saying that even though she stood to win her race, "it has become obvious that we need to hold a new election immediately." She alleged that there were "clear signs of foul play" in the election, such as "machine malfunctions, chain of custody issues and just blatant mathematical impossibilities" but did not provide any evidence for the claims.
"I call on all state legislators to join me in demanding a new election," Harris said in the statement. "I will now be withholding my vote on any bills in this session without this new election in protest to what is clearly a potential fraudulent election."
It was not immediately clear how many people are expected at the demonstration Friday, though some Twitter users were promoting it on social media on Wednesday.
While Arizona's unofficial election results are available online, the state is set to conduct its official canvass of the results on December 5. The official election results will be published on that date, according to the Arizona secretary of state website.
When Newsweek attempted to reach out to Harris for comment on her participation in the Friday protest, an email to an address listed on her campaign site could not be delivered. Newsweek reached out to AZRevote for comment.