Election Filings Show Dr. Oz Put $5.2 Million of Own Funds Into Senate Push
Mehmet Oz, the celebrity physician known for hosting TV's The Dr. Oz Show, put $5.2 million of his own money into his campaign for a Senate seat in Pennsylvania, according to filings posted on the website for the Federal Election Commission (FEC).
The filings, which were submitted before Monday night's deadline, show Oz reported raising nearly $5.9 million in his first month in the race for the Senate seat. Of that money, $5.2 million was money he loaned himself, while he also had almost $670,000 in contributions.
The report indicated that despite Oz's high-profile status as a television personality and celebrity physician, he had not gained many donors in the early stages of the race. The Associated Press also reported Tuesday that Oz had spent nearly all of the $5.2 million he put into his campaign.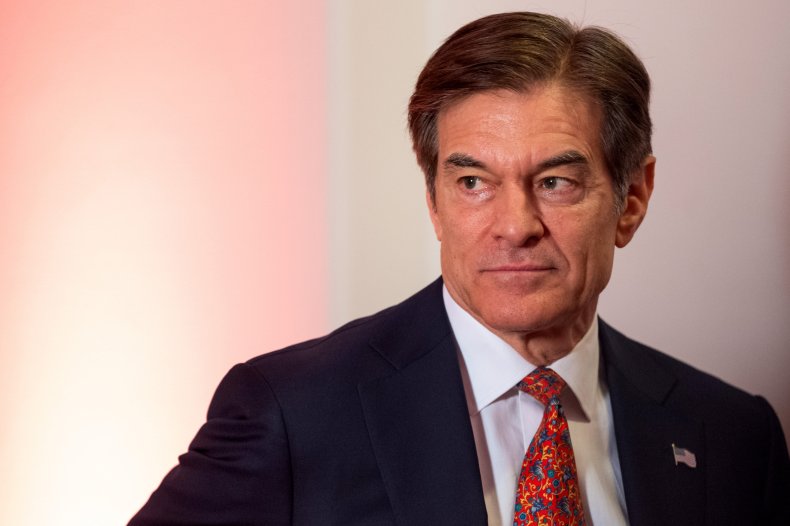 Oz first came to public prominence for his regular appearances on The Oprah Winfrey Show before starting his own show.
During the early stages of the COVID-19 pandemic, Oz was criticized for publicly endorsing the use of hydroxychloroquine as a COVID treatment despite many health experts calling the medication ineffective for such use.
Oz drew more controversy in April 2020 when he remarked that opening schools during the pandemic would "only cost us 2 to 3 percent in terms of total mortality" in the population. He later apologized and said he had "misspoke."
On November 30, 2021, Oz announced he would seek the GOP nomination for the U.S. Senate in Pennsylvania. He joined a crowded field of Republicans seeking to replace Senator Pat Toomey, a Republican who said he would honor a campaign promise of not serving four terms.
Political analysts view the open seat in Pennsylvania as an important target in the 2022 midterm elections as both political parties look to take a majority in the Senate.
Dr. Oz brings national name recognition to the race, though he struggled in three early straw polls held by GOP activists.
The first straw poll came from the Republican State Committee's Central Caucus on January 15. Of the more than 100 votes cast, Oz received only one.
In two more straw polls of state committee members held a little more than a week after the first poll, Oz placed third and fourth, respectively.
However, Oz may still be a popular choice among statewide voters. A poll from the Trafalgar Group in December found Oz to be the most popular choice among respondents.
That survey asked likely 2022 Republican primary voters in the state whom they would vote for if the state's primary for senator "were held tomorrow." Oz led the field of candidates, with 18.8 percent of the likely GOP voters surveyed saying they would vote for him.
The Trafalgar poll was held before David McCormick announced his campaign for the Senate seat. Of the candidates for the Republican nomination, the former hedge fund CEO is seen by many as Oz's biggest competitor.
Because he didn't announce his candidacy until January, McCormick was not required to file with the FEC on Monday, but the Associated Press reported his super PAC is well-funded from prominent people who work in finance. The AP named billionaire hedge fund manager Ken Griffin as one of the donors for McCormick's PAC, reporting he gave $5 million.
McCormick's ads thus far have emphasized his Pennsylvania roots, which is seen as a strength against Oz, who has lived in New Jersey for the past two decades.
Oz, meanwhile, has emphasized his knowledge as a physician as making him more adept at handling the pandemic. In one ad, he proclaims: "I'm running for Senate because Washington got COVID wrong."
Newsweek contacted Oz's campaign for comment but did not hear back in time for publication.