Will There Be a Blue Wave? What to Watch for on Election Night to Know if Democrats Will Triumph
Democratic politicians have long been trying to muster enthusiasm amongst their base, assuring party loyalists and potential voters that a "blue wave" is coming Tuesday. A high turnout from Democrats, the party has promised, will lead to taking control of the House and possibly even the Senate.
But not all left-leaning politicians have been so sure.
"I know a lot of people talk about this blue wave and all that stuff. I don't believe it," Independent Senator Bernie Sanders told The Hill last month. Although not a Democrat, Sanders is a self-described democratic socialist who caucuses with the party and has a large, loyal following of Democratic voters.
Early voting numbers have far outpaced that of the entire 2014 midterms. As of Monday, more than 35 million people had cast their ballots early. In 2014, the total number of people who voted both during early voting and on Election Day was only about 21 million.
High turnout usually benefits Democrats, but Republican early voters have outpaced this year's Democratic early voters, possibly a good sign for the GOP heading into Tuesday night's vote tallying.
While projected to take the House, Democrats are less hopeful about their chances to win the Senate. And without their "blue wave," the party could remain in the minority in both chambers for another two years under President Donald Trump and Republicans.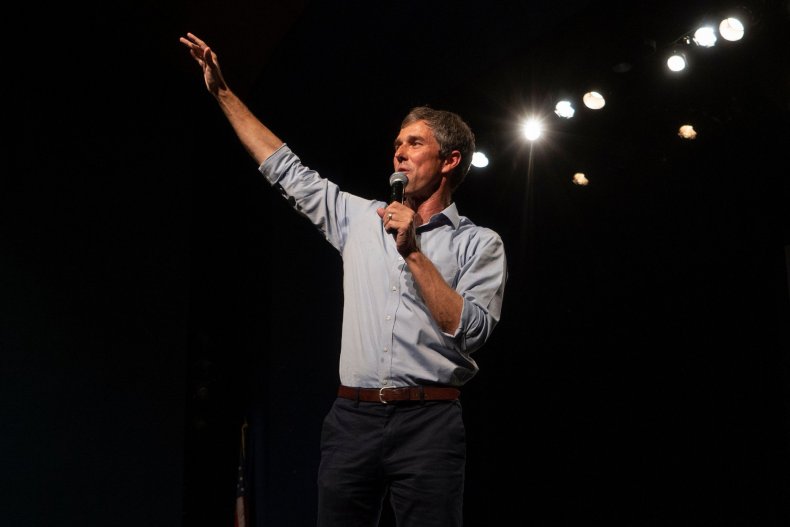 Key Senate Races for Democrats
Democrats are on defense in the Senate. Thirty-five seats are up for grabs, 26 of which are currently held by Democrats. Republicans hold only nine. That means Democrats need to win 28 races to take control of the Senate, while Republicans need just nine. On top of that, 10 Democratic incumbents are running in states that Trump won in 2016, while just one Republican is in a state won by Hillary Clinton.
The key battleground states, according to FiveThirtyEight, where a Democrat is the incumbent include North Dakota, Missouri, Florida, Indiana, Montana and West Virginia. If the party hopes to gain control of the Senate, no Democrat can lose their re-election bids from these states. Heidi Heitkamp, the North Dakota senator who cast her vote against confirming Supreme Court Justice Brett Kavanaugh knowing it could cost her re-election, is projected to lose.
The other incumbent Democrats in battleground states, such as Minnesota and New Jersey, are projected to win over their perspective GOP opponents, although the outcome is still uncertain.
Should the Democrats defend all of those seats, they would need to flip two seats in Arizona, Nevada, Texas, Tennessee or Mississippi, according to FiveThirtyEight's projections.
Key House Races for Democrats
Democrats have had their eye on the House for some time, where party leaders know their chances of gaining control are far more likely. To do that, Democrats need to gain 23 seats in the 435-seat chamber. That would leave the party with a majority of 218 seats in the House, where Democrats have promised to conduct numerous congressional investigations into the Trump administration and Republicans.
Polls and projections show Democrats are likely to gain enough seats needed to win back the House. That is not uncommon in a midterm election where the opposite party controls the White House, especially with a president who has as low of an approval rating as Trump's throughout his first two years.
Dozens of Republican-held House districts spread out across 18 states are considered toss-ups, according to The New York Times, and are key races for Democrats if they plan to retake the House. Those states include California, Florida, Georgia, Illinois, Iowa, Kansas, Kentucky, Maine, Michigan, New Jersey, New Mexico, New York, North Carolina, Ohio, Pennsylvania, Texas, Utah and Virginia. There are also more than a dozen districts in many of the same states that are held by Republicans and are either slightly or strongly leaning Democratic.
Many of the important House races are in affluent suburbs where a Republican was elected in 2016 but where Hillary Clinton also performed very well. Democrats will also need to flip some districts where Trump won by only a slim margin.