Election Official, Police Officers Arrested After Ballot Boxes Torched
An Iraqi judge has ordered the arrest of four people accused of setting fire to a storage facility holding ballot boxes from the disputed election in May.
The fire in Baghdad on Sunday engulfed part of a warehouse complex holding around half of all of the city's votes. Last week, the Iraqi parliament voted to force a recount of 11 million votes following allegations of fraud in last month's election.
According to Reuters, three of the suspects are policemen and one is an employee of the Independent High Elections Commission. Those charged with protecting Iraq's fragile democracy may have been the ones attempting to undermine it.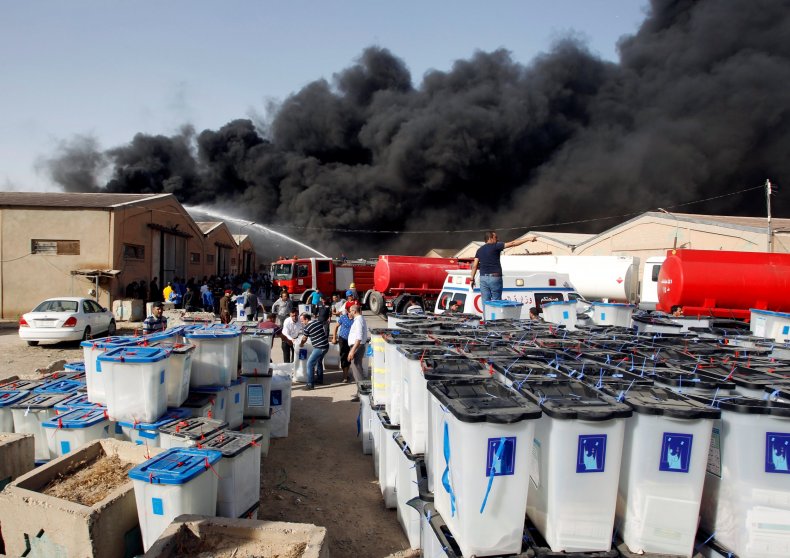 The extent of the damage to the boxes themselves is unclear. Though Interior Minister Qasim al-Araji said no votes were lost, photographs showing the enormous fire and clouds of thick black smoke suggest the warehouse suffered significant damage.
The blaze was eventually brought under control, and confined to one of the four warehouses storing voting equipment, an interior ministry official told Reuters.
Prime Minister Haider al-Abadi called the blaze a "plot to harm the nation and its democracy." Abadi's coalition finished third in the polls, behind shock winner Muqtada al-Sadr, a Shiite cleric who once referred to the U.S. as "the great serpent."
The outgoing speaker of the Iraqi parliament, Salim al-Jabouri, alleged in a statement that the fire "is a deliberate act, a planned crime, aimed at hiding instances of fraud and manipulation of votes, lying to the Iraqi people and changing their will and choices."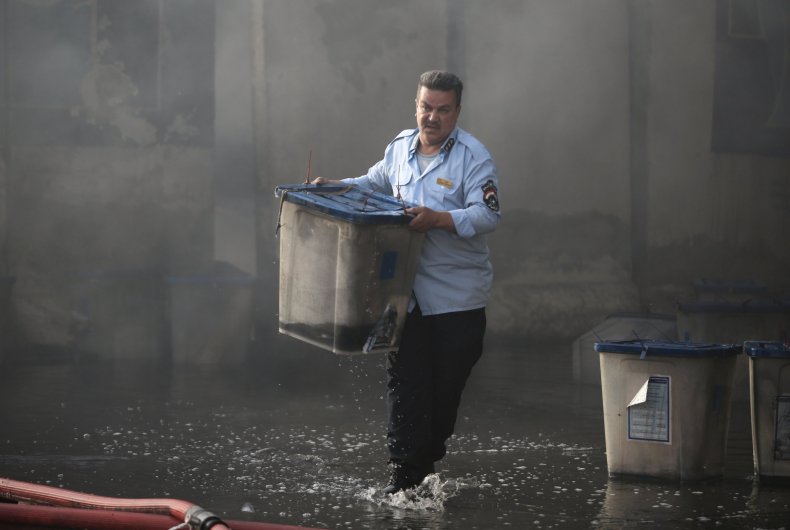 On Monday, Sadr said those who started the fire are trying to drag Iraq back to the dark days of civil war and sectarian violence. In an article published by his office, Sadr asked: "Is it not time to stand as one for building and reconstruction, instead of burning ballot boxes or repeating elections just for one seat or two?"
The 44-year-old cleric allied with the Communist Party to run an anti-sectarian, anti-corruption campaign, which appealed to Iraqis tired of nepotism and corruption among the country's elites. Sadr also promised to rebuild schools and hospitals damaged in the campaign to oust ISIS from Iraq last year. Sadr's Peace Companies militias were involved in the fighting.
In ordering the recount, the court also said the election commission board must be replaced by judges. The Supreme Judicial Council—the highest legal authority in the country—has already named those who will replace the nine-member board.