The biggest results of the 2018 midterms came Tuesday evening. The Democrats stormed back to the take the House after losing power eight years ago and gained seven governorships around the country, while the Republicans increased their power in the Senate by at least two seats.
And yet, as of Wednesday morning, both parties could increase their majorities in the congressional chamber they control, and the Democrats could eventually attain another governor's seat.
Republicans improved their majority in the Senate by winning two extra seats. So far, they possess a 51-46 advantage, but that could jump depending on the final results in Arizona and Florida. Democratic Senator Jon Tester of Montana was given the victory early Wednesday afternoon.
The three remaining Senate races were either still tallying precinct reports or the results were still too close to officially call. The same went for the governor's races in Alaska and Arizona.
Over in the House, 22 races were still undecided across 13 states. Republicans were favored in six of the remaining House races and Democrats three, while the rest were toss-ups, according to The New York Times.
Democrats own a 220-193 majority in the House after exceeding the 23 seats they needed to pick up. But the 13 toss-up races could further embolden the Democrats in the House.
Here's a list of the remaining undecided major races around the country.
Senate
Arizona and Florida
In Montana, Tester emerged as the winner Wednesday afternoon, with a narrow 49 percent to Republican Matt Rosendale's 48.1 percent and 91 percent of precincts reporting.
Arizona's race remains tight, with Republican Martha McSally holding 49.3 percent to Democrat Kyrsten Sinema's 48.4 percent and 99 percent of precincts reporting.
Florida is even closer, with incumbent Democrat Bill Nelson down 49.8 percent to Republican Rick Scott's 50.2 percent.
Governor
Alaska and Georgia
Alaska was one of the more intriguing elections of the year after the independent incumbent bowed out and backed Democrat Mark Begich over Republican Mike Dunleavy. But Dunleavy currently leads Begich 45 percent to 37.5 percent with 98 percent of precincts reporting.
And Democrat Stacey Abrams intends to contest the results of her race against Republican Brian Kemp in Georgia. Kemp garnered 50.5 percent of the vote to Abrams's 48.6 percent, but she has yet to concede, and her campaign has cited the discrepancy in the polls over allegations of voter suppression.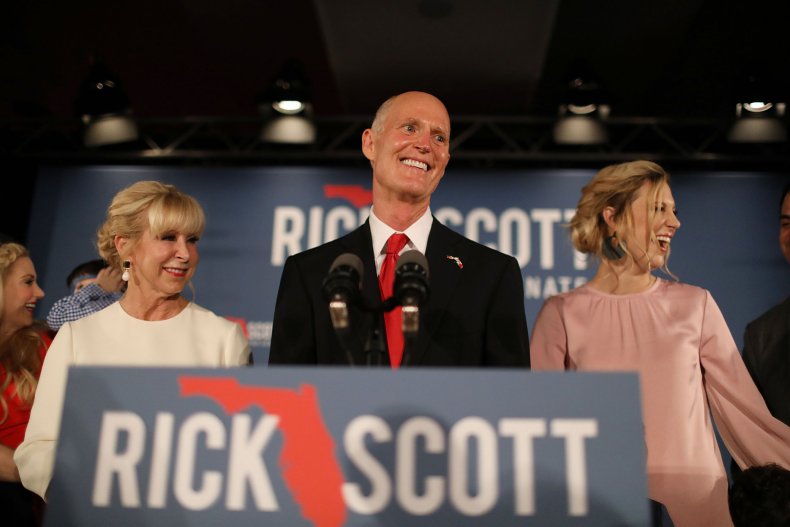 House
Arizona 1st
California 10th, 39th, 25th, 45th, 48th, 49th, 50th
Georgia 6th, 7th
Maine 2nd
Minnesota 1st
Montana
New Jersey 3rd
New Mexico 2nd
New York 22nd, 27th
North Carolina 9th
Texas 23rd
Utah 4th
Washington 3rd, 8th
This story was updated to include Jon Tester's win over Matt Rosendale in Montana.