Ahead of Election, Unemployment Is Falling Faster in Sharpest Obama-Trump Swing Counties
With unemployment high in voters' minds this election, the jobless rate is improving faster than the national average in counties that had the most dramatic swings from former President Barack Obama to President Donald Trump back in 2016.
Of the 10 Obama-voting counties which had the greatest shifts to Trump, and for which U.S. Bureau of Labor Statistics (BLS) data was available, nine had a lower unemployment rate in July than the U.S. level of 10.2 percent for the same month.
Several had a much better rate than recorded nationwide. One county actually increased job numbers between March—before the shutdowns of economies—and July, in the later phases of reopening. Unemployment peaked nationally in April at 14.7 percent.
Moreover, none had started with a lower unemployment rate than the national average in February. Some of these Obama-Trump counties are in the key swing or battleground states that will decide the 2020 election, including Wisconsin, Iowa, Minnesota.
"With unemployment rates improving more than expected since March and April, this would usually work in the president's favor," David Gulley, professor of economics at Bentley University, Massachusetts, told Newsweek.
"However, unemployment rates are still notably higher than pre-pandemic levels, even in areas that are better than the national average.
"With the momentum of the summer seeming to slow in the past month, swing voters between now and election day might not care so much about the state of the economy in February."
Gully added: "It all boils down whether or not swing voters in swing states view the president as responsible for the ills of the pandemic. His supporters and his detractors have clear views on this issue."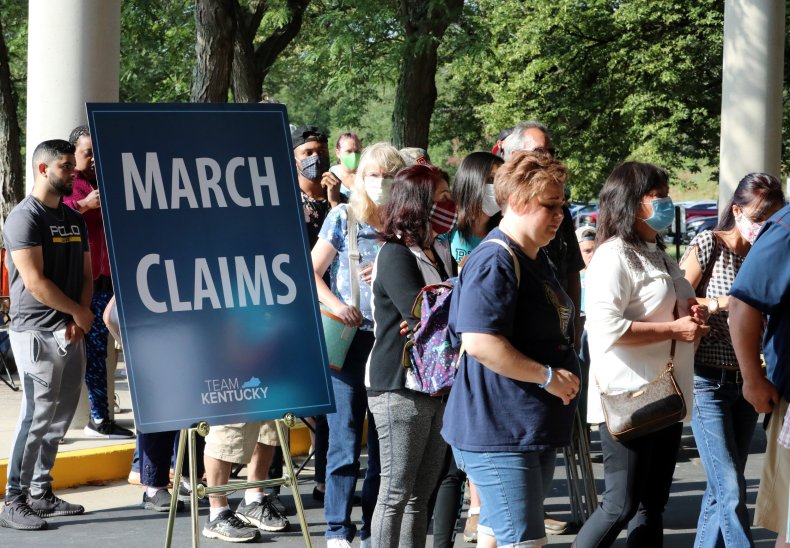 The location whose unemployment was lower in July than March was Elliott County, Kentucky, which had the nation's biggest swing towards Trump in 2016.
Earlier in the year, Elliott County had an unemployment rate of 11 percent, which spiked to 19.2 percent a month later in April as the impact of the coronavirus shutdowns were felt.
By July, joblessness had actually dropped to 9.2 percent—an improvement from March, and one percent better than the U.S. average.
The other biggest-swinging Obama-Trump counties with unemployment rates stronger than the national rate were Chippewa and Swift counties in Minnesota; Clarke, Louisa, and Union counties in Iowa; Henderson and Carroll counties in Illinois; and Price County, Wisconsin.
However, in Forest County, Wisconsin, unemployment remains stubbornly high, nearly quadrupling from 5.7 percent to 21.7 percent between March and April. By July, it was still 15.1 percent, well above the national unemployment rate.
Over half of the 22 million jobs that the pandemic took in the U.S. are yet to return, but Trump can at least point to a recovery in the labor market during his re-election campaign.
"Trump needs to emphasize to the voters what he did to have an economy that was very good before COVID and he needs to convince them that he is the best candidate to lead the economy back to its strength," said Maclyn Clouse, finance professor at the University of Denver's Daniels College of Business, to Newsweek.
"He can talk about the things he did to bring about a strong economy—Biden doesn't really have a story to tell in this area. Biden can't take any credit away from Obama for anything good from the Obama years."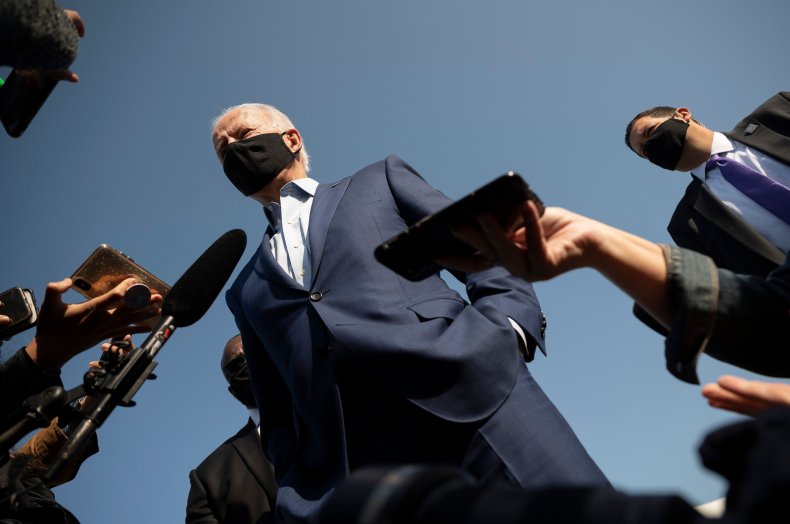 Before the pandemic, the Trump administration added 6.8 million jobs between the inauguration and February 2020, which CNN reported was only the 11th best record out of the last 20 presidential terms.
Even with a further improvement in employment expected next month, he would go into the election with the worst job numbers of any president going back to World War Two.
Normally, a strong—or at least strengthening—economy benefits the incumbent, but these are unprecedented times. Democratic nominee Joe Biden argues that it was Trump's mismanagement of the pandemic that costs jobs.
But Trump enacted executive orders to protect some pandemic unemployment benefits when Congress was at a stalemate before its August recess, which will play well.
"Mid-eights unemployment by late 2020 was nearly unfathomable in April—this certainly helps Trump," said Derek Klock, finance professor at Virginia Tech, referring to August's 8.4 percent national joblessness rate.
"But digging further into the numbers, the labor force participation is still off a full percent and black unemployment is still very high at 13.2 percent versus the peak at 16.3 percent," he told Newsweek.
As an indicator of how people might vote with their pockets come November, Google Trends, which offers a glimpse into what Americans are thinking, shows unemployment is the number one searched for issue in the U.S.—ahead of crime, healthcare, and race.
A Quinnipiac University poll of likely voters nationwide this week showed Trump narrowly winning approval on the economy, 49 percent to 48 percent, although he trails well behind Biden in other areas.
In other polls, Trump is several points stronger than Biden on the economy.
"The swing states and swing counties will be contentious, but I also believe that there is an underlying shift towards a desire for a softer government that presents a sizable disadvantage to a Trump re-election," Klock said.
"The election is a three-legged stool—race relations, the coronavirus and the economy. Trump takes the economy, but Biden takes both race relations and the virus," he said, adding that "the interplay between the legs is more crucial than any single leg."
The graph below from Statista shows the polls in key battleground states.