Electoral College Map Memes Serve as Priceless Pressure Relief for Voters
The Presidential Election is upon us, which means some anxiety (to put it circumspectly) will be focused on the Electoral College. The Electoral College ultimately determines who wins the presidency, not the popular vote. The system is over 200 years old, and according to The New York Times, "When Americans cast their ballots, they are actually voting for a slate of electors appointed by their state's political parties who are pledged to support that party's candidate." In order to win, the presidential candidates need 270 of the 538 electoral college votes at stake.
Presidents can win the popular vote but still lose the presidency because of the system. It happened before as recently in 2016. Former Secretary of State Hillary Clinton won the popular vote by almost three million votes, but lost the electoral vote to President Donald Trump.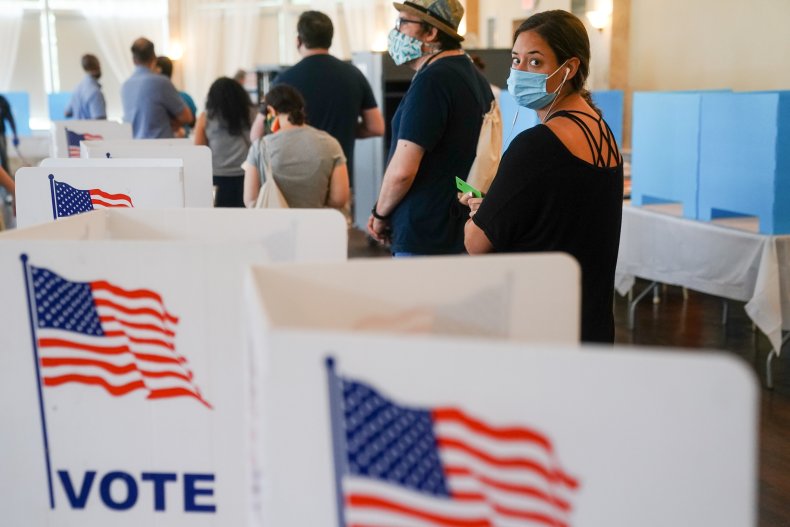 Despite how the Electoral College can be viewed as problematic for determining the President of the United States, the internet reacted with memes about what the electoral map would look like if different factors were at stake. From basketball games to rapper's lyrics, here's how the electoral college has been reimagined.
In a viral tweet, sport and concert photographer Ryan Bowman compared the electoral college to college basketball and March Madness tournaments. "the electoral college if biden wins every state that has not had a college basketball team lose to a 16 seed as a 1 seed in march madness," they wrote. Every state except for Virginia was blue, denoting the Virginia Cavaliers.
Another person drew up an electoral college map based on football teams that have lost to Kansas in football since 2016.
"Here is what the Electoral College map would look like if Trump only won in states that have blown a 25 point lead in the Super Bowl," someone else posted.
Other folks on Twitter were thinking about maps broken down by song lyrics. "The map if Biden wins every place referenced in the 3rd verse of Beez in the Trap by Nicki Minaj," one wrote.
This map reimagined the electoral map if Biden won "every state containing the area codes" where Ludacris claimed to have, err, girlfriends.
One tweet focused on UConn's men's and women's basketball records. "Here's what the electoral college would look like if joe biden only wins states who have won both the ncaa men's and women's basketball national championships in the same season," the tweet read.
One particularly scathing map took aim at the former mayor of South Bend, Indiana and former Democratic Presidential candidate, Pete Buttigieg. "the electoral college if joe biden wins every state that Pete Buttigieg didn't," the caption read, in a map filled with blue states for Biden.