'Electoral Terror': Federal Judge Compares Jacob Wohl's Voter-Discouraging Robocalls to KKK
Far-right political operative Jacob Wohl and his alleged co-conspirator Jack Burkman were ordered to stop making misleading robocalls through Election Day, with a judge comparing the calls to voter intimidation tactics historically used by the Ku Klux Klan.
U.S. District Judge Victor Marrero on Wednesday described the content of robocalls made by Wohl and his partner Burkman as "manifestly false and meant to intimidate citizens from exercising voting rights" while ruling on a lawsuit brought by the National Coalition on Black Civic Participation on October 16. Marrero compared the robocalls to tactics that led Congress to pass the Ku Klux Klan Act in 1871 amid terror campaigns used to scare recently emancipated Black men into not voting.
"Today, almost 150 years later, the forces and conflicts that animated Congress's adoption of the Ku Klux Klan Act as well as subsequent voting rights legislation, are playing out again before this court, though with a difference," Marrero wrote. "In the current version of events, the means [Wohl and Burkman] use to intimidate voters, though born of fear and similarly powered by hate, are not guns, torches, burning crosses, and other dire methods perpetrated under the cover of white hoods."
"Rather, [they] carry out electoral terror using telephones, computers, and modern technology adapted to serve the same deleterious ends," the judge continued. "Because of the vastly greater population they can reach instantly with false and dreadful information, contemporary means of voter intimidation may be more detrimental to free elections than the approaches taken for that purpose in past eras, and hence call for swift and effective judicial relief."
Marrero ordered the men to stop sending voters any more misleading robocalls through at least November 3. They were ordered to instead send a new call to those who had received the robocalls, saying that the original call had contained "false information that has had the effect of intimidating voters, and thus interfering with the upcoming presidential election, in violation of federal voting-rights laws."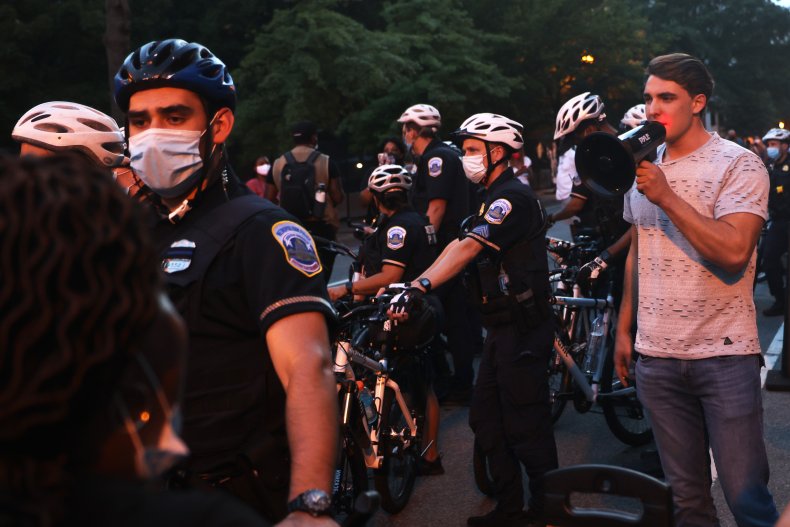 Newsweek reached out to Wohl's attorney David Schwartz, who declined to comment. However, a motion to reargue the case was quickly filed following Marrero's decision, arguing that Wohl and Burkman face an "imminent risk of significant constitutional and liberty deprivations" due to the order.
Wohl and Burkman could soon face far more serious consequences for their alleged attempts to interfere in the election. Michigan Attorney General Dana Nessel announced felony charges against Wohl and Burkman on October 1, in a robocall campaign allegedly attempting to scare minority voters and discourage voting by mail. The case is pending and the pair could be sentenced to up to 24 years in prison if convicted.
On Tuesday, Wohl and Burkman were indicted over similar allegations in Ohio, where they could each face over 18 years in prison if convicted on eight charges of telecommunications fraud and seven charges of bribery.
The robocalls cited in Michigan were said to have gone out to neighborhoods with large minority populations, falsely warning that being "finessed into giving your private information to the man" by participating in the election would lead to names being entered into police databases, given to debt collectors or used to force voters into getting "mandatory vaccines." Those who received the calls were also allegedly told to "beware of vote by mail."