E-Bike Deliveries Could Change The Future Of Urban Traffic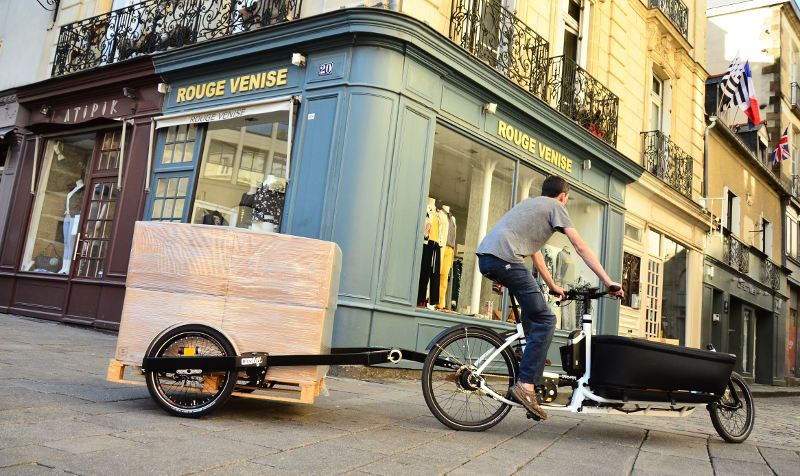 Alternatives to semi trucks may be the answer to urban traffic woes, and new strategies like advancements in bicycle deliveries could simultaneously ease congestion and move towards more eco-friendly transit.
A surge in deliveries to residential addresses, thanks to the ubiquity of online shopping and the growing popularity of food and grocery delivery apps, has created a traffic nightmare as delivery trucks clog up roads all over cities. On average, every person in the U.S. generates a demand for more than 60 tons of freight each year, according to the National Capital Region Transportation Planning Board, and much of this demand is concentrated in urban areas.
These goods are most often delivered via truck. Trucks carry 70 percent of all goods shipped in the US, about 10.7 billion tons this year, according to the American Trucking Association. But a growing number of merchandisers and courier services are choosing to deliver via bike.
In dense, urban settings where the sheer number of truck deliveries makes a massive contribution to traffic and pollution, an electronic bicycle and trailer might make more sense. A new iteration of the bike trailer, called the BicyLift, aims to simplify the process for bike couriers and boost their efficiency to compete with their truck and van counterparts. The trailer was created by French startup FlexiModal, and is mostly being used in Europe for now. Charles Levillain, who founded the company, thinks increasing bike deliveries could combat city congestion.
The BicyLift trailers are largely allowed to use the bike lane, he told Newsweek, and are meant to be a hybrid between a forklift and a truck, in order to be more compact, city-friendly and emission-free.
The trailer attaches to an electric bike, lifting pallets that weigh up to 400 pounds. The capacity can make all the difference for couriers, boosting their efficiency by increasing the number of deliveries they can carry before returning to a warehouse to pick up more goods. It costs less for a company to pay for bikes than vans, and FlexiModal's one U.S.-based customer says these two factors help bring a "win-win-win-win" situation for all.
"Instead of charging a client 20 dollars, I can charge them $10, but the courier still makes really good money," said Andrew Young, manager of Breakaway Courier Systems in New York City.
Young says that he was drawn to the trailers when he was looking for a way for his company to reduce pollution and get around debilitating Manhattan traffic. Adding more trucks and vans into the mix would likely increase travel time for couriers.
Truck traffic represents about 7 percent of urban traffic in the U.S., but it brings disproportionate congestion, costing $28 billion, or about 17 percent of the total U.S. congestion costs, in wasted hours and gas.
Online retail sales have grown 15 percent every year since 2010, adding to the crush of deliveries that consumers are demanding on a continually faster-and-faster basis. And because many of these deliveries are coming from a growing number of private companies jumping on the delivery trend (think FreshDirect, Blue Apron, Dollar Shave Club), more private delivery trucks are going directly to smaller residential streets, causing traffic by double parking or moving more slowly.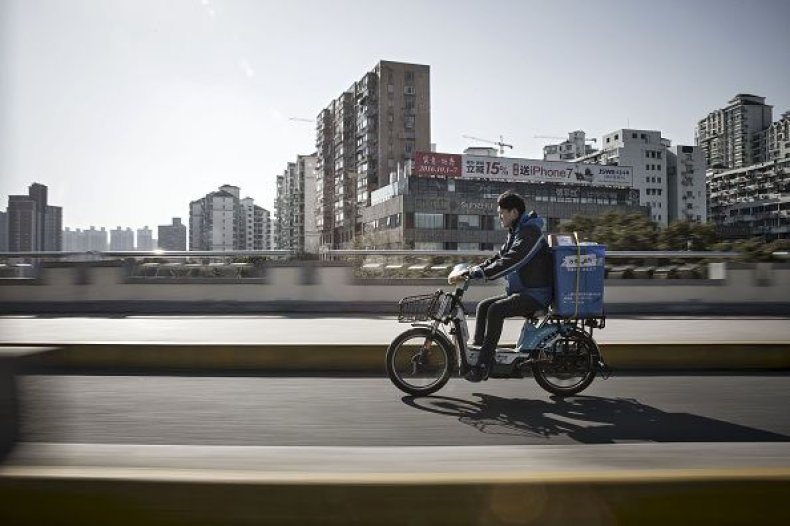 Some researchers have found that increased number of deliveries will reduce urban traffic congestion, because consumers won't be driving themselves to go buy things in-store, and because delivery vehicles can be more efficient, dropping multiple packages in a single building instead of all of those people driving themselves around town.
But others cite the disproportionate effect that trucks have on pollution and congestion in cities, and say that city infrastructure is built for individuals, not for high-capacity freight traffic.
"I envision a city with more dedicated bike lanes and transport lanes," said Young. "If we have more alternative types of vehicles that make these deliveries, imagine - we can keep the same basic infrastructure, and have less pollution, less noise, but same amount of efficiency."
In busy cities like New York, electric bikes are a popular solution for delivery services. Regulations on e-bikes vary city-by-city, which changes the way couriers are allowed to travel. In Manhattan, pedal-assist bikes that don't exceed 15 mph are allowed, while throttle-powered bikes must be registered as mopeds and travel like motorcycles with license plates.
UPS, one of the largest delivery services in the U.S., introduced e-bike delivery last year, starting a pilot program in Portland, Oregon. The company now uses bike trailers much like the BicyLift.
"The eBike can efficiently move 600 pounds of cargo," said a UPS spokeperson in a statement to Newsweek. "The focus with the eBike is really to help reduce carbon emissions in addition to easing traffic congestion and pollution issues."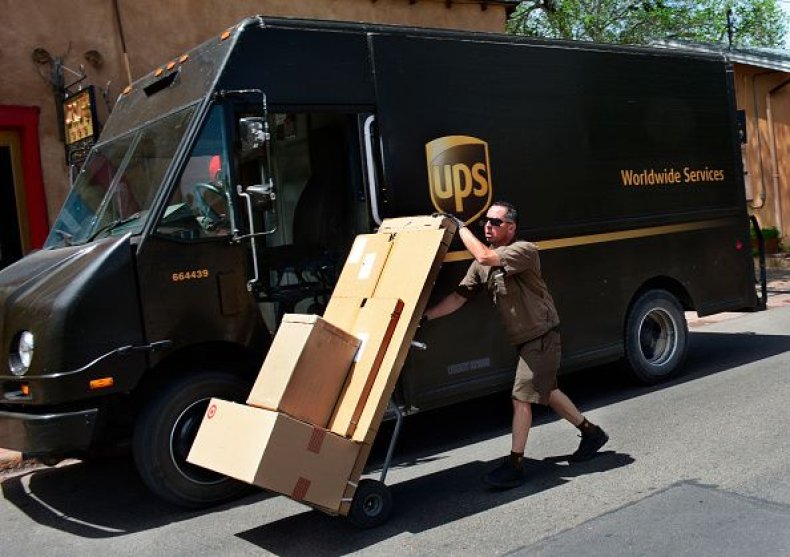 But e-bike deliveries aren't well-suited for many cities. In Los Angeles, for example, the car-centric infrastructure doesn't lend itself to large-scale bike delivery services, despite the fact that the city is home to the largest port in the nation, where 1/3 of jobs in the region are directly and indirectly supported by the goods movement industry and $1.1 billion of goods travel throughout the city per day.
Urban congestion could be lessened if cities diversified future development of transit infrastructure, according to a Texas A&M study. Making city roads more conducive to walking and biking would not only encourage people to do so on their own, but would make it easier for alternative business methods like e-bike deliveries.
For Young, using more bike trailers and improving the efficiency of alternative delivery methods would prevent traffic from merely shifting from cars to trucks, especially if cities continue to bolster their regulations in support of such methods.
"You're serving a free market system, and you're serving the planet too," he said of a possible future without as many truck deliveries. "There's no downside, we've just gotta keep pushing to get there."