Electric Company Blamed For 2017 and 2018 California Wildfires Shutting Off Power Amid High Heat and Gusty Winds
The San Francisco-based power company, Pacific Gas and Electric (PG&E), announced Monday that due to high fire risk, power may be shut off power in nine counties in Northern California.
The National Weather Service issued a red flag warning in the North and East Bay hills of Northern California, due to high temperatures and windy conditions, which are the prime conditions for fires to begin.
PG&E has announced a plan to preemptively turn off power in high-risk fire areas beginning as early as Monday evening. The power shutoff is estimated to affect 124,000 customers across nine counties, including medical baseline customers, and could last for several days.
PG&E filed for bankruptcy in January 2019 when it was found liable for wildfire damages from the destructive Camp Fire, which the company proposed to cap at $18 billion. The state agency Cal Fire also linked the energy company's faulty power lines to the start of the 2017 Tubbs Fire which burned portions of Napa, Sonoma and Lake counties.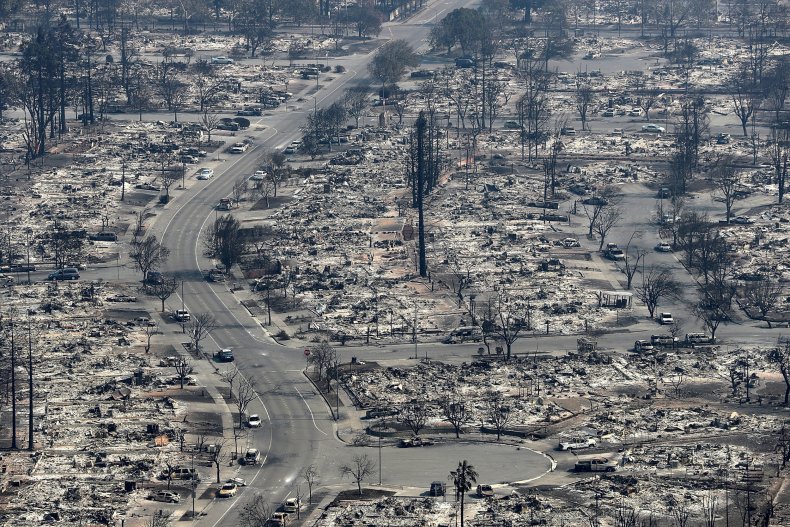 The proposed power shutoffs are centered in areas that have suffered devastating, deadly fires in previous years. An estimated 33,500 people could lose power in Sonoma County, which was impacted nearly two years ago by the Tubbs Fire that killed 22 people.
Last year, the largest wildfire in California history, the Camp Fire, killed 85 people in Butte County, just north of Sacramento. An estimated 22,920 people are estimated to lose power in Butte County.
Though the proposed shut off is meant to avoid another fire in the area, some residents are dubious that it will be effective. Dan Steele, a resident of Santa Rosa who lost his home in the Tubbs Fire, told CBS Local, "I don't want the electricity shut off, I don't think that's going to solve the problem."
Power shut offs have already inconvenienced residents. Customers were reportedly turned away from the grocery store Safeway in Santa Rosa and issued gift certificates for the inconvenience. Ahead of the upcoming outages, local hospital Sutter Pacific Medical Foundation sent an email detailing preparations necessary for those with disabilities and medical conditions.
Community Resource Centers are being created to accommodate those affected by the outages. The centers provide a place for residents to use the restroom, get bottled water, enjoy air-conditioning and charge their electronic devices during daylight hours.
If you are affected by the power outages, updated information is available here.