Electricity Use Did Not Drop Last Time Californians Were Asked to Voluntarily Cut Back
Californians largely ignored statewide calls to conserve energy during a July heatwave, officials said.
The state issues "Flex Alerts" during extreme weather conditions in order to prevent the state's power grid from collapsing. Californians are asked to voluntarily shut off major appliances, turn off unnecessary lights and kick up their thermostats to at least 78 degrees.
The California Independent System Operator (CAISO) has issued five Flex Alerts already this summer, and residents are showing signs that they are tired of cutting back.
Severin Borenstein, a member of the CAISO board of governors, said he does not believe Californians are "not taking [the energy issue] that seriously."
During the Flex Alerts issued for a heatwave on July 9 and 10, the energy demand in the state did not drop at all, Politico reported.
"I think that we are going to need more response than we saw last night," CASIO CEO Elliot Mainzer said on July 10 following the disappointing conservation numbers.
Another Flex Alert was issued for July 12, and a noticeable difference in energy usage was reported by the CAISO. July 12 saw cooler temperatures in some parts of the state, according to the National Weather Service.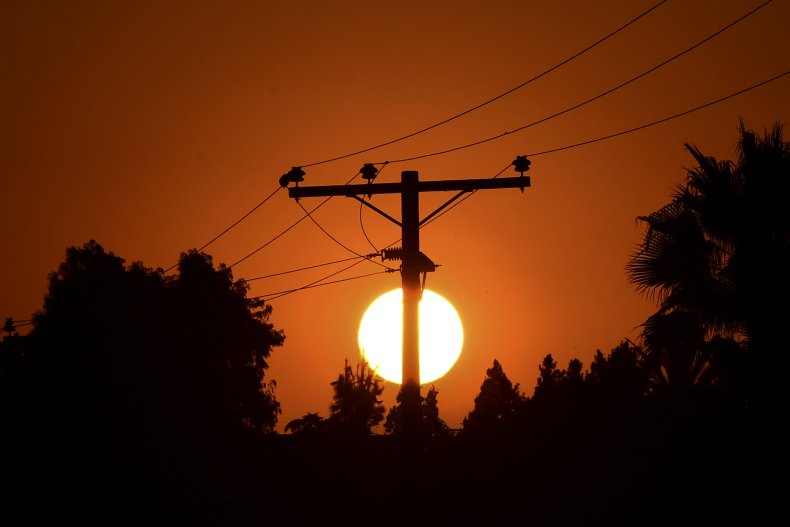 The state is looking for ways to promote energy conservation and protect the power grid during summer heatwaves. While California is attempting to transition to more renewable energy sources, fossil fuels are still relied on to carry the state's power grid through the night.
"We didn't quite update the planning approach to deal with what we call the net peak, and that's the demand after the sun sets and we need to meet the demand that's left over after the renewables go away," James Bushnell, former research director at the UC Berkeley Energy Institute, told KRON.
CAISO spokesperson Anne Gonzalez told Newsweek that the power grid operator is working to finalize conservation numbers for the month of July. She said Flex Alerts are overall "well-supported" by Californians.
CAISO's June Summer Market Service Report showed Californians conserving power during Flex Alerts on June 17 and 18.
"CAISO estimates that energy conservation triggered by the Flex Alerts resulted in hourly load reductions from 77 to 735 MW during the peak hours," Gonzalez said. "These conservation estimates were in part due to an emergency proclamation signed by Governor Newsom of California to free up additional energy capacity amid a major heatwave."
Mainzer said in an interview in July that the CAISO is looking for "the appropriate pairing of economic signals and economic benefits" to address Californians' waning interest in conserving power.
OhmConnect, a conservation company, is offering a million free smart thermostats to Californians. The company would be able to increase the temperature to the appropriate degree when the state issues a Flex Alert. The company gives customers money and rewards for conserving energy throughout the year.
"I think we've reached the end of people's casual ability or willingness to just help," OhmConnect CEO Cisco DeVries told Politico.
There is no active Flex Alert for the state and the power grid is stable.
"We are where we are for this summer, and we are going to use [Flex Alerts] and hope that people will help out," Borenstein said. "I've been beating this drum for 20 years.
This story was updated at 5:30 p.m. EST to include comments from Gonzalez.