Electrify America, one of the nation's largest electric vehicle (EV) charging networks, announced its vision for redesigned charging stations to suit its next-generation charger.
In refashioning these stations, the company wants to create a more customer-focused environment that adds more comfort to the EV ownership experience as more people make the switch to all-electric vehicles.
In a press release, president and CEO Giovanni Palazzo said that the new designs will elevate experiences for a fast-growing customer base.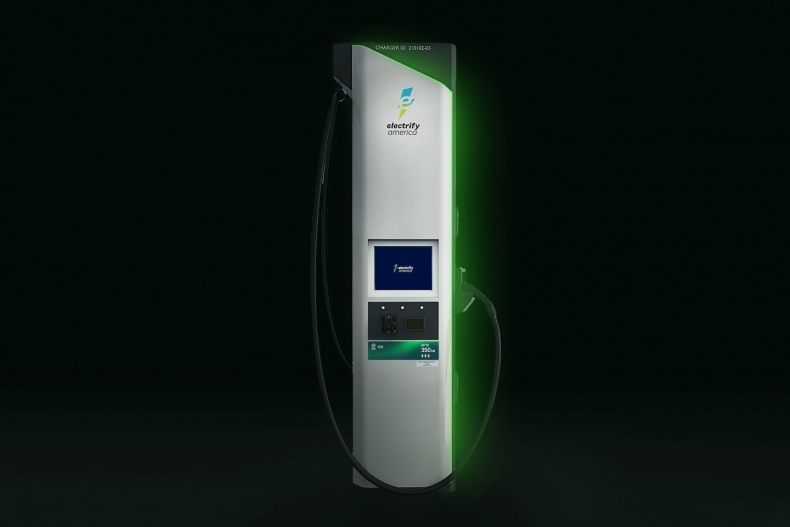 "The momentum moving us closer to an electric transportation system is accelerating with consumers finding more and more choices of EVs from virtually every manufacturer," Palazzo added. "Our customer research shows the need to transition to a more inviting charging experience that accommodates the human experience with waiting areas and other conveniences."
With these new spaces, the company will roll out a redesigned EV charger that reduces its footprint and is intended to simplify the customer experience.
The new chargers will feature a single connector cable that utilizes a new cable management system. Chargers and power cabinets are expected to have a reduced footprint, which allows for more space for additional equipment in confined urban spaces.
Each flagship station is expected to offer up to 20 chargers, still offering 150 kW or 350 kW of power. Customers can also expect a refreshed human-machine interface (HMI) screen, which will be recessed and brighter to reduce glare from the sun.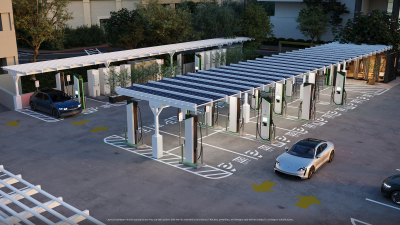 For these new spaces, Electrify America wants to implement customer lounges, event spaces, solar canopies, EV display areas, on-site security cameras and additional lighting. In some locations, charging stations at shopping centers will offer valet charging and curbside delivery.
These changes will be on full display at the company's new flagship locations that will be built in Santa Barbara, San Francisco, San Diego and Beverly Hills, California as well as the Manhattan and Brooklyn boroughs of New York City.
The company's current flagship locations are located in Baker, California and Santa Clara, California.
EA says that the future stations are meant to evoke dynamic environments that enhance the human experience, integrating "in-depth customer feedback and insights from trend research and leading architecture and construction consultants" to focus on community-centric designs.
The company will also expand the deployment of battery energy storage systems to 150 sites. These systems store energy when electricity costs are low and deploys it to supplement a surge in a station's overall energy demand.