Electrify America to Quadruple EV Chargers at IKEA Locations
Electric vehicle (EV) drivers will have yet another place to charge by the end of 2022. One of the biggest EV charging companies, Electrify America, said on Thursday that it is partnering with Swedish furniture store IKEA to bring DC fast chargers to 25 locations across the United States.
That will quadruple its current number of chargers at retail locations. IKEA is aiming to achieving zero-emission home deliveries by 2025 and cutting in half its relative emissions from customer and co-worker travel by 2030.
In March, another EV charging giant ChargePoint struck a deal with Starbucks and Volvo to put chargers at the coffee shops in the Pacific Northwest.
"At IKEA, we believe that we must work together with our partners to tackle climate change and create solutions for a greener future. This collaboration with Electrify America (EA) will not only bring ultra-fast public chargers to our stores for the first time but it will also help us take a big leap as we work towards our targets to become circular and climate positive," said Javier Quiñones, CEO and Chief Sustainability Officer, IKEA U.S. in a statement.
"We look forward to continuing to innovate around new ways we can make our everyday lives more sustainable."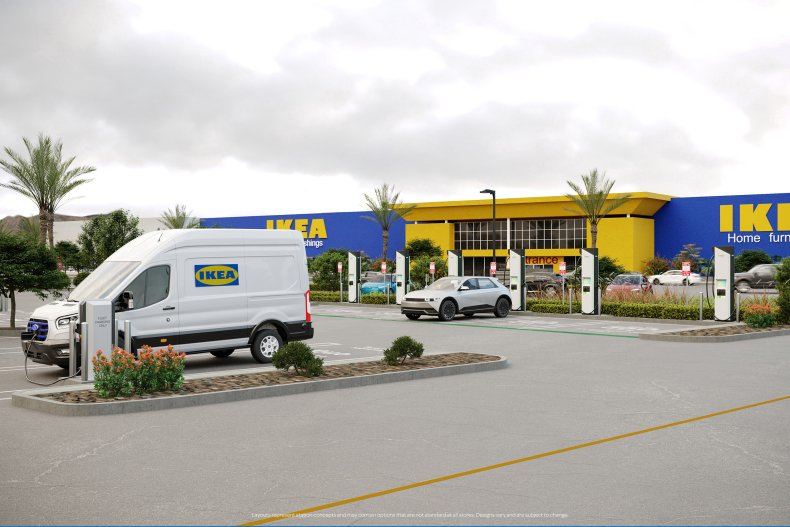 The "more than 200" new fast chargers will work at speeds between 150 kW and 350 kW at locations in Arizona, California, Connecticut, Florida, Illinois, Kansas, Maryland, Massachusetts, Michigan, Minnesota, New York, Pennsylvania, Ohio, Oregon, Texas, Utah, Virginia and Washington. The first chargers will go online in 2022 and the set will be completed by the end of 2023.
IKEA and Electrify America already have an agreement for IKEA's electric delivery vehicles. The furniture store selected Electrify Commercial to build 225 charging stations around the country to charge up its last-mile delivery vans. EA will be installing both public and fleet chargers at the same time.
"We are excited to establish both public and commercial fleet charging stations with IKEA – a brand that shares our goal of a more sustainable future," said Giovanni Palazzo, president and CEO of Electrify America in a statement. "Through this collaboration, Electrify America, Electrify Commercial and IKEA U.S. are leading a path forward for customers and businesses toward zero-emission transportation."
Charger company Electrify America was created because of the Volkswagen diesel scandal. Part of the company's penance for cheating emissions was to spend $2 billion to promote electric vehicle use over 10 years. One aspect was the establish an electric vehicle charging network.
It's first station opened in May 2018 in Massachusetts. It's currently opening an average for four stations per week, according to the company, with a lineup of more than 800 stations and 3,500 individual charging stations total. It plans to expand to 1,800 stations with more than 10,000 chargers in the U.S. and Canada by 2026.