Nearly two dozen cows were instantly electrocuted in northern Texas when a metal fence they were lined up against was struck by lightning.
Footage of the deceased livestock was posted online by rancher Bobby "Trey" Woody III, who discovered the eerie scene on his family's farm near Annona, Texas, last month.
"We had a bad thunder storm hit our ranch a few days ago, and we didn't think nothing of it," Woody wrote on Facebook on August 28. "Well this morning when my dad went out to check the cows, this is what he found. Lighting struck a fence near where some of our cattle were laying and killed them."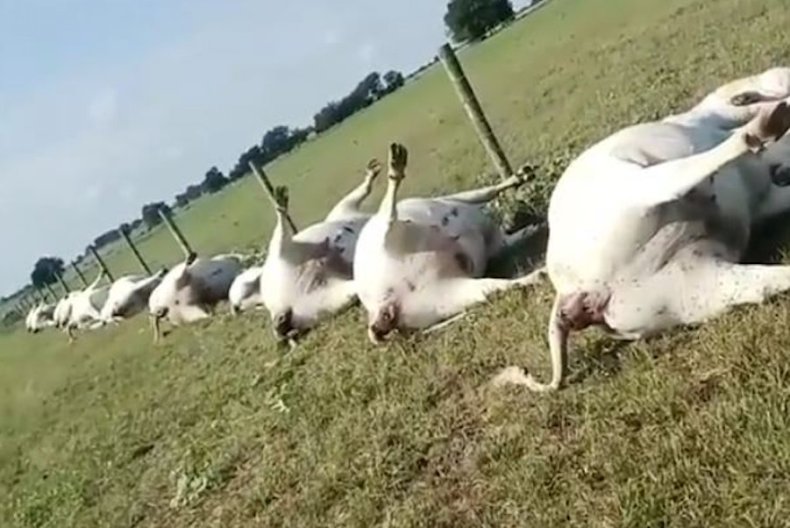 Twenty-three cows in all were killed, 15 heifers and 8 calves, each with scorch marks on their upturned bellies indicating how strong the voltage was. One cow was discovered away from the others: Woody wrote that "when the lightning hit, it had such strong voltage, it basically jolted one cow in the middle of the field"
He called it one of the "wildest and craziest" things he'd ever seen.
Lightning is a threat to cattle worldwide: In August, a brief but ferocious thunderstorm in Moneygall, Ireland, resulted in the instant electrocution of eight cows. The heifers were reportedly sheltering under a bush that was struck by lightning.
"I was stunned and shocked," farmer Gerry Larkin told the Nenagh Guardian. "It was a gruesome picture to see the cattle that I had reared from calves dead and lying on top of each other. It just seemed that they had been struck down where they were standing."
A world away, 23 cows were electrocuted last October in Ekiti in southwest Nigeria.
"I went to farm after about six hours of downpour on Monday morning only to discover that 23 of my cows had died," herder Abdullahi Kadiri told The Guardian. "There was no trace of bodily injuries on the dead cows. I want to believe it is an act of God since I did not offend or quarrel with anyone."
Back in 2016, 19 cows were electrocuted at once when lightning struck a tree in a pasture in Tyler, East Texas. "All of a sudden, a lightning bolt came down and the cows just fell, in the blink of an eye," witness Victor Benson told KLTV 7. "And it was over."
The cows were eventually given out to the community to eat.
Days earlier, 323 reindeer were electrocuted at once by lightning in a national park in southern Norway: "Individual animals do from time to time get killed by lightning, and there are incidents where sheep have been killed in groups of 10 or even 20," Kjartan Knutsen told The New York Times. "But we have never seen anything like this."
As for humans, the odds of being struck by lightning are approximately 1 in 576,000 and the chances of being killed by lightning are about 1 in 2,320,000.