Elementary School Nixes 'Jingle Bells' Over 'Controversial' Slave Imagery in Song
An elementary school in New York decided to remove "Jingle Bells" from its curriculum because of concerns about the song's potential to be "controversial or offensive."
The Rochester Beacon was first to report about the decision made by officials at Council Rock Primary School, a kindergarten through second-grade school that is part of Brighton Central Schools in Rochester, New York.
In a message to members of the Brighton Central Schools community and shared with Newsweek on Tuesday, Superintendent of Schools Kevin McGowan provided context for the school's decision.
He said the district "couldn't be more proud of our staff and the work they continue to do to reflect on what they teach and how they teach in an ongoing effort to be more culturally responsive, thoughtful, and inclusive."
McGowan described the staff's work as "smart, thoughtful, and well intentioned in every way" and said the district will "stand behind their work without hesitation or question."
The school's concern about "Jingle Bells" was partially linked to a 2017 article written by Kyna Hamill, the director of Boston University's College of Arts & Sciences Core Curriculum, according to the Beacon. Hamill's article explored how the song originated, which included its existence as "a product of the minstrel stage in Boston" during the mid-1800s.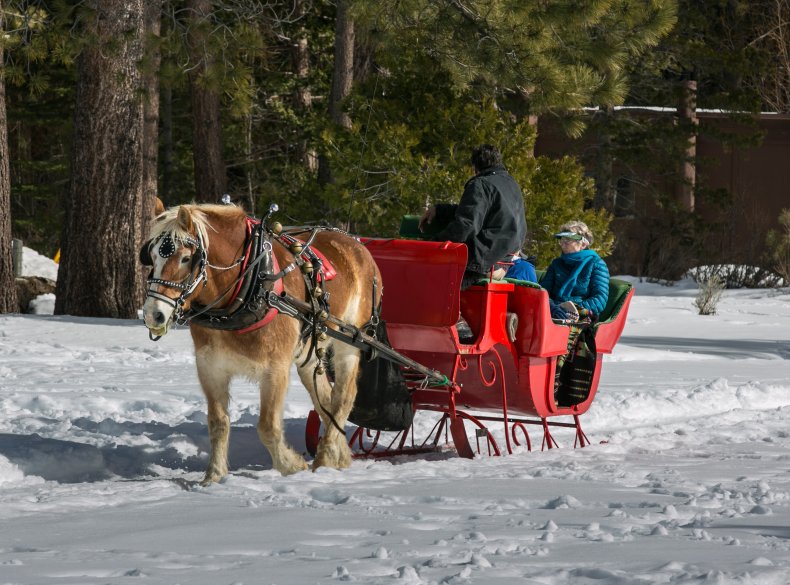 Concern also stemmed from possible interpretations of the song's lyrics that could include slave imagery, according to Allison Rioux, the assistant superintendent for curriculum and instruction at Brighton Central Schools.
Rioux told the Beacon that some people "suggest that the use of collars on slaves with bells to send an alert that they were running away is connected to the origin of the song 'Jingle Bells.'" Rioux added that the school was "not taking a stance" about the lyric's meanings, but "we do feel strongly that this line of thinking is not in agreement with our district beliefs to value all cultures and experiences of our students."
A diversity and equity page on the district's website includes "Jingle Bells" on a list of songs that "are no longer in our repertoire" at Council Rock Primary School specifically. The webpage says "Jingle Bells" and eight other songs listed as examples have been "replaced with more contemporary, and relevant content."
Hamill told the Beacon the slave imagery Rioux described in connection with the sleigh bells described in "Jingle Bells" had "no connection to the song that I discovered" during her research. She told the Beacon that Council Rock Primary School was the first school she was aware of that had elected to stop teaching "Jingle Bells" and suggested school officials identify a "well-referenced source for this claim."
"My article tried to tell the story of the first performance of the song," Hamill told the Beacon. "I do not connect this to the popular Christmas tradition of singing the song now."
She added that she was "actually quite shocked" that the song had been eliminated from the school's curriculum. "I, in no way, recommended that it stopped being sung by children," she said.
In his letter to the district community, McGowan said that while "it may seem silly to some," the link between "Jingle Bells" and minstrel shows "does actually matter when it comes to questions of what we use as material in school."
He said he was "glad that our staff paused when learning of this, reflected, and decided to use different material to accomplish the same objective in class."
The superintendent also pointed to the song's ties to a holiday that not all children celebrate and said the decision to teach students other songs in its place was not a "major policy objective."
"This wasn't 'liberalism gone amok' or 'cancel culture at its finest' as some have suggested. Nobody has said you shouldn't sing 'Jingle Bells' or ever in any way suggested that to your children. I can assure you that this situation is not an attempt to push an agenda," McGowan wrote.
He went on to assure parents that the song's origins were not being discussed in school and said the decision to keep "Jingle Bells" out of the school curriculum was "not a political situation, it was a simple, thoughtful curricular decision."
McGowan also asked, "Finally, if there is ever a question as to whether or not something might be experienced differently by someone else, shouldn't we be respectful of that?"
He concluded, "Is singing the song 'Jingle Bells' so important that it outweighs the question about its past or its potential to not be inclusive in a variety of ways. If many, many songs are available to accomplish the same objective, then why wouldn't we use those songs? I think our teachers answered that question very thoughtfully and I'm proud of their work."
Updated 12/28/21, 11:57 a.m. ET: This story has been updated to include a response from Brighton Central Schools Superintendent Kevin McGowan.